Back to News
EMP: Arnette Adds Todd Richards To Ambassador Program
February 23, 2012
Arnette Adds Todd Richards To Ambassador Program
Arnette is happy to announce that Todd Richards is now a part of their ambassador program. Todd's personality, combined with his steady presence in the media and snowboard world for more than 20 years, makes him a great fit for everything Arnette has going on.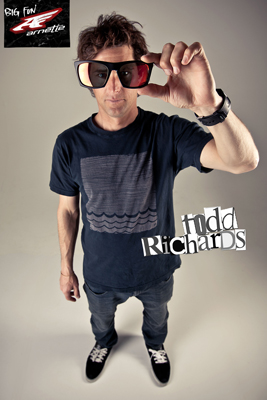 As a brand ambassador, Todd will be helping to promote the latest Arnette gear, in addition to contributing to marketing efforts on and off the hill.

"I'm so stoked to be a part of Arnette. They are paying me so much that I can turn down the Viagra sponsorship now," commented Todd.
In addition to working with Arnette, Todd is sponsored by Quiksilver, Nixon, Stance, Omatic snowboards and keeps his schedule hectic by MCing industry events, producing videos for Alli Sports and running the online site AWSM (http://www.awsm.com).

"Todd is going to help up get Arnette seen by a massive audience in a unique way. He's continually out there in the action sports media and has been having fun his whole career, which is pretty much what Arnette is all about. Todd is a great match for helping us spread the news about new gear and projects Arnette has in the works," commented Brent Bearden, Arnette Team & Events Manager.
Todd joins a diverse crew of notables backing Arnette on the snow, including Kevin Jones, Ethan Deiss, Devun Walsh, Zac Marben, Dustin Kraven and Sage Kotsenburg. Stay up to date with the latest from Arnette online at www.arnette.com, http://www.facebook.com/arnette and http://www.twitter.com/arnette.

---