Back to News
EVENT: Arnette's Cash Pot Surf Series Paddles Into Ventura On March 17
March 13, 2012
Arnette's Cash Pot Surf Series Paddles Into Ventura On March 17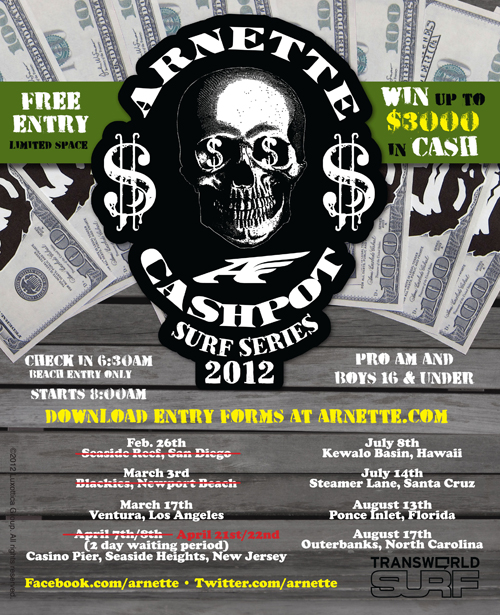 Arnette's Cash Pot Surf Series is coming to Pipes in Ventura this weekend, on Saturday, March 17. Cash Spot Surf Series events are beach entry only, with spots given out on a first come, first serve basis. All previous Cash Pot events have been filled to capacity, so surfers looking to enter should plan on being at the beach by 6:30 am for signup. This is the first time Arnette's Cash Pot Surf Series has gone through Ventura and the heats are going to be stacked with locals and surfers from all over SoCal!
Now in its second year, Arnette's regional Cash Pot Surf Series is made up of free-to-enter events taking place throughout California, New Jersey, Hawaii, Florida and North Carolina. It features two divisions at each stop – Pro-Am and 16 & Under – with $3,000 in cash up-for-grabs at each event. Unlike many surf contests where just the top finishers get paid, the Cash Post Surf Series awards monetary prizes to the winners of each heat.
ASP judging criteria and interference rules will be in full effect during the Cash Pot Surf Series. The first place finisher in the 16 & Under division will receive $250, the winner of the Pro-Am division brings home $500 and additional prize money will be going to heat winners and surfers who otherwise impress the judges.


The remaining 2012 Arnette Cash Post Surf Series dates and locations include:
* 3/17 – Pipes, Ventura, Los Angeles, CA
* 4/21-22 (two day waiting period) – Casino Pier, Seaside Heights, NJ
* 7/08 – Kewalo Basin, Honolulu, HI
* 7/14 – Steamer Lane, Santa Cruz, CA
* 8/13 – Ponce Inlet, FL
* 8/17 – Outerbanks, NC
Follow the events and stay in touch with the latest from Arnette online at www.arnette.com, http://www.facebook.com/arnette and http://www.twitter.com/arnette.
---