Back to News
Steve Jugan - Direct Store Delivery (DSD) Brand Management for Monster Beverage Corporation
March 22, 2012
Steve Jugan - Direct Store Delivery (DSD) Brand Management for Monster Beverage Corporation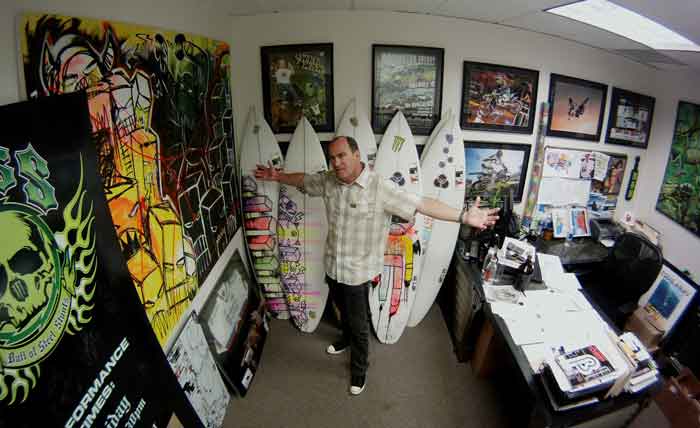 Steve Jugan's day job is Direct Store Delivery (DSD) Brand Management for Monster Beverage Corporation. And he moonlights! In the form of creating the Fast Friends Foundation, a non-profit organization that works to support professional athletes who need assistance and support, as well as other deserving individuals and causes. He will also ride anything with wheels or any type of board you put in front of him. This is an interesting story and manifestation of one man's goals and ambition.
How did you come about joining Monster Bev Corp?
I was contacted by Monster Bev Corp, originally Hansen's, in early 2008 and hired as the Brand Manager for …Lost Energy Drink. I'm currently managing the Peace Tea portfolio.
For everyone who is not in the beverage business, what does Brand Management for Direct Store Delivery mean?
DSD is a business process that manufacturers use to both sell and distribute goods directly to point of sales (PoS) or point of consumption (PoC)
How does your role fit into Monster Beverage Corp as a whole?
In a nutshell: As Brand Manager I develop Marketing Strategies and Brand Promise, Steward Brand Equity, Develop Annual Consumer Media Plans, Plan and Direct Marketing Programs (Consumer and Trade) Provide Creative Direction for Innovation, Packaging, Point-of-Sale Materials, Develop, Create and Manage Viral Marketing Initiatives, Monitor P&L, Sales, Distribution, Brand Share, Category Trends and support our National Sales Team.
Do you have any quick tips for the people on the outside looking in on how to effectively pursue job opportunities at a company such as Monster Beverage Corp?
I recommend contacting Monster Beverage Corp. directly and posting your resume on Malakye.com
Does your work allow for much fun in your free time?
I don't have much free time but when I do I make it count. I recently surfed Tavarua, Fiji for the first time… it was an epic!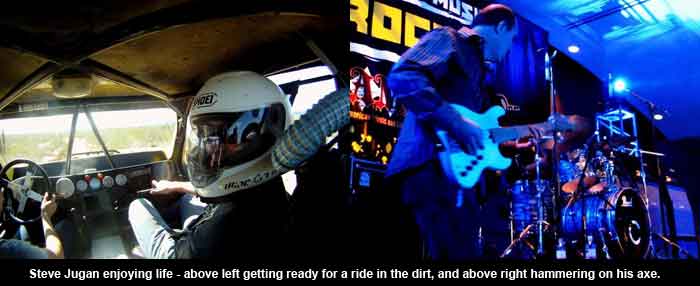 How much fun did you have competing in PUSH GAMES?
I can't begin to describe how much fun it was! The Push Games was a "Hexathlon" of Action Sports consisting of Snowboarding, Downhill Mountain biking, Motocross, Surf, Skate and Wake (1 day, 6 sports, 12 Hours and 175 Miles). From the Mountains to the sea, it was the ultimate Action Sports experience, one I'll never forget.
You're also big on philanthropy - creating your own foundation is a serious commitment. What's the name and how did you come up with the idea?
The foundation is called Fast Friends Foundation. The concept was created out of a need to support Pro Athletes, felt by myself, other executives and friends in the industry who don't have the time to attend fundraising Initiatives but still had the desire and passion to give back and help make a difference in other people's lives.
The name was spawned from all my (Action Sports friends) fast friends who compete and or race for a living.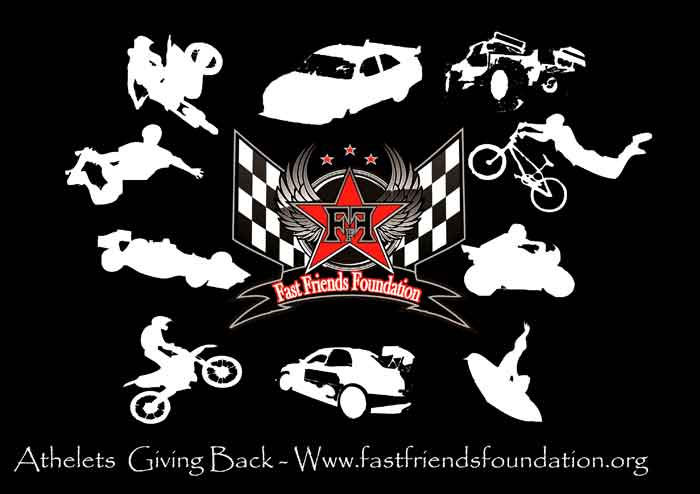 What are the goals of "FFF"?
My goal has always been to achieve slow meaningful growth while gaining the industry's trust and respect by making a big impact with a small grass roots 501C3 foundation.
How are things progressing in the two years you've been doing it?
I'm pleased to say that FFF made a dramatic philanthropic effort over the last two years but I'm still not satisfied. I plan to keep my head down and continue in my efforts to achieve and accomplish more!
Here are a few examples of Fast Friends Foundations donation efforts / benefactors so far:
High Hopes Head Injury Program - Reins of H.O.P.E provides military personnel in various locations throughout the United States with equine therapy sessions that help develop coping skills for PTSD, Traumatic Brain Injury (TBI), anger, depression, addiction and grief.
Bob Marley's Nine Mile Charitable Trust. The mission is to assist the village of 9 Mile, St. Ann, Jamaica to become more self-sustaining and to help provide educational, medical and social services.
The Trashing Hunger program was a HUGE success. Proceeds from the recycling program helped buy food and supplies for an orphanage that was destroyed by a recent earthquake in Mexico.
Peruvian Hearts is dedicated to enhancing the lives of children living in poverty through nutrition, education and health care.
The Peace Project. The goal is to distribute over 10,000 pairs of crutches to amputees, war victims & children in Sierra Leone.
The Surf Bus Foundation. Their mission is to empower people to have a healing connection to the sea through engaging in ocean sports like surfing, swimming and beach.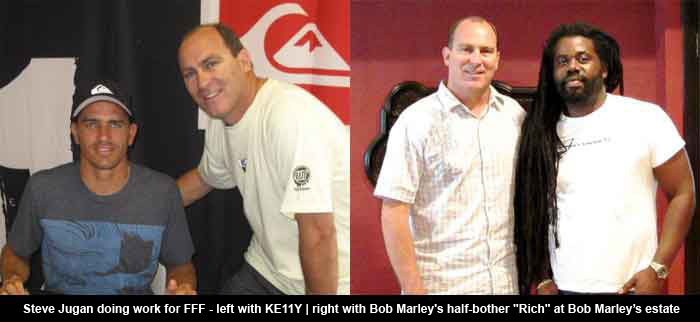 How can people get involved?
Simply go on line to http://www.fastfriendsfoundation.org for more information, send us a donation, donate merchandise or offer your time.
What's next for FFF?
Expand upon our reach and fundraising efforts. In addition FFF will continue to search for and partner with companies and or events that are committed to making a difference in this beautiful world of ours.
Closing thoughts to share?
I would like to take this opportunity to "Thank" the following individuals and companies for their continued support. Monster Energy, Peace Tea, GoPro Cameras, Sector 9, Wing & Kelly Lam - Wahoo's Fish Taco's, Artist Pinky Taylor, Steve Avery – Mayhem Surfboards, World Speedway Champion Greg Hancock, Eric Morley - Blue C, Aaron Willis - White Nelson Diehl Evans LLP, Mylene Chow, Kip Keune and Eric Johnson.
In my personal life as well as through my employment, I've demonstrated my passion for the enrichment of the Action Sports community spending countless hours of time, both personal and on the job to promote goodwill.
As Founder of Fast Friends Foundation I've been able to assist a multitude of communities and organizations that are dedicated to promoting the well being of causes and individuals throughout the Action Sports Community. My involvement, particularly with the action sports industry has given me the opportunity to have a "hands on" connection with many teens and young adults, hoping to influence them to become individuals who will in turn reciprocate goodwill to others, after all, acts of kindness and concern will have direct "impact" on our planet, communities and someone whose path we might cross.

Peace and good will to all!
---