Back to News
EVENT: 6th Annual Billabong Design for Humanity Fashion, Music, Art Event
July 17, 2012
6th Annual Billabong Design for Humanity Fashion, Music, Art Event
Happening July 25th at Paramount Studios in Hollywood to benefit The Cultivate Foundation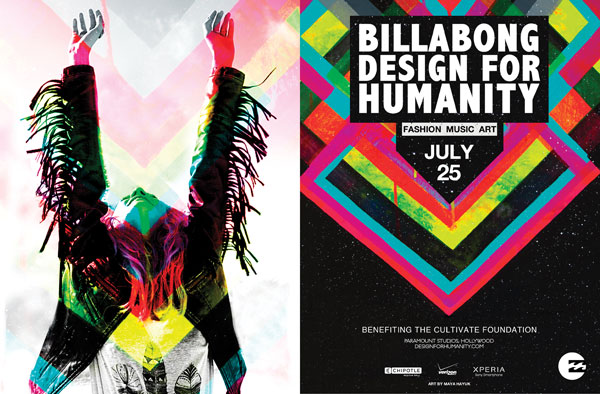 Billabong's 6th annual Design For Humanity benefit will be held on Wednesday, July 25th, 2012 at the legendary "NY Street" backlot of Paramount Studios in Hollywood. This massive fashion-music-art block party will offer three concert stages, DJ dance parties, a runway fashion show presenting one of a kind Billabong bikinis, organic food trucks, custom art gallery, a VIP street, and much more.
TICKETS ON SALE NOW at designforhumanity.com
Offering multiple performances on three stages, indie rock bands Walk the Moon and Imagine Dragons will open the show followed by performances by American folk rock band The Lumineers and headliners Welsh alt rock band The Joy Formidable.
Design For Humanity spotify playlist #Spotify
Guests will get an exclusive sneak peak of the Billabong Spring 2013 collection, which will be showcased in a runway show in conjunction with a number of one-of-a-kind custom pieces during the Design for Humanity event. Lead by Billabong Women's Design Director Mandy Fry, the collection is a sea of color with a play on patterns and textures influenced by Guatemalan and Persian textiles. Billabong collaborated with muralist and painter Maya Hayuk on the event artwork and swim collection, which will be unveiled as part of the runway show. Several of the looks will be available for purchase at billabong.com on the day of the event and the Maya Hayuk collection will be available for pre-sale starting on July 25th.
This year's art show is titled UNLEARN | RELEARN featuring the works of over 25 artists including Maya Hayuk, Deedee Cheriel, Justin Krietmeyer, Chris Betting, Lisa Solberg, Damion Silver and Mark Warren Jacques, to name a few. The show will feature modern artists who work in various mediums including paint, photography as well as some tactile, 3D installations.
100% of this year's ticket sales and a portion of the proceeds from art auction and product collaboration sales are being donated to the Chipotle Cultivate Foundation, a new foundation aimed at supporting people, organizations and institutions that are committed to a better, more sustainable future through their work to improve individual family farms, the environment, as well as youth and education programs. The Chipotle Cultivate Foundation is dedicated to creating a sustainable, healthful and equitable food future.
This year's event is sponsored by Verizon, Sony Xperia and Chipotle Mexican Grill.
---