Back to News
SNOW: Team Shoot Out 2012 Winners
August 10, 2012
TransWorld SNOWboarding Announces Team Shoot Out 2012 Winners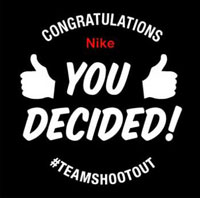 For the first time in Team Shoot Out's four year history, the TransWorld SNOWboarding readers voted on this year's winning teams. The event, which was comprised of four teams of outerwear brands: Burton AK, Nike, Oakley, and Special Blend, was held over 10 consecutive days. After each team submitted their best in photography and video, it was up to the readers to decide the winners.
Over a period of three weeks, voting was open online on transworldsnowboarding.com, first, rolling out with the four TransWorld SNOWboarding cover shots (July 16), then the videos (July 23), and finally, the photo galleries (July 30).
"For this year's event, we really wanted to involve our loyal readers," stated TransWorld SNOWboarding Content Director Nick Hamilton. "It was cool to see the votes stack up each week as our readers voted and shared their picks across the social media outlets."
And the winners of the 2012 TransWorld SNOWboarding Team Shoot Out are... (Click on the links below for more in-depth coverage on each category win.)
Best Cover: NIKE
Best Video: OAKLEY
Best Photo Gallery: SPECIAL BLEND
Overall Team Shoot Out 2012 Winning Team: NIKE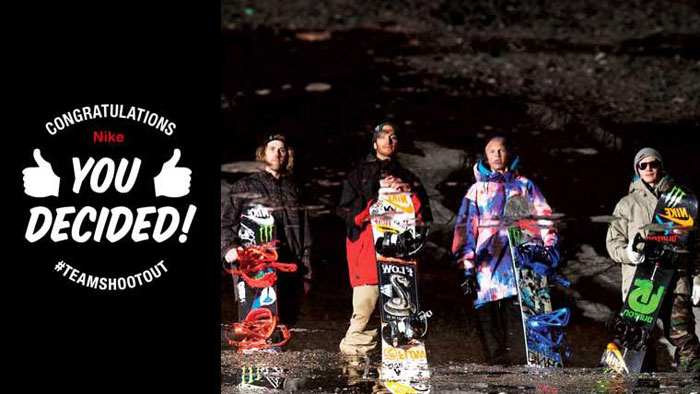 Nike Team Riders: Scotty Lago, Peetu Piiroinen, Gjermund Braaten, Sage Kotsenburg
Photographer: Frode Sandbech, Filmers: Joe Carlino, Sam Hiltner, Christoph Weber
Location: Austria (all over)
Congratulations to all of the winning teams! The TransWorld SNOWboarding readers have spoken. To check out more on this year's Team Shoot Out, click here. To subscribe to TransWorld SNOWboarding, go online to snowboarding.transworld.net/subscribe.
---