Back to News
Needo Designs Q&A with Michael Charley, OPS & Logistics
August 15, 2012
Needo Designs Q&A with Michael Charley, OPS & Logistics
Three years ago, after recently graduating college, Tom Stewart and Michael Charley - two product designers based in San Francisco - decided to make the leap of faith to create their own small business "that's always looking for ways to turn fun, unique ideas into reality." Thus, in July of 2009, Needo Designs was born.
Needo Designs is a startup product design firm run and operated by the two founders, Tom and Michael. Tom is a designer and surfer while Michael is an economist and skier. The company's flagship product is the Salsabol - a fun, hand-crafted ceramic bowl you can find here. But, the most recent development from Needo Designs targets the outdoor and action sports apparel & accessories markets. And, it seems to be the direction the company is headed in the near future.
A few years ago, on a surf trip to Australia, Tom got a hold of some stylish shades – Sunskis - which are vintage Australian sunglasses that haven't been made in 25 years. Tom smuggled a few pair back to the States and immediately began receiving compliments on his Sunskis. According to their Kickstarter project page, "We then tried to track down the original manufacturer, but that company went out of business more than 20 years ago. With nowhere else to get Sunskis, we decided to use our own product design experience to bring these incredible frames back to life."
And now, with the support they recently crowd-sourced via Kickstarter, it seems the crew at Needo Designs is well on their way to bringing the Sunskis back.
Read on for how this young product design firm went from concept sketching on the back of napkins to navigating the complicated world of prototyping, manufacturing, testing, shipping and dragon-slaying.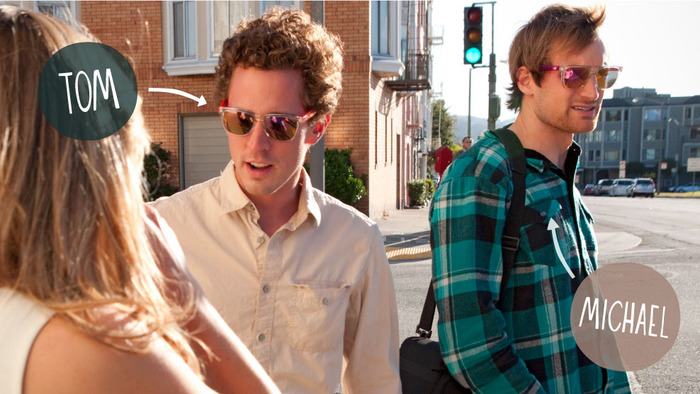 "We believe that good design should make people smile--because if it's not fun, why do it?"
Let's start off with some background info on Needo Designs! How long has this product design firm existed and how big is your crew?
By the legal definition, we've been in business for just about three years now, but that includes the time that Tom and I were bartending and working other jobs to make ends meet. We've only been at this company full-time for about a year and a half now. It's just the two of us doing everything, from the design and prototyping to pretending to know how to report our taxes.
On your website, it states you are the economist while you're partner Tom is the designer – although it seems you both are involved with a lot more in your projects, can you describe your role with Needo Designs?
Tom is a classically trained architect, so he does most of the creative work like designing products, media materials and website graphics (I've tried my hand at it and believe me, it's not easy). I have more of the numbers-brain so I do the accounting, logistics and coding. Our skills complement each other really well, and we make a great business because of it.
You guys really rocked your Kickstarter campaign for the SunSki design, were you surprised when the public answered your call and successfully funded your project?
Beyond surprised! We had hoped for doubling our goal, at best, and instead we beat it by 1500%. The Kickstarter campaign went way beyond our wildest expectations and for that we are so grateful.
What do you attribute to the overwhelmingly positive response you received from the kickstarter community?
I think a lot of factors went into the success of our Kickstarter campaign. First and foremost, I think the Sunskis are a compelling product that we offered at a good price. After that, I think it was a combination of good timing and good fortune: the fact that it was the summertime definitely helped sell sunglasses, and I think we really hit a nerve in the way we made our appeal. Kickstarter gives a very good, very transparent platform for delivering your message and so the enthusiasm and passion you have behind a product definitely shows—and we definitely had both.
What's happened since you reached your funding goal?
It has only been less than a week, but we are right in the thick of getting the Sunskis produced. There are a lot of people expecting some nice sunglasses, and so we are hard at work prototyping packaging and reviewing the different materials and components that we will ultimately use to make some awesome Sunskis.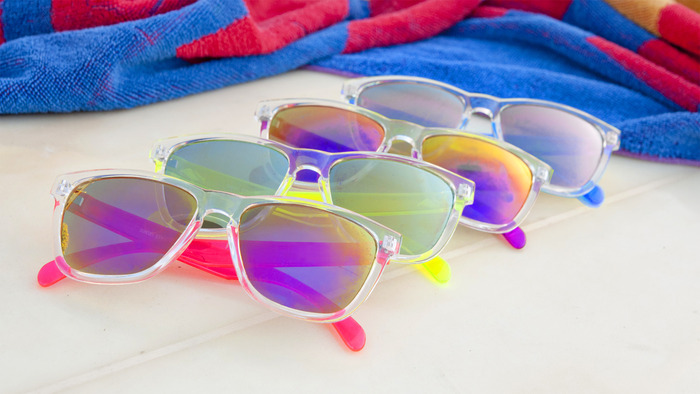 Do you see the SunSki line expanding beyond eyewear? Any thoughts on apparel or other accessories?
Apparel is definitely the logical conclusion, but Tom and I have some ideas up our sleeve for pointing the company more towards outdoor gear and equipment.
Do you have any new designs in the works, any other designs on the market besides the SunSki and your Salsabol?
We have some more entertaining products, such as a chip and dip set coming out, as well as some fun things like a sangria set, beer growler, etc. But after this, our next products will be following the Sunski direction geared towards outdoor active wear, because that's what we love to do and are the most passionate about.

Obviously the benefits of successfully funding a project through Kickstarter is having those monies available to pursue your passion – can you think of any negative aspects of Kickstarter, if there are any?
Not to digress, but I'd say that one of the best benefits to using Kickstarter is not just money to pursue your passion, but access to capital for small businesses. This is especially true in today's environment, where many of the institutions traditionally used for raising money are unavailable for small businesses. Kickstarter provides a bridge between ideas and the marketplace so that small businesses can get their ideas and inventions directly to customers without too much financial risk. As for downsides, it's hard to think of any after running such an amazingly successful campaign. There are, however, many projects and ideas that never see the light of day whose owners would definitely lament the ability to get lost in a sea of noise if you don't do something really special to stand out.
If not for Kickstarter, do you think your company/site would be where it is today?
The Sunskis are just one arm of our existing product design company, so we would still be around—but we wouldn't be making sunglasses which would be a shame both because this is something that we are truly passionate about and also because it is something that people really want.
Where do you see Needo Designs in 5 years?
This is the question that Tom and I toss around all the time, and one that doesn't have a very concrete answer. We are good at making products, and so we would like to stay in that vein, but we also would like to truly innovate some technologies that will help people. Inflatable sandbag replacements to deploy more quickly in an ever more chaotic global climate? Environmentally friendly artificial reefs that could prevent beach erosion as well as create surfable waves? The next Goretex? The world is our oyster, so to speak.
What is the best advice you've received from someone in the industry?
"If it was easy, everybody would be doing it". It's just that thing you can repeat to yourself during the slumps as you try to claw your way forward when everything else seems to be working against you.
Do you care to add anything we may have missed?
Out of all of this, I just hope that my experiences will inspire others to do what they love to do, rather than what they are told to do. The world is changing fast out there, and sometimes the best way to navigate it is to plot your own path rather than following in others'.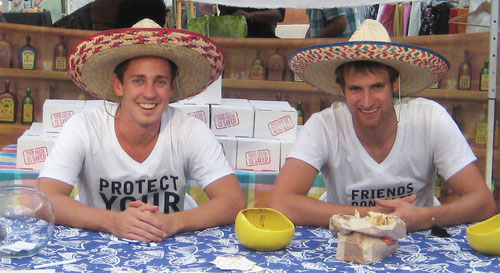 Are you looking for a pair of Sunskis for yourself?
Sunskis are actually already up for presale at www.sunskis.com.
---