Back to News
SUPPORT: "Paddle for Daisy" on Sept. 1 in Support of Al Merrick's Eight-Year Old Granddaughter
August 15, 2012
Join the Surf Community in the "Paddle for Daisy" on Sept. 1 in Support of Al Merrick's Eight-Year Old Granddaughter as She Battles Cancer for the Third Time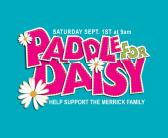 WHO: World-renowned surfboarder shaper Al Merrick needs our help. His beloved eight-year old granddaughter Daisy is battling cancer for the third time. Merrick, who has given so much to the surfing world for the last four+ decades, now needs his surf community to join forces to help fundraise to cover costs for Daisy's next surgery, which is estimated to be a $500,000 that will not be covered by insurance.
To date, Daisy has had six surgeries, 22 rounds of chemotherapy and two courses of radiation, yet she is a ray of sunshine while she continues to fight against the aggressive and reoccurring Wilms Tumor.
WHAT: We are asking the world to join together as a unified voice and paddle for Daisy. We will pray and dedicate that time in support of her incredible strength and perseverance in her young life, to help fundraise for her past surgeries and treatments, as well as for her next surgery and bouts of treatments.
WHEN: Saturday, Sept. 1 at 9 a.m.
WHERE: Organized paddle-a-thons are taking place on the coastlines in California, Hawaii, Virginia, North Carolina and Florida. For the location of your nearest paddle-a-thon or info on how to organize your own, go to www.paddlefordaisy.com. To donate to Daisy's cause, please go to www.facebook.com/paddlefordaisy.
You can also text "DAISY" to 56512 to donate $10 to the Merrick family. All donations are tax deductible through Christian Surfers, a 501 (c)(3) non-profit organization.
Ambassadors: Courtney Conlogue, Bethany Hamilton, Tom Curren, Rob Machado, CJ Hobgood, Damien Hobgood, Will Tant, Sage Erickson, Nate Yeomens, Matt Pagan, Matt Beacham, Kai Lenny, Lakey Peterson, AJ Neste, Aaron Chang and YOU.
Sponsors: Channel Islands Surfboards, Christian Surfers, Sector 9, Roxy, Quiksilver, Nixon, Foam, Cobian, DC Shoes, Hurley, Spy, Surfline, Dakine, Cobian, Surftech, Eric Arakawa Hawaii, Walking on Water, Walden Surfboard, Greco Surf, eco skin care, Give by Cell, Surf Expo, Transworld Business, On A Mission, Surf Station, Proctor Surfboards, Christian Surfing Federation (CSF), B4BC and the Boardroom.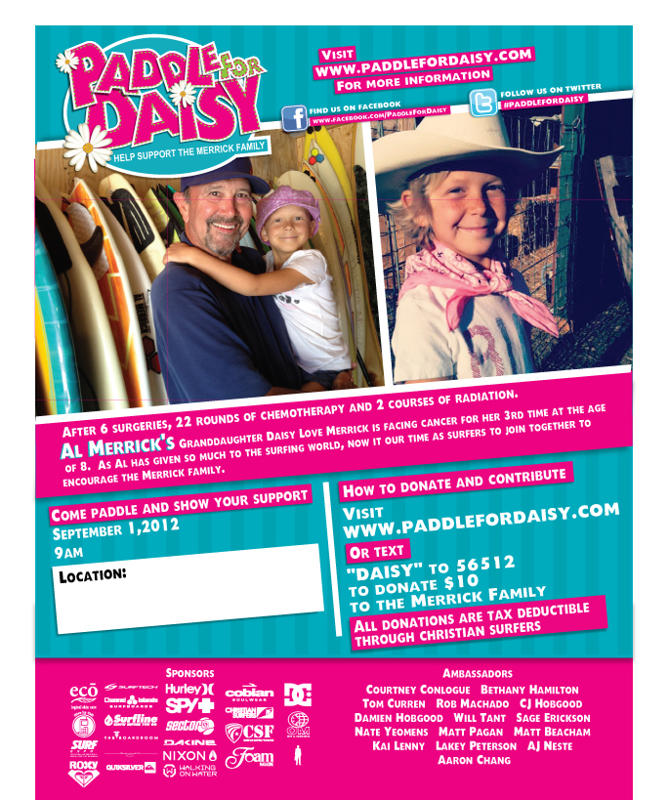 ---