Back to News
SUPPORT: Unlocking A Great White Shark Mystery With Technology
August 17, 2012
Unlocking A Great White Shark Mystery With Technology
Tracking JAWS - non-profit OCEARCH brings Global Shark Tracking to US
With the nation captivated by sharks this week, OCEARCH is preparing to deploy its technology in U.S. waters to solve a 400 million year old mystery of the Great White Sharks in Cape Cod this September.
OCEARCH, a 501(c)(3) non-profit, supports leading researchers and institutions obtaining ground breaking data on the health and biology of sharks. They deliver unparalleled data through SPOT (Smart Position and Temperature) satellite technology with the goal of effectively reducing threats to this species and humans alike. SPOT tags provide superior long-term data and allow scientists to gain a deeper understanding of migratory pathways, identification, and critical habitats.
Each tagged shark can be viewed through an OCEARCH Global Shark Tracker, a powerful, free online tool that allows the public to watch and learn about white sharks at the same time as leading researchers around the world. Marine Scientist and Shark Spotters Research Manager Alison Kock said, "for the first time, instead of reading about great white sharks in a book, or seeing something in a documentary, people can see the science in action. "
To help fund this singular research, OCEARCH has turned to another cutting edge technology: Rally.org - an online fundraising platform for causes that matter. OCEARCH is asking supporters from across the world to donate to this project; and they are inspiring passionate future stewards of the sea along the way. Through these donations and the support of shark enthusiasts, OCEARCH is enabling advancements in scientific knowledge to protect this legendary species.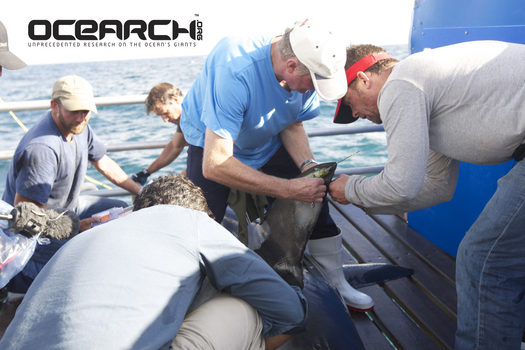 ABOUT OCEARCH
OCEARCH is a 501(c)(3) nonprofit organization that supports leading researchers and institutions seeking to attain groundbreaking data on the biology and health of sharks, in conjunction with basic research on shark life history and migration. The researchers OCEARCH supports work aboard the M/V OCEARCH, a unique 126' vessel equipped with a custom 75,000 hydraulic lift and research platform, which serves as both mothership and at-sea laboratory.
---