Back to News
SKATE: Huston Reclaims Top Spot to Become 2012 Street League Champion
August 27, 2012
Nyjah Huston Is The 2012 Street League Champion! Full Results
Nyjah Huston Win Street League Skateboarding DC Pro Tour Fueled By Monster Energy Championship At Prudential Center, NJ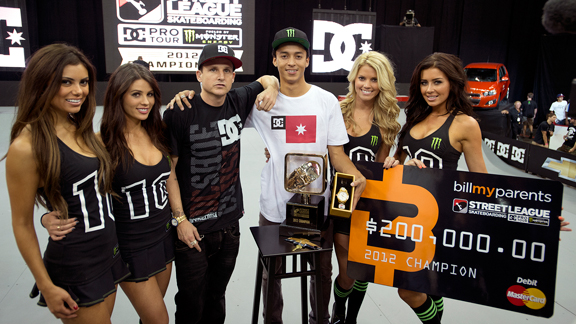 Newark, NJ (Aug. 26, 2012) – The 2012 Street League Skateboarding DC Pro Tour Fueled by Monster Energy culminated with the league's top eight competitors in a head to head showdown in what may have been the most exciting Street League contest ever. With each pro putting down some of the most impressive tricks seen in the series this year, it still all came down to Nyjah Huston and Paul Rodriguez. With nearly 10,000 fans their feet, Paul missed his final attempt making Nyjah Huston the 2012 Champion and $200,000 richer.
"I definitely was not expecting to win, because when you expect to win, you lose" said 2012 Street League Champion Nyjah Huston. "All of the guys killed it so hard today. You have to land your tricks on the spot. The pressure is on. But there is no better competition ground than Street League, we always bring our best for SLS and Rob Dyrdek."
After being defeated in Glendale by Paul Rodriguez, Huston came back to redeem himself, landing amazing tricks through out the entire contest to take the title of 2012 Street League Champion. With incredible skating from Huston, Rodriguez, Cole and Ortiz, the win came down to the last very trick. Rodriguez's first try Nollie Crooked Grind Nollie Front Foot Flip Out earned him a 9.6 in the Best Trick Section and helped keep him in first place for most of the event. But as the arena roared in excitement, it came down to Nyjah and Paul Rodriguez each having one attempt remaining, after Nyjah bailed on a Caballerial Backside Lip Slide Paul had one last attempt trailing by 7.2 points. As Paul's board missed his feet, the newly crowned Huston threw his arms in the air victoriously.
"What a perfect finish to the 2012 series. We witnessed our top eight stars do the hardest tricks performed in a contest with a packed arena of amazing fans," says Street League creator Rob Dyrdek. "We Had the entire crowd on tis feet as P-Rod had the chance to win on his final trick. With his miss, it made the very deserving Nyjah Huston the official 2012 Champion."
This win marks Huston's first Championship title since the event has become a winner-take-all format and his third stop win this year, bringing Huston's 2012 earnings to $500,000 in cash alone, including a brand new Chevy Sonic and the Nixon Championship watch and ring.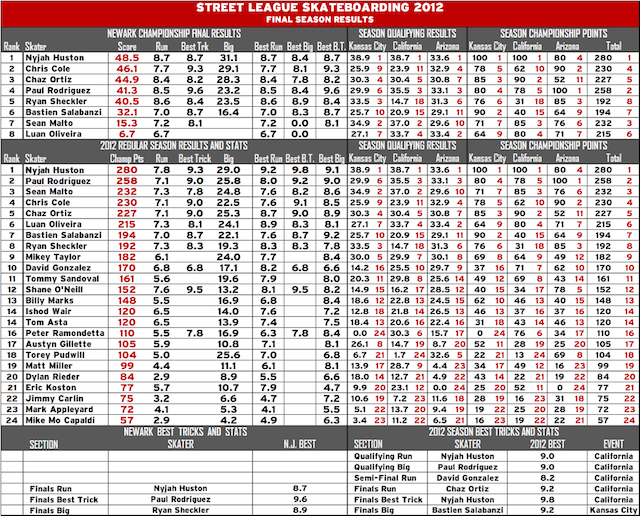 For video highlights and full season results please visit
www.streetleague.com
.
---