Back to News
Nephews Skateshop + Gallery Q&A with Brian and Shawn Woodward, Owners
August 31, 2012
Nephews Skateshop + Gallery Q&A with Brian and Shawn Woodward, Owners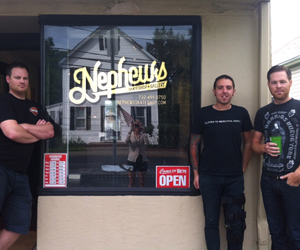 Less than a year after coming up with the idea for a business based on blending the skateboarding and art worlds, brothers Brian and Shawn Woodward have done just that with the opening of Nephews Skateshop + Gallery in Port Monmouth, New Jersey.
"After months of brainstorming with friends, family and colleagues, we realized how many talented people we're surrounded by," says co-owner Shawn. "Their inspiration and support pushed us to open a skateshop and art gallery."
The grand opening celebration and gallery reception was held on Saturday, August 25th, and featured original works of art on disply from more than a dozen artists and photographers.
Currently, Nephews stocks a stylishly curated selection of men's apparel from the finest skate-lifestyle brands in the business (5boro, Brixton, Huf, and more) as well as skate equipment + accessories, and artwork, but "the growth opportunities for Nephews are endless."
"We want to offer products that skateboarders want to represent and feel that they have a common bond with... The blending of both the skate and art world is an idea that a lot of the local skaters get. Overall, people are very excited about the store."
Check out how these Garden-state brothers went from concept to reality and how they are using their presence to improve the local skate and art communities.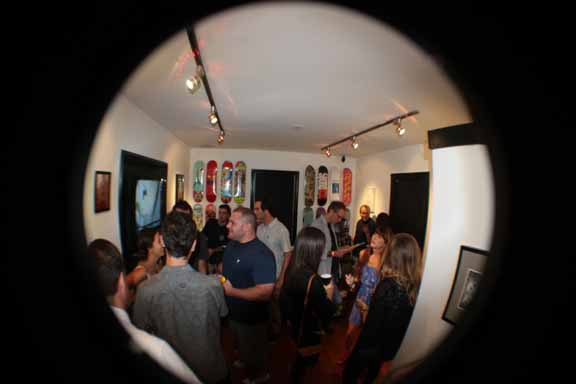 Nephews Skateshop + Gallery Grand Opening Party, August 25th, 2012. Photo: Mallory Zenner
What are the particular roles for the brothers re: Nephews Skateshop & Gallery and are there any other major players in running and operating the shop besides the manager, Dalton Graham?
Currently, Shawn is responsible for the daily operations of the business and store. This includes, but is not limited to, accounting, finance and marketing. Brian is the store's buyer and creative director. He is responsible for choosing the product lines for each season, the design concept of our brand and coordinating art shows. With the addition of Dalton Graham, our store manager, the three of us create the right synergy to turn the wheels of this business.
Let's talk about the store's grand opening on Saturday – how did it go? What sort of reaction was there from the community?
The grand opening was a huge success. We think people who attended the event got to see what our store is really about. Everyone who attended had nothing but great things to say about the store and our idea. The experience was very humbling, as we never expected such a positive reaction from the public. Mark Nardelli of 5Boro even attended our event and he was amazed that this kind of store had opened in Middletown, NJ. He, like us, is originally from Middletown. The blending of both the skate and art world is an idea that a lot of the local skaters get. Overall, people are very excited about the store.
On a similar note, there are plans to host events and exhibits with original artwork at Nephews in the future – how important will those events be for business?
These events are very important, as they are what make Nephews Skate Shop and Gallery unique. We think it is important for us to reach across niches and peak the interest of people who have little or no understanding of the skateboarding world, and the same can be said about the world of art. From the reaction we received with our first event, We are very excited to have more events like that in the future.


Friends and Family of the brothers Woodward came in droves for the party, August 25th, 2012. Photo: Mallory Zenner
You promise stocking only authentic brands and keeping a store full of a selection of carefully curated goods – what sorts of products will be on the shelves at Nephews?
We want to offer products that skateboarders want to represent and feel that they have a common bond with. Right now, we offer apparel from 5Boro, Radlands, The Quiet Life, Brixton and HUF. These brands represent the true spirit of skateboarding, as well as an artistic perspective of the sport and industry. Our customers have really accepted these brands and are very excited to finally have a store that offers these products.
Nephew's has a great looking site - at nephewsskateshop.com/ - are there any plans for selling product online?
Thanks! We were lucky to know someone in the web design field to help us out with the site. We definitely plan to launch an online store in the future. We want to establish our brand, along with the brick and mortar store, before we jump in head first with an online venture. Being that our space is very limited now, we would have to secure additional storage for any virtual store we open.
What do you anticipate will be the store's most popular products?
We believe all of our products will be popular. We carefully choose the product we sell with the intention of having appeal to our customers. At the moment, our sale of skate decks is outperforming any other products. Once the weather cools off in the fall, I think we will be seeing an increase in apparel sales, as we are currently stocked with the Fall 2012 line.


And plenty of skate and art industry folks were in attendance as well for the Nephews Skateshop + Gallery Grand Opening Party, August 25th, 2012. Photo: Mallory Zenner
Where are the growth opportunities for the company?
The growth opportunities for Nephews are endless. We currently offer only mens apparel (t-shirts, sweatshirts and headwear) at limited quantities and sizes, skate equipment and accessories, and artwork. We have opportunities to expand into custom designed apparel, footwear, womens apparel, and youth apparel with more selections of styles and sizes, as well as protective equipment.
Do you see any major challenges coming up? If so, how will they be effectively dealt with?
Our most pressing issue at the moment is getting the local skatepark, located around the corner from our store, re-opened by the township. The park was closed a few years ago due to municipal budgetary cutbacks. Skaters need a place to skate without being harassed by the local authorities. Today, the mayor's office contacted us in order to discuss the skatepark and what it will take to get it opened to the public again.
Rewinding back, how did you get started in the business?
Brian has been working in the skate industry for the past 10 years, designing for a major skateboard/clothing company in NYC. Shawn, a business professional, has been involved in finance for the past 14 years. Sometime in October 2011, we started brainstorming about some business ideas and came up with the idea of blending the skateboarding and art worlds into one storefront. We incorporated in January 2012 and opened our doors August 18, 2012. It all started as an idea, now it's a reality!


Good times at the Nephews Skateshop + Gallery Grand Opening Party, August 25th, 2012. Photo: Michael Wojcik
What are the most impactful lessons you've learned working in the industry?
The most impactful lesson we have learned is to be honest with your customers. We take pride in helping people find the right equipment for their skill level without upselling them with more product that they don't have any use for. Our customers are our most important asset. We hope to build relationships with them so they keep coming back in.
How do you see the shop growing in the future?
We would like to grow to a few more locations, depending on our success in the original store. In addition to growth, we are looking into building and operating our own skateparks to satisfy the demand of skaters as the sport continues to grow. We would also like to host and/or sponsor local skate competitions in order to showcase the talent we have in the central NJ area. Our overall goal is to grow with the sport and to continue to be a reliable resource to skateboarders in NJ.
Anything else you'd like to add?
Please follow us on Twitter (@NephewsSkate) for our store news, happenings, events, and other tidbits we share with the world. You can also "Like" us on Facebook (facebook.com/nephewsskateshop).
Check us out on the interwebs by going to www.nephewsskateshop.com.
Hope to see you all soon!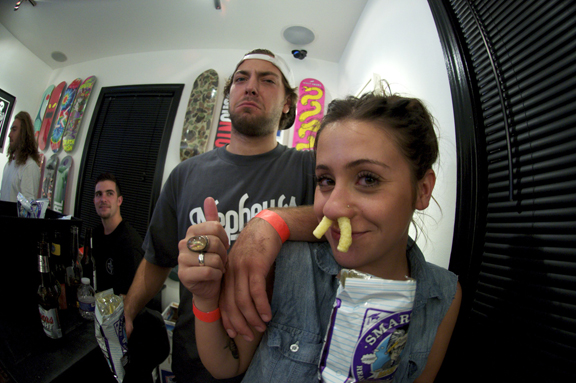 More fun from the Nephews Skateshop + Gallery Grand Opening Party, August 25th, 2012. Photo: Michael Wojcik
---