Back to News
SURF: 44 Years Later, Andy Warhol's Surf Movie Finally Screens
September 25, 2012
44 Years Later, Andy Warhol's Surf Movie Finally Screens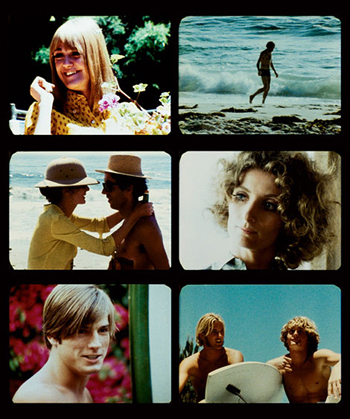 In what just might be the longest wait for a movie premiere in cinema history, "San Diego Surf" will finally hit the silver screen…44 years after being filmed.
In 1968, Warhol and a group of artists moved into a mansion in La Jolla, California, hoping to make an edgy movie that involved California surfers. Surf culture was exploding on the heels of Bruce Brown's 1966 documentary "The Endless Summer," and surfing's grittier side in San Diego seemed the perfect backdrop for their story of a married couple, on the edge of divorce, trying to find a suitor for their pregnant daughter.
Filming stopped after three weeks and because Warhol felt the film lacked the edge he wanted, it was never edited…until now. According to the book "Popism: The Warhol Sixties" the cast and crew fell victim to San Diego's charms.
"Everybody was so happy being in La Jolla that the New York problems we usually made our movies about went away — the edge came right off everybody…I guess that's why the whole thing turned out to be more of a memento of a bunch of friends taking a vacation together than a movie."
Less than a month after filming wrapped, Warhol was seriously wounded in an assassination attempt by Valerie Solanas. The tragedy virtually ended his work behind the movie camera and, presumably, effectively shelved "San Diego Surf."
In 1997, the Andy Warhol Museum received copyrights to Warhol's films as a gift from the Andy Warhol Foundation. It was the foundation that in 1995 to 1996 commissioned Paul Morrissey, under the supervision of foundation curator Dara Meyers-Kingsley, to complete the editing of "San Diego Surf," based on existing notes and the rough cut. It is unclear as to why it took so long to finish the project, however.
Andy Warhol's 90-minute movie will premiere October 16 at the Museum of Modern Art in New York and then will be available for public screening at the same venue January 23 to 28, 2013. After that, who knows?
From the Andy Warhol Museum:
It was filmed in color on 16mm with two cameras, shot by Andy Warhol and Paul Morrissey, and featured superstars Viva, Taylor Mead, Louis Waldon, Joe Dallesandro, Tom Hompertz, Ingrid Superstar, and Eric Emerson, plus Nawana Davis and others. Its loose narrative concerns an unhappily married couple (Taylor Mead and Viva) with a baby who rent their beach house to a group of surfers. After it was shot, it was only partially edited and never released.
Warhol, who had produced 4,000 reels of film, died in 1987 at age 58.
"Even 25 years after his death Warhol continues to surprise contemporary audiences," Warhol museum director Eric Shiner said in the premiere announcement. "This never-before-seen film expands Warhol's filmic legacy and demonstrates Warhol's read on the West Coast and its surfing culture."
---