Back to News
SKATE: Dew Tour announces athletes for Skate Street
September 26, 2012
Paul Rodriguez, Ryan Sheckler, Nyjah Huston and More Set For Dew Tour Skate Street At Toyota City Chanpionships Oct. 18-21
Dew Tour Features All New BMX Street, Skate and BMX Streetstyle Events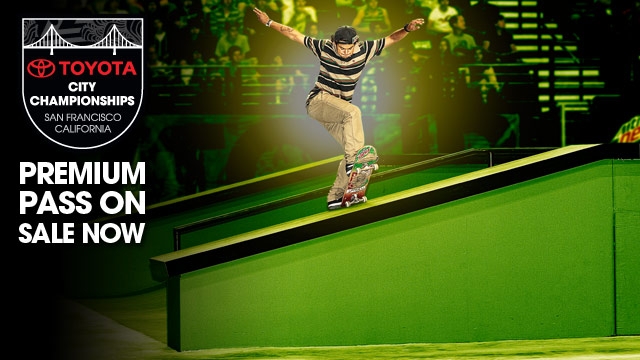 Burr Ridge, III - The Dew Tour today announced the first round of confirmed athletes for the Toyota City Championships in San Francisco, Calif., October 18-21.
The new Dew Tour will showcase the best in Skateboarding, BMX, and FMX during the 4-day action sports and lifestyle event. Top confirmed athletes include Paul Rodriguez, Ryan Sheckler, Nyjah Huston, Garrett Reynolds, Dennis Enarson and Ryan Nyquist.
The world's top street skateboarders will convene in San Francisco's Civic Center Plaza to compete in the Toyota City Championships, the only skate street event to be broadcast live on network television this year.
In addition to Rodriguez, Sheckler and Huston, the street course will host Chaz Ortiz, Greg Lutzka and Torey Pudwill. The course, designed with input from participating skaters and industry veterans, will include replicas of iconic San Francisco skate spots, including Hubba Hideout and the China Banks.
"The level of competition at the San Francisco Dew Tour stop will be amazing," said Rodriguez.
"The city has such a special place in skate history, so to be competing there on a course with the iconic San Francisco elements will be a lot of fun."
Skate and BMX athletes will bring their creativity to Harrison Street for the first-ever Skate and BMX Streetstyle contests, two disciplines exclusive to the Dew Tour. Created to honor the action sports heritage of San Francisco, in collaboration with Dew Tour athletes, the courses will embrace the natural setting of the city's hills.
Skaters and riders will cruise toward the legendary Embarcadero, creating their own lines using the big-gap features and streetstyle elements of the course. Sheckler, David Gonzales and San Jose native Omar Salazar are among the skaters set to compete in the event. Fans can also keep an eye out for the Canadian superstar, Drew Bezanson, as he sets his sights on the first-ever BMX Streetstyle Dew Cup.
In addition to Streetstyle, BMX Street will also be introduced at the Toyota City Championships, as a new event alongside BMX Dirt and BMX Dirt Best Trick. Along with NorCal native Nyquist heavy hitters such as Kyle Baldock, Ben Wallace, Corey Bohan and Cam White will be ripping up BMX Dirt.
Dew Tour podium contender Dennis Enarson leads the pack of multi-discipline athletes, along with Garrett Reynolds, Chad Kerley, Dakota Roche and Sean Sexton, all competing in the inaugural BMX Streetstyle event.
The FMX Triple Threat competition, created by FMX legend Carey Hart, will take place directly in front of San Francisco's City Hall. Ten riders will compete against each other in three rounds – no invert, best whip and rider's choice – to decide who will come out on top as the overall winner of the FMX Dew Cup.
The Dew Tour Toyota City Championships will be showcased across 11 broadcast hours on NBC and NBC Sports Network and across an all-new digital platform with live streaming, plus exclusive behind the scenes and in-depth content on dewtour.com. The new broadcast platform will offer coverage from every day of the four-day events and more live Dew Tour coverage on NBC and NBC Sports Network than any previous year.
The Dew Tour Toyota City Championships will be free to attend giving fans access to be a part of the best skateboarding, BMX and FMX competitions and check out the Dew Tour Experience with skate and BMX courses built just for the fans, autograph signings, giveaways and more. Premium Passes are currently available for purchase at www.dewtour.com.

The complete 2012 Dew Tour schedule is as follows:
Pantech Beach Championships August 16-19 Ocean City, Md.
Toyota City Championships October 18-21 San Francisco, Calif.
iON Mountain Championships December 13-16 Breckenridge, Colo.
The Dew Tour Toyota City Championships will air live on NBC Sports Network on Friday, October 19 at 7:30pm ET, on Saturday, October 20 on NBC at 1:30pm ET, and on Sunday, October 21 on NBC at 2:00pm ET. Additional broadcasts on NBC Sports Network will be October 18 at 11:00pm ET, October 20 at 11:00pm ET, October 21 at 11:00pm ET and October 28 at 11:00pm ET.
For additional Dew Tour event information, visit www.DewTour.com and the Dew Tour Facebook page.
About The Dew Tour
The Dew Tour consists of three marquee events in distinct beach, city and mountain locales, featuring summer sports of skateboarding and BMX, with additional competitions of surf and freestyle motocross; snowboard (superpipe and slopestyle) and freeskiing (superpipe and slopestyle) will be featured at the winter event. The Dew Tour events are premium action sports and lifestyle festivals combining the best in action sports competitions along with the Dew Tour Experience and live music performances.
The Dew Tour is broadcast live on NBC and NBC Sports Network and streamed live on dewtour.com. The Dew Tour is also distributed on Universal HD, and internationally on Eurosport, Extreme Channel, Rogers Sports Network, TVA, and Globosat. The Dew Tour partners include Mountain Dew (tour title sponsor), iON, Pantech, Toyota, GoDaddy, Mongoose, National Guard, Paul Mitchell and Stride. More information can be found at www.DewTour.com.
About Alli Sports
Alli Sports, is an action sports lifestyle brand whose mission is to connect fans with athletes and brands through best in class events, media, and authentic branded products. Alli Sports includes: the Dew Tour, Lucas Oil Pro Motocross Championship and the Red Bull Signature Series; Alli Media, which creates, produces, and distributes original content; and Alli Enterprises which includes a partnership with action sports retailer Dogfunk.com. Alli Sports is a division of the NBC Sports Group. More information can be found at www.allisports.com.
About NBC Sports Group
When the Comcast-NBCUniversal transaction was completed in January 2011, the broad reach and storied history of NBC Sports united with Comcast's 24/7 ability to super-serve fans to create the NBC Sports Group. The sports media company consists of an array of broadcast television, cable television and digital sports assets, including NBC Sports & Olympics, NBC Sports Network, Golf Channel, 11 NBC Sports Regional Networks, NBC Sports Radio Network and their respective digital properties.
Together, the assets of the NBC Sports Group possess an unparalleled collection of television rights agreements, partnering with some of the most prestigious sports properties in the world: the International Olympic Committee and United States Olympic Committee, the NFL, NHL, PGA TOUR, PGA of America, USGA, Churchill Downs, MLS, Tour de France, French Open, IndyCar and many more.
---