Back to News
NICA Q&A with Lauren Duensing, Programs Director
October 10, 2012
NICA Q&A with Lauren Duensing, Programs Director
Many kids in America stop riding bikes in high school when two wheels get traded in for four. Enter NICA - the National Interscholastic Cycling Association - who is commited to giving students in all 50 states the opportunity to continue bike riding, by racing on a club or varsity mountain biking team at their high school.
Students, parents, teachers, administrators, community members, anyone can potentially begin a cycling club at their local high school - which is what happened nearly 14 years ago when a high school teacher in Berkely began a team at his high school with just a handful of students. That team grew and more schools followed suit - pretty soon NICA was needed and the demand has grown exponentially from then.
Fast forward to today. Now, NICA operates ten leagues in nine states, and has serviced nearly 4,000 riders from over 200 high schools since the NorCal league was started.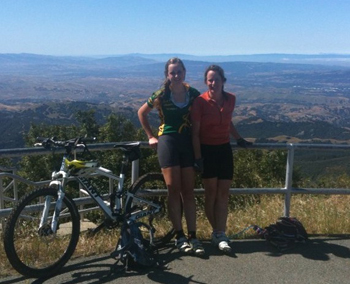 Lauren Duensing was introduced to the association as a parent who was personally impacted by the NICA story - she was led by her two children who participated in NICA's NorCal league and has become an enthusiastic mountain biker now serving as the Programs Director for NICA.
"My children were a part of (the NorCal) league and it changed their lives and they eventually got me mountain biking and that's how I joined the organization," says Lauren. "It was very evangelistic and experiential, like anything outdoors; it was just very contagious to get on your mountain bike and start riding."
Lauren manages the program staff at the NICA headquarters in Berkely, California, and works with the 10 leagues and a national team to deliver all of the races, events, summits and conferences which NICA operates. She is committed to the continued excellence the NICA programs provide for student riders, coaches and parents, and she looks forward to increasing the expanded impact of the high school mountain biking movement.
"We expect to be coast-to-coast by 2020 and to make high school mountain biking a standard high school sport," explains Lauren. "We'd like to be in the same conversation when sports like football, basketball, track, volleyball, baseball, and swimming are mentioned. To do that, we need to make it accessible to all kids in high school."
Read on for how Lauren and the rest of the crew at NICA plans to make mountain bike racing "accessible to all kids in high school."

Pedal Born Pictures and Specialized present 'Singletrack High', check www.pedalbornpictures.com to keep updated on when the film is released
We saw the NICA booth front and center at Interbike receiving plenty of traffic, how was the show for you?
Interbike was great! As you know, the energy there is phenomenal and to be announcing three new leagues was really fun. We recently went from seven leagues to ten - adding Arizona, New York, and Tennessee to our existing leagues in Northern California (NorCal), Southern California (SoCal), Colorado, Washington, Texas. Earlier this year we also launched Minnesota and Utah (launching a league meaning they are able to run their first race, but that is the culmination and end of a year of training and working with those states to set up to be ready for that first launch). Basically, what we did with Utah, Minnesota, and Texas in the spring is what we will now be doing with New York, Tennessee, and Arizona – spending a year training the staff and getting them ready to launch high school mountain biking races.
How do schools or interested parties get involved with NICA and launching a league, is there a minimum number of teams or individuals needed to launch a league in a particular state?
We actually have a bidding process. So, every spring – actually starting in January – we launch a series of webinars for interested states. It's basically a three to four month process where we educate the state that has an interest on what they need to do to present a bid to NICA. Then, we as an organization decide whether we can partner with that state and will accept their bid accordingly.
So, interested states need to able to express that interest with a plan on how to successfully launch a league – was this always the case? Can you speak a bit on how NICA was started and which states were first granted leagues?
About 14 years ago, Matt Fritzinger, a high school teacher in Berkeley started a high school mountain biking team and I think he had just five kids participating. And that grew into a few other high schools developing teams in the area before Matt formed the Northern California league. That league grew and grew, which is actually part of how I became a part of the story – my children were a part of that league and it changed their lives and they eventually got me mountain biking and that's how I joined the organization. It was very evangelistic and experiential, like anything outdoors; it was just very contagious to get on your mountain bike and start riding. So, Matt launched the NorCal league and was able to replicate that in Southern California and I believe this is when Easton Foundations got involved. Then, the whole national bike industry realized there was something going on here and also wanted to get involved. So, Specialized, Trek, GU, Cliff, all of the big hitters – they all helped form NICA, the National Interscholastic High School Association for Mountain Bike Racing. NICA was formed as the umbrella over the newly formed leagues. Obviously, there was incentive from the industry to become involved – if you get a kid on a bike they're going to buy bikes for the rest of their lives.
Now, what we've had to do as an organization is look internally to figure out how to scale this, because now we are having trouble meeting the demand – last year was the first year we actually had to turn away some states because we just couldn't meet the demand. Recently, that's been the challenge. Also, last year for the first time, a non-industry sponsor got involved when Jeep became a platinum level sponsor.
You mentioned having to turn away some interested states last year – is there an ultimate goal for NICA where you see high school students having access to mountain biking races in every state across the country?
Yep, absolutely – we expect to be coast-to-coast by 2020 and to make high school mountain biking a standard high school sport. We'd like to be in the same conversation when sports like football, basketball, track, volleyball, baseball, and swimming are mentioned. To do that, we need to make it accessible to all kids in high school.
Now, is there a standard season for running mountain biking races or are student-athletes expected to participate year-round?
That actually depends on the state and the climate. So, we now have both fall and spring seasons, depending on the state. So, this coming spring will be NorCal, SoCal, Texas, Washington, and New York. And in the fall are the remaining five states. So, it really depends on the snow, the rain, and things like that.
Are there any plans for NICA to expand beyond the high school level? Are you looking to form leagues for colleges and/or middle schools?
Well, no – we are specific to high schools, and NICA functions specifically as a youth development organization serving student-athletes at the high school level. I think that one of the reasons we've been successful is that we're focused specifically on the high school student-athlete. Another benchmark of why NICA is doing so well is how we educate the coaches, how we educate the league directors, and how we educate the staff that all contribute to us being able to run the races. Our leagues are really well-run and are careful in terms of risk management. Now with our 14 years of experience, all of the information from past events is always captured and incorporated into our teaching materials. For example, if a rider goes down - we look at why or what happened and will look into the situation, so that we're really able to keep the kids safe. If you go and ride a NICA course, you know it's going to be well-marked and it's really safe with our course marshals on-site as well as roving course marshals. So, it's a real complete system that's fun and safe for the kids.
To your knowledge, is NICA the only program servicing high school student-athletes interested in mountain biking – do you have any direct competition?
At our level and at this volume – we are currently in service to 2,000 high school riders who will be racing this year, not to mention the 3,800 racers we've impacted over the course of the 14 years NICA has been in operation. So, at this level – no. I know USA Cycling has a couple states up and riding with high school events going on. But, we don't like to consider them as competition because we're all about the same mission: which is getting kids on bikes. Although their mission is a little different than ours we in no way want to feel like we're competing with them or any other organization promoting cycling.
How can schools or interested parties become involved and how are they able to begin the bidding process?
The process has become much smoother on our end with us going on our tenth league it's almost like a league-in-a-box because each time we've launched one we learn something. What we've learned is having a really strong league director is key and that the league director has a founding board that is already set up so that the group is comprised of interested individuals who see the need in their community for high school mountain biking.
What's cool is that each of our league directors and each of their founding boards really come at it from different perspectives. As an example, Gary Sjoquist in Minnesota has an advocacy role for Quality Bike Products (QBP) which is the largest bike part supplier in the world. So he's a league director and helped start the league in Minnesota with NICA coming at it from a more corporate role and doing advocacy role. Then we have our New York league director who was a bike shop owner and saw the need for an organized league after seeing all the kids coming into his shop and the interest from the community. It doesn't have to be a cookie-cutter person to start a league but the passion has to be there and he or she has to have a good group of people around them to help get the league going because it is such a big project and that's why we're so serious in taking on a state and making sure our leagues are sustainable.
For interested parties looking for information on what the process of starting a league is like, in Texas there was a videographer who followed a coach forming a team from its inception and bringing this team to the first high school mountain biking race in the state of Texas. The resulting documentary captures the whole build-up and what it means to the kids, which is pretty cool to see. For us as an organization, we thought, this is it! Texas now has high school mountain biking and it was captured in the video – and to see it is very fulfilling for us in the national office.

The Beginning- NICA Texas High School Mountain Bike League from Tyler Ferguson
Do you come across any opposition as an organization with high schools starting cycling teams?
I wouldn't say opposition, but I would say there is some misunderstanding. Part of our job as an organization is making sure that the right people within the administration of the high school know and understand what NICA is doing. The majority of the teams currently are club teams, so getting a teacher to come on board at each individual high school to sponsor the club and securing a coach are vital steps. In some situations the coach is a teacher at the school as well, but (like for my kids), that was not the case - it was someone in the community that really wanted to start a high school team so he found a teacher at the high school himself to sponsor the club which allowed him to move forward. If you think about it, just five years ago the only league in the country was NorCal - so that particular team that my son was on began with twelve kids. The next year there were thirty and in year three there were sixty kids on the team. The sport is definitely impacting lives and there is an obvious response from the participating communities, which is really exciting to be a part of.
Do you see a state's topography or geographic location creating any opposition in forming a league?
I don't. Obviously, having diverse courses and different areas available to utilize, Colorado is obvious and California seems obvious as well in being able to supply that diversity. But, we've been surprised when sometimes people don't realize what is there. Also, because of safety and risk-management, one thing we say during the bidding process is that when selecting a course we make sure it's able to satisfy the needs of a freshman girl and a varsity boy rider – they'll be riding the same course so it's important to find the right balance of challenge and safety. There is definitely a whole protocol in selecting courses to fill those needs as well as making sure there is accessibility in case of emergency.
When selecting a course, are you looking at utilizing established courses or is NICA in the business of building new courses for the league's themselves.
For the most part, we've been using established courses. But, we are partners with MBA (http://www.mbaction.com/Main/Home.aspx) and part of our missions that align are trail development and trail accessibility and all other things encompassed in getting trails. Last year, in northern California there was a trail that was built and used for the first time for one of our races. Certainly, that aligns with our goals. But, typically, when we're setting up leagues, they are on courses that exist.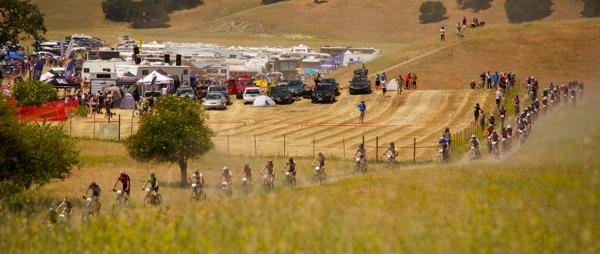 It's obvious the association is gaining momentum in terms of recruiting both new individuals and communities – how do you see NICA after it's fully developed?
That's a good question because right now everything seems so entrepreneurial and innovative; it's hard to imagine it without those features. As stated earlier, our goal is to be in all 50 states and once we get there it will be all about sustainability. At that time, the role for NICA will switch from development and outreach to maintaining and continuing the benchmark we've established with our quality product, which is providing safe mountain bike races and youth development for our kids. We will look to make sure that mission continues. It's a unique sport in the way the rule system is set up – you get points for crossing the finish line so it's based on order not on time and all teams have to have girls on their teams to score points. Teams are scored with both girl and boy points, which really creates great collaboration and produces a fun cheerleading atmosphere. Within each team also there are the really competitive kids, like my son was very competitive and my daughter was the complete opposite, yet it met both of their needs. And, it gets kids out in nature – how cool is that!?
Can you speak on any of the unique sponsorships and relationships the association has within the bike industry?
Among many other great sponsors, we are involved with the Positive Coaching Alliance out of Stanford. We use that relationship to help with our coach development. So, for a coach to become licensed there are some pretty high standards: they have to attend a leadership summit and undergo a background check. They also need to have a certain number of educational units completed, so partnering with the PCA has helped maintain those standards, as our coaches are able to take those courses online through the Alliance.
Your back story aside, why do you feel cycling as an organized sport is a good fit for high school student-athletes?
We get so many stories from parents and from coaches on how it's a sport that allows the parents and coaches to be able to participate alongside the kids. Most sports, as a spectator, you are on the sidelines cheering on the team. But, with cycling, everyone is participating out on the trail.
It does seem like a unique sport, given how you became involved in the sport, you're not likely to see that situation come up with football or wrestling, I'd imagine.
Yeah, exactly. Just looking at my experience, it is unique. Mt. Diablo is a 4,000 ft. peak here in the East Bay and the first time I summited it was with my daughter on a mountain bike, and she taught me and led me. You just can't take type of experience and replicate that in other sports, which is pretty cool.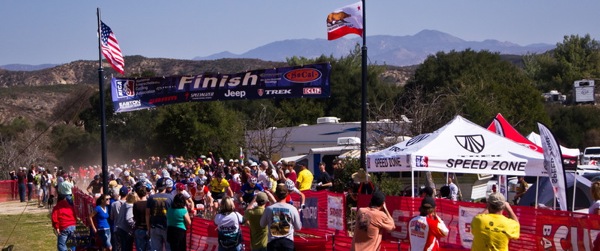 ---