Back to News
Stokes Me - Surfers Helping Humans
October 1, 2012
Support SIMA's Stokes Me fundraising effort by joining Team Malakye or by making a one-time donation on behalf of our team (keep in mind that all donors who give over $10 will receive exclusive Stokes Me gear!).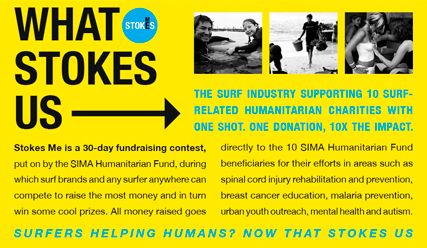 Along with peace of mind, SIMA is giving out prizes to teams that generate the most fund raising. There are some VERY good prizes (including a trip for two to the North Shore this December with 3 nights at the Turtle Bay Resort, click here for the list of prizes).
Any prize awarded to Team Malakye will be raffled off to those who contribute through Team Malakye. All donations will be treated with equal value for our raffling purposes, it doesn't matter if it's $1 or $100.
---