Back to News
SURF: Jack Freestone Wins Second ASP World Junior Title at Oakley ASP World Junior Championships
October 16, 2012
Jack Freestone Wins Second ASP World Junior Title at Oakley ASP World Junior Championships
KERAMAS, Bali/Indonesia (Tuesday, October 16, 2012) – Jack Freestone (AUS) took out the Oakley ASP World Junior Championships Bali over Hawaiian Ezekiel Lau (HAW) in a battle of the in-form surfers of the event. With the swell dropping and unfavourable winds, the surfers were forced of unleash their aerial attacks in the 2 to 3 foot (1.5 meter) punchy surf at Keramas today.
Freestone who also won the ASP World Junior Title in 2010 joins current ASP WCT No.1 Joel Parkinson (AUS) and Pablo Paulino (BRA) in an elite club of three surfers to have claimed multiple men's ASP World Junior Titles.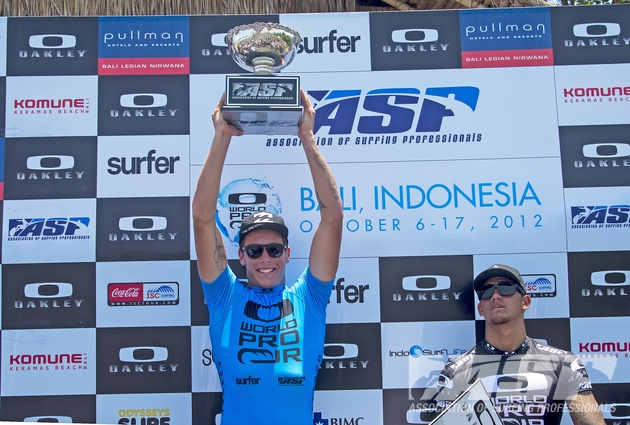 "It's amazing to follow in Joel (Parkinson's) footsteps," Freestone said. "He's my favouite surfer and we're both from Coolangatta, so it feels amazing right now. He's on the Men's ASP World Championship Tour, that's where I want to be so hopefully this gives me the confidence to know that I can get there."
This year's ASP World Junior Champion was decided at a standalone event, the Oakley ASP World Junior Championship Bali as opposed to a series of events. Freestone is truly a deserving winner after battling through a stellar field of the world's best junior surfers and an array of conditions ranging from shifty beachbreaks at Canggu, big Keramas tubes and windy, rampy Keramas on the Final day.
"When I won the ASP World Junior Title in 2010 it was just luck," Freestone said. "I was out of the event and had to sit and wait for certain people to win and lose. This event was much different because it's the only one, but I never put pressure on myself and it must have worked. I wasn't even going to enter this event a few months ago, but I'm so glad I did! I feel amazing right now."
Lau, the powerful Hawaiian surfer impressed all who watched throughout the event, but fell short in the last heat of the event. The Final was a chess match, going back and forth with the lead changing and the two surfers with similar powerful and progressive styles battling for the ASP World Junior Title.
"I came here to win not come second," Lau said. "But Jack (Freestone) was in rhythm and caught the best waves in the Final so congratulations to him. You just have to move on, I've got the Triple Crown coming up soon in Hawaii, so I'll be back."
Andrew Doheny (USA) was elininated by Lau in Semifinal 1, finishing equal 3rd, one spot short of his runner-up finish at the Oakley ASP World Junior Championships last year. Doheny was one of the most exciting surfers to watch for the duration of the event, using his unpredictable style to constantly blow onlookers away.
"I thought I'd be bummed," Doheny said. "But I'm actually really stoked! Even though I finished second here last year, I didn't expect to get as high as third this year. Ezekiel (Lau) did what I like to do, he caught a bunch of waves and got into rhythm."
Ramzi Boukhiam (MAR) fell victim to a rampaging Freestone in Semifinal 2, finishing the heat with just 2.17 (out of a possible 20) to Freestone's 19.53. Boukhiam was the last goofy-footed (right foot forward) surfer remaining in the draw and he really struggled in the difficult conditions today.
"I didn't want to waste my time going for airs," Boukhiam said. "I'm not an air guy. If the surf was big I can post 9-point-rides too. I'm happy to finish third, I came to win, but third is okay."
Freestone went on a frenzy in that heat, posting multiple scores in the excellent range, with Oakley ASP World Junior Championships Head Judge Glen Elliot describing the heat as – "one of the best displays of technical aerial surfing in one heat in ASP history. Jack (freestone) landed two stalefish grabs, a slob grab and full rotation Kerrupt grab air-reverse. People will be talking about that heat for a long time."
The Oakley ASP World Junior Championships Bali will run from October 6 – 17. For LIVE webcast, Heats on Demand, event videos and more check www.oakleyprojunior.com.
OAKLEY ASP WORLD JUNIOR CHAMPIONSHIPS MEN'S FINAL RESULT:
Jack Freestone (AUS) 13.83 def. Ezekiel Lau (HAW) 13.77
OAKLEY ASP WORLD JUNIOR CHAMPIONSHIPS MEN'S SEMIFINAL RESULTS:
SF 1: Ezekiel Lau (HAW) 15.20 def. Andrew Doheny (USA) 7.50
SF 2: Jack Freestone (AUS) 19.53 def. Ramzi Boukhiam (MAR) 2.17
OAKLEY ASP WORLD JUNIOR CHAMPIONSHIPS MEN'S QUARTERFINAL RESULTS:
QF 1: Ezekiel Lau (HAW) 16.37 def. Wade Carmichael (AUS) 10.26
QF 2: Andrew Doheny (USA) 14.77 def. Cooper Chapman (AUS) 12.67
QF 3: Jack Freestone (AUS) 15.0 def. Conner Coffin (USA) 14.27
QF 4: Ramzi Boukhiam (MAR) 14.00 def. Frederico Morais (PRT) 8.37
---