Back to News
SoloShot Q&A with Sean Hibbs, Director of Sales
October 24, 2012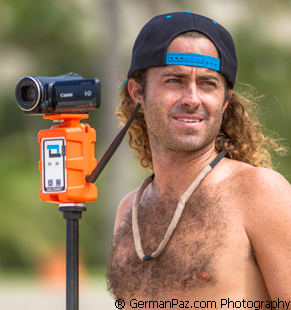 SoloShot Q&A with Sean Hibbs, Director of Sales
Have you ever come in from an all-time surf session or crossed the finish-line at a cyclocross event and thought to yourself, I wish I had that on film. POV cameras from companies like GoPro and Drift have been around for years now, so getting yourself on film with little hassle is possible, although there are limitations with that style of filming. Enter the SoloShot, which was born out of the creators' desire to film themselves while surfing in the Dominican Republic.
SoloShot is based in San Antonio, Texas and the product basically serves as your personal cameraman by automatically keeping a tripod-mounted camera pointed at you. And, as Sean Hibbs, Director of Sales for SoloShot, explains, after using the product users will be left exclaiming: "wow, this is awesome - every wave I surf is being caught on film and I'm in the center of the screen!"
Read on for more on how a group of 23 engineers, scientists, artists, and designers (including Sean Hibbs) were able to bring their platform technology in the SoloShot first to surfers and ultimately to the world at large.

How does it work, in a basic way?
First off – the product is shipped in a canvas travel bag and comes with three pieces which includes the armband that you wear as your tracking unit, the base unit which is the tripod with the SoloShot attached to it and a simple wall mount charger which you'll remember from your old cell phones from ten years ago and you plug that into the base unit to charge and the arm band magnetically attracts to the base unit and so they both charge simultaneously and it's about a five hour battery life on both of them so it's usually whatever camera you choose to use if there's an issue of a device running out of battery.
The process of it is pretty simple, still I definitely recommend reading the manual – being someone who didn't read many manuals when I was growing up – reading ours will definitely make things just a little bit easier. The first step is pairing the arm band with the base unit, well after you choose a camera, any you want to use. The base unit features a quarter-inch thread screw for any camera that's got the tripod mount on the bottom. So, you put your camera on the base and you set your screen generally where you're going to want to be filming.
We recommend with the armband that you allow time for the pairing process to set, the closest thing I can relate it to is when you get in a car and you go to use the GPS and you turn it on and it sits there saying it's calculating or anything like that, it's the same type of thing. There is about an 8-10 minute startup, so generally, if I get on my moto in the morning on get in a car, I'll just put the armband on the dashboard or on my arm and let it charge until it finds where you are. Then, it's just like a couple button pushes and you're good. It's something that obviously the first few times you try it you might have not have it spot on you dead center, but you really quickly figure out how to adjust it to make it good to go.
How accurate is the device? Does it lose accuracy as distance increases?
Concerning accuracy, basically, the safest rule is give at least fifty feet from what you're trying to shoot and anywhere from 50-1500 feet you're good to go. It mostly depends on your camera being able to zoom in that far or in the post editing be able to cut in close enough to see if you're going to be really far out. But, as far as the accuracy, it's got you on there. When you pair the system, if you're set up in the center of your screen then when you're recording you will be in the center of your screen. However, within fifty feet, and especially at high speeds, it'll start to lose you, but that's not because the speed of the motor. We've done drag car racing that's 150 MPH for the video on our website and we shot that from about 200 feet away with a simple little handycam for under $300 and when you zoom in with you post-editing software you can have it look like it was 20 feet from you.

On October 21, SoloShot announced they had won the Lexus Ignition Competition. "Lexus is awarding up to $25,000 to "four stunning products that embody the blend of technology and style." After a week of voting, SOLOSHOT won with 5 times as many votes as the competition. This money will be put towards developing a car mount for the SOLOSHOT transmitter to make it even easier to film high speed racing."
Can multiple armband transmitters be synched simultaneously with a single base unit receiver?
Well, yeah, how we produce them now it's only one armband can be paired with each unit. But, for example, when we're selling to surf schools or snowboard training programs we're looking to get them to have multiple units so that whether their customers are renting them or they're including it in the lesson cost or something added as an extra package to offer analysis or as a take-home souvenir because there's no interference, you can have a bunch of them out there, but each arm band is sold with a single base unit. Now in saying that, we can replace armbands if you lose it, it's not like each arm band produced is only able to synch with one base unit. So, each time that you pair up it's like a new pair. And, generally, a replacement would be more for loss because the transmitter is pretty rock solid. We've hit it across our parking lot with an aluminum baseball bat and it's still working completely normally. We obviously don't recommend trying this, but with our personal testing we've put it through some stuff and it's pretty durable and obviously completely waterproof, there's nothing exposed.
I'm down in the Dominican right now and we've had pretty good surf for the past five or six days and we've been having a bunch of them on the beach and just passing armbands around and I don't ever have anybody say to me, 'oh this is too heavy on my arm or this is a pain'. It's definitely more that feeling of like 'wow, this is awesome - every wave I surf is being caught on film and I'm in the center of the screen'.
You mentioned the device is compatible with all cameras, would users be able to use their iPhones to shoot themselves?
Yes, there's a third-party tripod mount for iPods and iPhones that goes for about$10 and we had one at Surf Expo posted up on the SoloShot which worked great.
With this increased mobility of course the issue of security must come up, can you speak on the security features of the SoloShot?
In a sense it's basic common sense like with anything, I would never just go leave my backpack with my wallet or camera just sitting on the beach with no one around it. What we've done is, from a surf perspective, we've allowed it so that someone doesn't have to find to physically man the camera. Think of all the surfers out in California and everyone with a black suit and the filmers having to track and figure out who's who or your girlfriend filming the wrong person or even shaky handling. We recommend, obviously, having someone near it.
But, in saying that, there is a small loop on the unit that you would be able to hook something and make a lock to put around a tree or similarly fixed object I you needed to go that route. We've sold a good amount so far and the only incident that we've had is someone on the beach thought someone had left their camera and tripod on the beach so they went to their local police station and returned it and said if someone is looking for their camera, it was left on the beach. For field sports, soccer for example, you've got the bleachers you could lock up to. But otherwise, there's no lo-jack system put in it yet.
As I mentioned, there is a small little loop in orange base unit but we don't provide any locking materials with it, but if someone was looking to fix up something themselves to have that happen they do have the ability to do that.
How do you see the product evolving over time and where do you see room for improvement with the SoloShot?
I think we see a lot of room for capabilities for growth in what we can do as with any tech company. Obviously , we're going to strive to keep making our product better and better. As far as specifics, we're gonna keep those under wraps but have great expectations. Right now, we're really happy with the product we do have out there. We do think things can be improved and we say the sky is the limit so we're keeping our R&D going, that's for sure.
The SoloShot has recently been mentioned in several surf mags and online, it must be exciting to get the word out.
Yeah, it was very cool in the beginning that some surf magazines right away when we put up our initial video took to it and we got some great mentions. Actually, it was when the Surfing Magazine "Do It Yourself" issue came out when Ben Bourgeois called me and said 'you gotta go get the new issue of Surfing, you're in there – check it out!' And I opened it up and was amazed, we had no idea so that was pretty cool and it's been a fun ride so far.
Why hasn't anyone done this before SoloShot?
I have no idea. It's funny, I think everyone has talked about it and fortunately the guys all involved in this project are pretty smart guys but also have a major passion for their board sports and I think it was just great timing and we were all trying to make it happen after we met in the Caribbean when we were living in this chasing a lifestyle and dream state-of-mind and I guess everyone was crazy enough to go make it happen.
Do you see any direct competition in the market currently?
Not yet, not really. We're just trying to go out there and really make the best product for our customer. Like, you asking about the iPhone, we're working to make it so that people can use our product with whatever device they do have and keep it simple for the user. We don't want to limit anyone and are never going to say you're going to have to have this type of camera or that type of camera. Obviously, people who are using SLR's like 7Ds will be coming home with better footage than a point-and-shoot but regardless, SoloShot is here to provide you with what you want – whether it's equestrian footage, soccer, surfing, kiteboarding, snowboarding, whatever it is – we're trying to make ourselves compatible with all those people out there.
We definitely know that competition is obviously always knocking at the door but I don't currently know of anyone offering a similar product, but I'm sure there's something in the works and it's going on. So, we're just making sure that we're spinning sharp and are building ourselves as healthy of a brand as we can.
You mentioned GoPro, a huge growing camera manufacturer, do you have any strategic partnerships with camera manufacturers in the works or future plans for mass production of the SoloShot in the near future?
Actually no, currently we've been doing everything on our own. When we were first getting out there, we were shooting our demos with any camera we could find or pick up from wherever. We've just been focusing on our thing for now, making sure we have the best product we can make. The hardest thing for me is having to explain to people that we're not the camera part and with our product you'll need to supply the camera. But, it's been heads down for us and getting ourselves out in the market and doing everything hopefully the right way.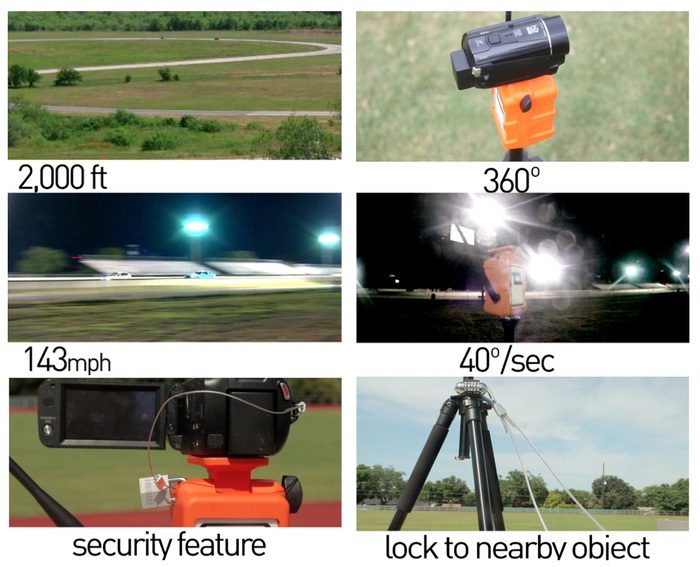 Right, that's great. And the company is currently headquartered in Texas, correct?
Yes, correct. We have our manufacturing and home office in San Antonio and we have a satellite office down here on one of the surfing-type beaches in the Dominican Reublic - Cabarete Beach.
As the company ramps up its sales and marketing efforts, will the company continue to be headquartered in San Antonio?
Well, one main goal of ours is to not just be offering SoloShot products but really build this into the action sports brand that we dreamed of and all kind of left our other thing to do when we met in the DR. We obviously know that can't happen as a full-time thing only in San Antonio but we're trying to be smart right now with our finances and everything but we would obviously really look to get towards the Southern California and more surf/board sports culture oriented spot and we hope to be able to really solidify that.
It sounds like very exciting times for the SoloShot crew and there's definitely a bright future. Can you speak on the future of the company and brand?
It's definitely been really fun and we hope to continue having fun doing it. It's hard work but it's kept me on the road going around and getting to experience different markets to see what's going on and also to meet a bunch of people to try and get this thing out there guerilla style. We're taking it day-by-day but we're really looking forward to the winter trade show season and the holidays to try and be that gift under the tree for the kids. We did Surf Expo in September but will also look to do it again in January but will also get to do Outdoor Retailer and IPSO out in Germany so we can really start pushing into the snow market and motocross and all of that kind of stuff.
Is there anything you wanted to add that we may have missed?
I think one of the things that is really special about this company is that we're a tight-knit crew that all came from different walks of life and probably never would have crossed paths but we all met down here in the Caribbean around surfing and kiting and I think it's something we want to have remain as we grow, is to continue having a close-knit group that works hard but has a ton of fun as well.

Go Film Yourself...Automatically!
---