Back to News
SURF: One Week Left to Vote For 2012 SURFER Poll Awards
October 24, 2012
2012 SURFER POLL VOTING OPEN WITH NEW WAYS TO VOTE
Vote via Twitter and Instagram using #SurferPollVote or at SurferPoll.com

SAN CLEMENTE, Calif. — 2012 brings an election year for America and another chance to "elect" the year's top surfers in the 43rd annual SURFER Poll. Each year, SURFER Poll allows readers to cast their vote for their 10 favorite male and five favorite female athletes who will be honored during the exclusive awards ceremony at Turtle Bay Resort on the North Shore of Oahu during the Triple Crown of Surfing. The voting window is now open and extends until October 31st for the 2012 SURFER Poll, a tradition recognized as the only awards in surfing that are completely decided by YOU.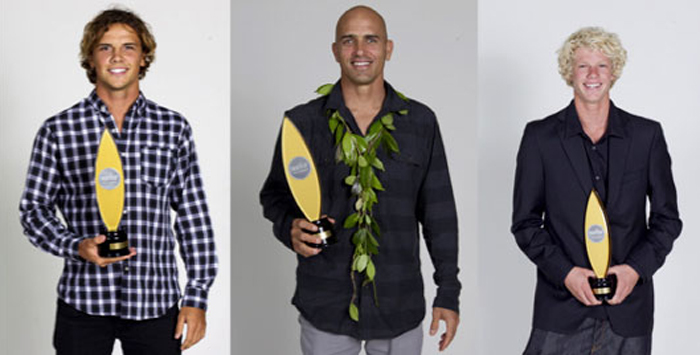 Kelly Slater's domination could be in jeopardy with the kind of year John Florence and Julian Wilson are having. Photos: Ellis
This year offers three new online voting options. Twitter users can Tweet the name of the surfer they'd like to vote for and tag #SurferPollVote. Similarly, Instagram users can post a picture of their favorite surfer with the same hashtag to cast their vote. These votes will count in the same way as a No. 1 vote on Surferpoll.com. These social media techniques will open up the voting field, allowing surfers and brands the opportunity to campaign for votes, ultimately providing the chance to shuffle up the ruling elite considerably. As usual, voters may also still cast their votes directly at Surferpoll.com or utilize the new voting widget on Surfermag.com.
Sponsors have divvyed up prize incentives to be given to one lucky voter each week, which include a GoPro HD HERO2, a Martin & Co. Little Martin travel guitar, NFL team hats from New Era Caps, as well as gift certificates from Verizon Wireless and Turtle Bay Resort. Keep up with the giveaways at facebook.com/surfermag.
For the past eight consecutive years, SURFER Poll has been claimed by 11-time World Champion Kelly Slater, who's won a total of 17 SURFER Poll No. 1 trophies. The women's poll has been less consistent, with the Top 5 often reflecting the changing of the guard. Last year, Carissa Moore earned the top spot, but what 2012 will bring, no one knows for sure. Will the new term bring "more of the same," or usher in change? Cast your vote and ensure your voice is heard when the ballots are all counted.
SURFER Magazine is also now accepting video submissions for the 2012 Surfer Poll Video Awards. Filmmakers who released a full-length film or short between October 1, 2011 and October 15, 2012 are eligible for this year's awards. The categories include Movie of the Year, Short of the Year, Best Documentary, Best Tube Ride, Worst Wipeout, A.I. Best Performance, and Heavy Water. Visit here for more info, or to submit a film.
Special thanks to SURFER Magazine partners Verizon Wireless, Red Bull, Kru82 Vodka, Turtle Bay Resort, Martin Guitars, GoPro and New Era Caps for helping to bring the 2012 SURFER Poll to life.
About SURFER
In 1960, SURFER Magazine began as the original. After a long history of delivering provocative and insightful editorial features, revealing interviews and award winning state-of-the-art photography, SURFER remains the authoritative voice of the surfing world and thus earned the moniker "the bible of the sport." The SURFER brand has also grown to include Surfermag.com, Fantasy Surfer, and the SURFER message boards. All of these assets combine to make the SURFER network the most current and reliable channel of information to the surf community. The magazine is published by Source Interlink's GrindMedia, which reaches more than 22-million active sports enthusiasts through an integrated network of magazines, online properties, events and television programming. To learn more, visit www.surfermag.com
About GrindMedia
Source Interlink Media's GrindMedia is home to renowned action and adventure sports magazine brands Surfer, Surfing, Snowboarder, Skateboarder, Powder, Bike, Canoe & Kayak, SUP-Standup Paddler, Dirt Rider, ATV Rider, and Paved. Along with our standalone websites, including GrindTV.com, Newschoolers and Motocross.com, GrindMedia is the leading provider of print and online action sports and entertainment content in the United States. Delivering significant reach across both action sports enthusiast and various in-market consumer audiences, GrindMedia produces more than 20 leading events and webcasts such as Surfer Poll Awards, Powder Video Awards, Nike 6.0 Lowers Pro, EnduroCross and International Surfing Day. GrindMedia is also the exclusive action and adventure sports content provider for Yahoo! Sports. To learn more, visit www.grindmedia.com
---