Back to News
HEALTH: Reports on Energy Drinks Show Gaps in Safety Policy
October 30, 2012
Reports on Energy Drinks Show Gaps in Safety Policy
As Reported By BARRY MEIER, NYTimes.com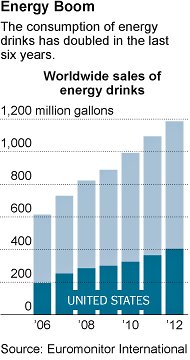 The disclosure this week that the deaths of five people since 2009 may be linked to a popular energy drink has revealed major gaps in the way federal regulators and companies monitor product safety.
Food and Drug Administration officials say that they are aggressively investigating the death reports, which are associated with Monster Energy, a highly caffeinated beverage. And its producer, the Monster Beverage Corporation, insists its products are safe, adding that it was unaware, apart from one fatality report, of other filings about deaths and serious injuries linked to its drinks.
But while the F.D.A. regularly makes adverse event reports about drugs and medical devices publicly available, it does not do so for dietary supplements like energy drinks. Because of that policy, consumers had no way of knowing of the complaints about Monster Energy drinks before incident reports were released by the F.D.A. in response to a formal Freedom of Information Act request.
Also, while supplement makers have been required since late 2007 to alert the F.D.A. to possible product-related deaths and injuries, Monster Beverage submitted just one such report to the agency over the last four years, agency officials said.
But the recently released F.D.A. documents show that over that time, the agency received 20 other filings about Monster Energy from consumers, doctors and others that included reports of four more deaths as well as life-threatening injuries.
Citing pending litigation, Monster Beverage, a publicly traded company in Corona, Calif., declined to respond to written questions about those episodes, including whether it routinely monitored F.D.A. reports on its products and, if not, why it did not do so.
The fact that the F.D.A. receives a report of a fatality or an injury linked to a drug, medical device or dietary supplement does not mean the product was at fault. But Senator Richard Durbin, Democrat of Illinois who sponsored the law that requires supplement producers to file such reports, said the agency needed to both enforce it and make the filings available to consumers.
"The reality is that the F.D.A. has not done its job," Mr. Durbin said.
On Friday, he and Senator Richard Blumenthal, Democrat of Connecticut, sent a letter to the F.D.A. commissioner, Margaret Hamburg, urging the agency to take action on energy drinks. Both lawmakers have been critics of the agency's stance on the popular beverages.
F.D.A. officials have said that they do not believe that data currently supports taking action on caffeine levels in energy drinks, but they also said the agency was continuing to look into the cases of reported deaths.
An F.D.A. spokeswoman, Shelly Burgess, said it was "going through a series of steps" to develop a way to make adverse reports about supplements publicly available. She would not say when the agency expected to complete that project.
She also said that the agency notified supplement makers when it received a report of a possible product fatality, and that the F.D.A. did so in the case of a 2009 death associated with Monster Beverage, as well as more recent fatality reports. She would not say when the agency notified the company, then known as Hansen Natural, and the company did not respond to questions.
Since mandatory reporting started in 2007, the only report of an adverse event submitted by Monster Beverage to the F.D.A. involved the highly publicized death last year of a Maryland teenager, Anais Fournier, Ms. Burgess said.
The girl's mother, Wendy Crossland, also filed an incident report to the F.DA.; the additional Monster Energy-related reports came to light when she sought such filings under the Freedom of Information Act.
She has sued the company, which says its product played no role in the teenager's death.
Steven Mister, the president of the Council for Responsible Nutrition, a trade group that represents supplement makers, said the F.D.A. had the authority to make adverse event reports public in a place like a Web site.
But he added that he was concerned that consumers would misinterpret the reports because they were inconclusive and that lawyers would seize on them to file frivolous lawsuits.
"It gives consumers information, but it doesn't give them an understanding of what the adverse event report means," said Mr. Mister.
Individual adverse event reports about drugs and medical devices also are inconclusive, but physicians and watchdog groups monitor them for trends that point to problems.
It was in 2006 that Congress passed the F.D.A. Dietary Supplement and Nonprescription Drug Consumer Protection Act, the law that requires producers of supplements and over-the-counter drugs to file adverse event reports with the F.D.A.
The law, sponsored by Senator Durbin, followed a scandal involving ephedra, a supplement sold for weight loss that was linked to dozens of deaths. Information from lawsuits later showed that producers had known of possible fatalities, the lawmaker said.
But the new law, which is intended to prevent a repeat of that episode, has resulted in few filings, either from industry or consumers and doctors. In 2009, for example, the F.D.A. received 907 mandatory reports from industry about possible adverse events involving all dietary supplements and weight-loss aids, a very large category of products that includes both larger energy drinks and smaller energy shots.
But in that same year, another federal agency, the federal Substance Abuse and Mental Health Services Administration reported that there were more than 13,000 emergency room visits associated with energy drinks alone.
In late 2011, Senator Durbin and a House Democrat, Henry Waxman of California, asked the Government Accountability Office to examine the F.D.A.'s adverse reporting system for dietary supplements.
A 2009, a report from the accountability office noted that the number of incident reports to the F.D.A. had increased because of the mandatory reporting rules, but the office said "underreporting of adverse events remains a concern."
Read this story on NYTimes.com
---