Back to News
SUPPORT: Support Aid Efforts for the Millions Affected by Sandy
October 31, 2012
Support Aid Efforts for the Millions Affected by Sandy

As the impact and destruction of Superstorm Sandy becomes clearer, the need for disaster relief has increased as millions of Americans are still left without electrcity and thousands of people near the coast are displaced from their homes.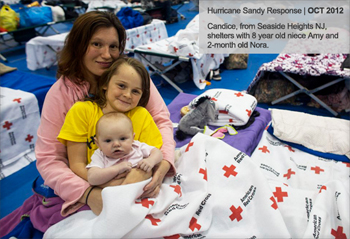 According to the Red Cross Facebook page, "More than 9,000 people spent Tuesday night in 171 Red Cross shelters in 13 states." While "Nearly 11,000 people spent Monday night in 258 Red Cross shelters across 16 states."
"The Red Cross has shelters open and will be opening more throughout the day. Hundreds of disaster workers are ready with relief supplies and emergency vehicles in place to help," said Charley Shimanski, senior vice president of Disaster Services for the Red Cross. "This will be a large, costly relief response and we need help now."
Our thoughts and prayers go out to everyone affected in the Caribbean and on the East Coast of the U.S. and Canada. If you can donate money or blood, the Red Cross will be able to respond.
Want to lend your support to the Red Cross for Superstorm Sandy relief? There are several ways to donate: visit www.redcross.org, call 1-800-RED-CROSS, or text the word REDCROSS to 90999 to make a $10 donation. Contributions may also be sent to your local Red Cross chapter or to the American Red Cross, P.O. Box 37243, Washington, DC 20013.
---