Back to News
SUPPORT: $77,065 Raised for SIMA's Stokes Me
November 1, 2012
Surfers Raise More Than $78,000 For Humanitarian Organizations Through Stokes Me Challenge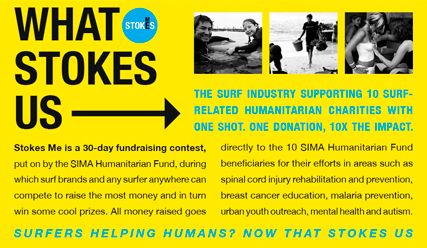 ALISO VIEJO, Calif. (October 31, 2012) — The Stokes Me Challenge has ended with a bang and the surfing community has raised more than $78,000 to benefit 10 surf-related humanitarian organizations. Surf brands, retailers, partners and surfers from around the world battled it out to see who could raise the most funds.
Fernando Aguerre and Santiago Aguerre of Liquid Tribe have been crowned victorious as the top fundraising team and have won the SIMA Humanitarian Award by raising $7,500. Judy Burlingham raised the most money as an individual fundraiser for a total of $6,650 winning a trip for two to Hawaii and the Triple Crown.
"Thank you to all of those that became personally invested with the Stokes Me Challenge as it is surfers like you who are at the heart of this cause," said Ross Garrett, SIMA Humanitarian Fund President and Vice President at Surfline.
"Raising $78,000 in our first year of the Challenge is exciting and I know that we will only continue to grow as we support the amazing work of surf-related humanitarian organizations making a difference in our world."
Bringing surfers together to promote a greater cause, the Stokes Me Challenge resulted in more than 760 donations, ranging from $2 to $6,000, from around the world. Special recognition goes to the following teams as they were close contenders and took second through sixth place: Surfline, Shop-Eat-Surf, Billabong, Ocean Minded and Hurley.
Liquid Tribe will be honored with the SIMA Humanitarian Award at the SIMA Image Awards on February 7, 2013, at the Grove in Anaheim, Calif. For more information on attending the awards, please visit sima.com.
Put on by the SIMA Humanitarian Fund, Stokes Me is a 30-day digital fundraising contest that took place October 1 – October 30, 2012. All money raised will go directly to the 10 SIMA Humanitarian Fund beneficiaries for their efforts in areas such as spinal cord injury rehabilitation, breast cancer education, malaria prevention, urban youth outreach, mental health, autism and cystic fibrosis.
While the Stokes Me Challenge has concluded for 2012, the SIMA Humanitarian Fund will be accepting donations year round. For more information and to make a donation, please visit www.stokesME.org.
The Stokes Me campaign is the official fundraising event for the SIMA Humanitarian Fund. Since 2004, the SIMA Humanitarian Fund has donated more than $1.58 million to surf-related, non-profit humanitarian organizations. All proceeds from this year's efforts will benefit 10 surf-related humanitarian non-profit organizations selected by the SIMA Humanitarian Fund Board of Directors forfocusing on improving the quality of life, health and/or welfare of people.
The 2012 Stokes Me beneficiaries include Best Day Foundation, Cystic Fibrosis Foundation, Jimmy Miller Foundation, Keep A Breast, Life Rolls On, Outdoor Outreach, Stoked Mentoring, SurfAid International, Surfers Healing and Waves for Water.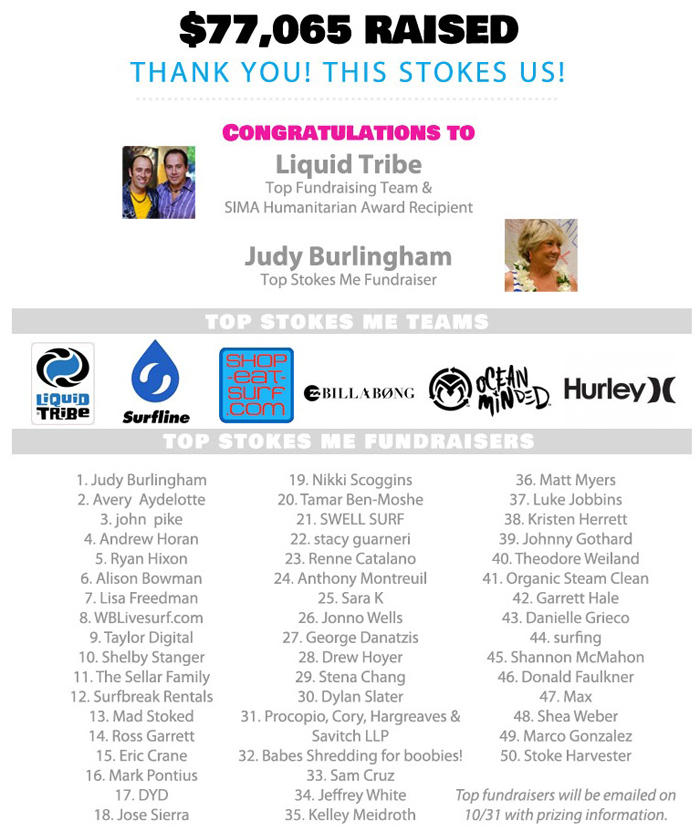 ---