Back to News
Focus Action Sports Q&A with Jared Corcoran, Founder
November 7, 2012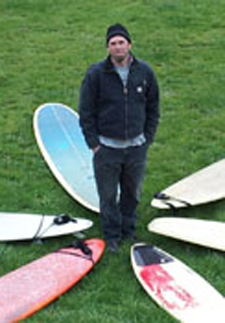 Focus Action Sports Q&A with Jared Corcoran, Co-Owner
Focus was created in early 2011 by Jared Corcoran and Bryan Mayjor, a pair of sports and outdoor enthusiasts based in Oregon, as a way to redefine the action sports industry by developing a much more accessible and centralized local store directory for small shops across the country. The site features a design and aim to simplify the web and mobile user experience for local shops to be spotlighted at a subscription price that is completely affordable.
While internet shopping and sales are at an all-time high and growing, it's important for retailers to get back to the basics and for the local communities to create relationships with their area shops –as one of the co-owners states, "While I realize internet shopping has its advantages, there's something special about visiting and supporting these shops and creating real relationships," explains Jared in an email interview. "Personally, I would much rather support the little guy than the corporation."
Read on for more on how Jared and the team at Focus plan to offer a directory service which will focus on providing users and shop owners a high-quality product which will show the user "what's near them at any given moment and will feature low subscription and advertising costs."
How did you come up with the idea for Focus Action Sports – an industry-specific store directory and locator?
Two years ago I bought a high performance DHD surfboard off of craigslist for $50 in so-so shape. It had some writing from the shaper on the bottom, "Made for Randazzo". Not knowing who Randazzo is, I looked up the name to find it was made for pro surfer, Dean Randazzo. What I found about Dean was that he, like me, was from New Jersey and currently living on the west coast, U.S. I sent him a message on facebook asking him about the board. Dean promptly replied back with a ton of background on the board and as it turns out, is a super friendly guy.

This whole process got me thinking about people, geographic localities, mom and pop surf shops, shapers and how we buy the products that define our sports. What I set out to do was develop a platform for small, local surf shops to be spotlighted where the user is at any given moment, at a subscription price that is completely affordable. With internet sales at an all time high and growing, I think we need to get back to basics and create relationships with local shops. While I realize internet shopping has its advantages, there's something special about visiting and supporting these shops and creating real relationships. Sure, there are some other directories out there offering similar information...at a high subscription cost to the shop. Not every shop can afford that kind of exposure. Where we differ is showing the user what's near them at any given moment and the low subscription and advertising costs for business owners. Google is probably our main competitor but, c'mon, none of us little companies can compete with them. While google's service is agreeably awesome, we offer a narrowed focus on action sports that is desirable for advertisers and users alike.
While researching the concept of this project, I found that action sport directories were almost an afterthought and not very user friendly. Here at Focus our objectives are clear: display the nearest shops to your current location along with any deals, and provide a list of a hotels if you're traveling. We went for a simplified look to help with the clarity. The site defaults to finding businesses near the user's current location with the option of entering in their city, state or zipcode to view shops in other locations.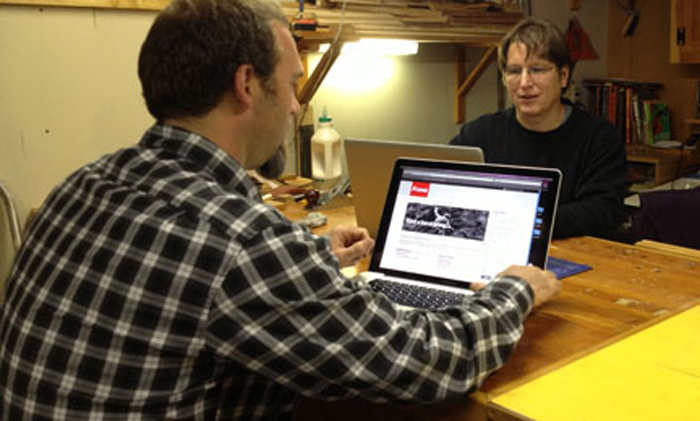 Jared and Bryan hard at work.
What is your background? What makes you qualified to take on this project?
I credit most of my love towards action sports to my uncle and my father. My first experience with action sports came when I was about 5. Uncle John's idea of babysitting me was for he and his buddies to take me along rock climbing at Elephants Grave in Summit, NJ. Well, I guess they decided that it would be cool to see if I could climb, so they strapped me in and I scaled that rock like a little monkey! John also gave me my first lessons in surfing at 6 years old and skiing when I was about 8. My father, also a surfer in the early 1960's, ran a high school ski club in northern NJ which gave me the opportunity to ski all the time. I was one of those little guys bombing down the mountain and jumping every mogul and cliff in site! When I was 14, I attended a summer race camp at Mt Hood, Oregon. "What, you can ski in Oregon in the summer?!?!? I'm moving there!" hahaha..
Professionally, I have a couple of degrees in Graphic Design and was fortunate enough to work at some killer places including Rossignol in Burlington, Vermont. When I started getting back into surfing, I needed a board so I ended up doing a work trade with a local Oregon shaper and owner of Pura Vida Surf Shop, Robert Rube. We traded board logo designs for boards.
Admittedly, I am not a pro athlete, but I am the person the sports industry is targeting. I am completely passionate about action sports, with surfing in particular; it's really a spiritual experience. If you take a look at my gear, most of it is old and banged up yet well loved. Passion is a funny thing; it helps you focus on an end goal and for me, it has given me a vision for Focus Action Sports way down the road.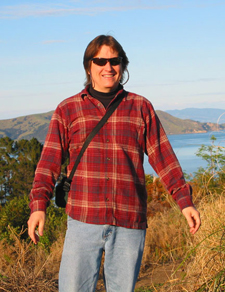 What is your current role with Focus Action Sports?
At this point there are two of us involved, myself and co-owner Bryan Mayjor. We both share all aspects of getting this project going but we each have clear areas of expertise. I am the marketer/writer/designer/conceptual lead and Bryan is focused on the technical aspects of the website. We are a small business with a passion for action sports and a philosophy of supporting local establishments. Creating, nurturing and promoting relationships is a huge part of this project.
Can you run through a day-in-the-life at Focus Action Sports – it must be exciting times there with the recent launch…
Ah wow. Yea its a bit more nerve-wracking than exciting! hahaha...
Our "official" launch date was October 19, 2012 and to tell you the truth, it was a bit uneventful. We got to a point with the site where we achieved all our set goals and were ready to start marketing. Let me tell you, there was a huge sigh of completion! For me, I have my own graphic design studio so I go back and forth from Focus to designing for clients all over the states and Hawai'i. Bryan also works at Oregon State University developing educational websites. We're just about to the point of transitioning to Focus full time. When that happens, we'll have a massive launch party, you're invited!
You're based in Oregon – do you have any local favorite shops near you?
You bet. Oregon is a hub of action sports. There's climbing, skiing and snowboarding, MTB trails, skate parks, lots of rivers and lakes for boating and some great golf courses to be found all around! I've found Oregonians are pretty fanatical about their sports. As my main love is surfing, I regularly support Pura Vida Surf Shop in Philomath, and Ocean Pulse and Ossie's in Newport, Oregon. These folks are great and super helpful when buying gear, stop by and say hello if you're in the area!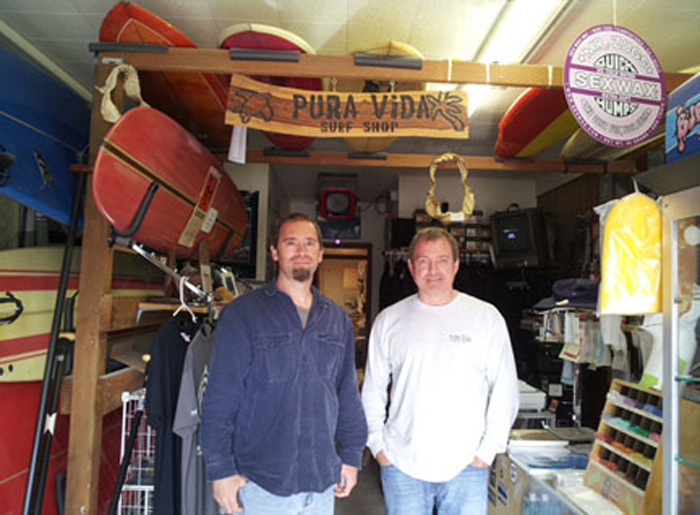 Pura Vida Surf Shop Philomath, Ore.
How long had you been developing the website prior to launching just last month?
We have been working on this project for the past two years. Since we both have regular jobs and families to support, the project certainly took longer than we first imagined, but we learned a lot along the way and have a better product as a result. The website is optimized for smart phones, tablet devices and traditional desktop browsers using a technique called responsive web design that formats the content based on the width (in pixels) of the device. Determining a user's location is accomplished using HTML 5 geolocation behind the scenes, allowing us to automatically find and display the nearest shops. As we are just starting to dig into marketing efforts and strategies, we don't have any advertisers, subscribers or users....yet. Currently our database is U.S. only, but we plan to offer world-wide exposure soon.
There is a live site at focusactionsports.com, although there are currently "no advertisers, subscribers or users....yet." How do you plan to get people to sign up?
Social media has made it pretty easy to get your name out to the masses. But as we all know, it's a fickle beast. I've been spending some time developing our brand on Facebook and Twitter for our users. I am also going old school and calling folks on the phone to tell them about our project. Having so many sports shops nearby, I am also visiting them to get the word out.
How are you growing the shop database? How do shops sign up and how much does the service cost for shop-owners?
We are utilizing a third-party database for providing basic shop and hotel information. Our directory includes the shop name and address at no cost to the shop. Shops can upgrade their free listing to a $49 annual subscription which allows them to create a mini-website that features their shop logo, contact information, hours of operation, shop description and what brands they carry. The whole idea is to provide a huge marketing effort to folks for a small amount of money.
Shops and lodging groups can sign up by clicking the "shop login/add your shop" tab at the top of the page. It's a really simple process that takes very little time.
We are also offering free exposure to select advocacy groups within each sport. We encourage everyone to support these groups who are on the front lines, fighting to keep our sport's environment healthy.
Access to the site and directory will always be free to users. Anyone can sign up for a newsletter and giveaways under the same "add your shop" tab. We will be offering some great giveaways for users and are looking to manufacturers to partner up with us for these giveaways.
What are the benefits for shops to sign up? How do you pitch this service to shop-owners?
Its all about the exposure. For each subscription, shops will be seen in their sport directory on the web and on mobile devices, on our homepage as a spotlight shop, and on various social media outlets. We are the mouthpiece advocating for the sports we all love.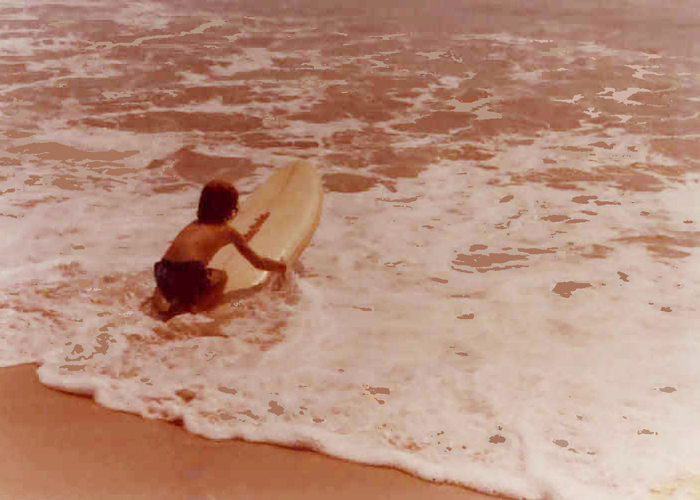 Jared as a surf stoked grom in New Jersey.
What has been your favorite part of the job?
Oh man, this whole experience has been amazing. I don't really see it as a "job" but more like an extension of everything I love; family, graphic design, technology, surfing. Just being part of an amazing industry is definitely my favorite part.
What do you see as your biggest challenges in growing the site?
Great question! Every aspect has been a challenge that we learn from and overcome. So far, naming the company was a monster of epic proportions! While we strive to have the most complete information, our database may be missing some shops or need corrections, we encourage everyone to view their shops sport and email us with any corrections or additions. Getting our name out to shops and showing them that Focus is worth the investment is the next big challenge.
Is there anything we may have missed?
Those were some great questions, thank you so much for this opportunity to talk about Focus. I would like to say that I am completely available to anyone with questions, insights or whoever wants to chat about anything. We can be reached at facebook.com/FocusActionSports, twitter.com/FocusAcSports or email me direct at jared@focusactionsports.com. Cheers!

---