Back to News
SURF: ASP International Releases 2013 Tour Schedule
November 15, 2012
ASP International Releases 2013 Tour Schedule
COOLANGATTA, Queensland/AUS (Thursday, November 15, 2012) – ASP International has released its tour schedule for 2013, outlining events for the ASP World Championship Tour (WCT), ASP Women's WCT, ASP Prime, ASP Star, ASP World Longboard Tour (WLT), ASP Longboard Qualifying Series (LQS), ASP World Junior Championship (WJC), ASP Pro Junior Tour and ASP Specialty events.
All schedules are subject to change and the ASP will continue to release information regarding event confirmations and scheduling when appropriate.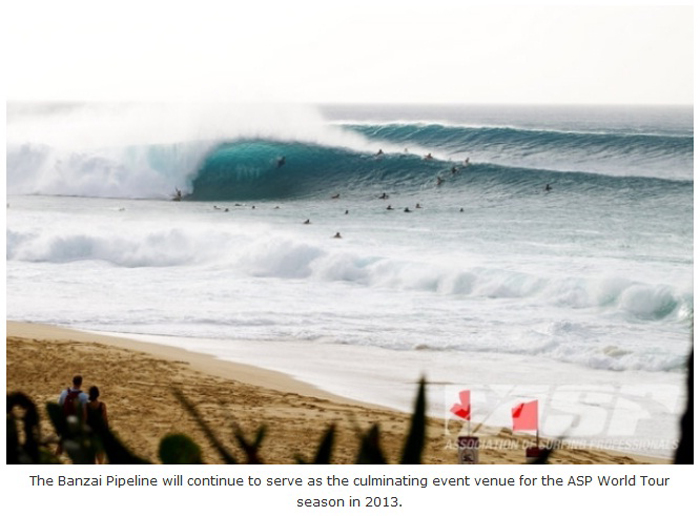 2013 ASP WORLD CHAMPIONSHIP TOUR:
- Quiksilver Pro Gold Coast – March 2 – 13, 2013
- Rip Curl Pro Bells Beach – March 27 – April 7, 2013
- Billabong Rio Pro – May 8 – 19, 2013
- Volcom Pro Fiji – June 2 – 14, 2013
- Billabong Pro Teahupo'o – August 15 – 26, 2013
- Hurley Pro at Trestles – September 15 – 21, 2013
- Quiksilver Pro France – September 27 – October 7, 2013
- Rip Curl Pro Portugal – October 9 – 20, 2013
- Billabong Pipe Masters – December 8 – 20, 2013
2013 ASP WOMEN'S WORLD CHAMPIONSHIP TOUR:
- Roxy Pro Gold Coast – March 2 – 13, 2013
- Drug Aware Pro Margaret River – March 16 – 24, 2013
- Rip Curl Women's Pro Bells Beach – March 27 – April 1, 2013
- NZ Surf Festival – April 3 – 7, 2013 *Tentative
- Beachley Classic *Tentative
- Rio Pro – May 8 – 14, 2013
- Roxy Pro Biarritz – July 10 – 14, 2013 *Tentative
- US Open of Surfing – July 22 – 28, 2013
A full 2013 schedule can be accessed HERE
The 2012 ASP season will conclude with the ASP World Longboard Tour events in China, the Swatch Girls Pro China hosted by Wanning and the Citic Pacific Shenzhou Peninsula Pro, as well as the Vans Triple Crown in Hawaii, comprised of the Reef Hawaiian Pro at Haleiwa, the Vans World Cup of Surfing at Sunset Beach and the Billabong Pipe Masters.
All LIVE surfing action can be accessed via www.ASPWorldTour.com
ASP World Tour Set to Return To China for the Second Annual Hainan Classic
COOLANGATTA, QLD/Australia (Wednesday, November 14, 2012) – 2013 will see the ASP World Tour return to China for the first ASP event in the Asia Pacific region, the 2013 Hainan Classic, held at Riyuewan Bay, Hainan Island, China from Jan 28 – 31. The event carries an ASP 4-Star rating and also continues the historic partnership with the ISA (International Surfing Association) established at last year's inaugural event.
Dane Jordan, ASP Australasia's General Manager has been involved in a number of events at the world-class left hand pointbreak, and is excited to return and see the athletes battle for precious ASP World Championship Tour qualification points.
"I love going back to China!" Jordan said. "We scored perfect waves at this event last year. All the surfers including myself were comparing the Ghost Hotel section of Riyuewan Bay to a left hand version of Kirra, which is one of the best compliments ever. It's great to see the support and interest from the people of Hainan, the government and businesses continue to grow."
Glen Hall (IRE), currently rated 18th of the ASP World Rankings, started his best competitive year to date with a win at the 2012 Hainan Classic and is already excited to return for the 2013 edition.
"I loved my time in China earlier this year," Hall said. "The waves were insane and the contest was a full success. The people were welcoming, the culture was interesting and waves were as good as anywhere in the world. It's definitely a new surf destination and one I'm looking forward to going back to."
ISA President Fernando Aguerre has been at the helm of the International Surfing Association since 1994 and has been a driving force in promoting surfing around the globe and is thrilled to return to China in 2013.
"This will now be the second consecutive year that the ISA will run the ASP Men's 4-Star Hainan Classic," Aguerre said. "Our partners at Womei Advertising, led by its CEO, Mr. Yang Dunhao, have once again delivered all of the financial and political resources needed for the 2013 Hainan Wanning Riyue Bay International Surfing Festival, incorporating the Hainan Classic and it is set to be one of the most important events on the global surfing calendar next year. The opportunities for the development of surfing in China are endless, and the continuation of this event will continue our path in the right direction."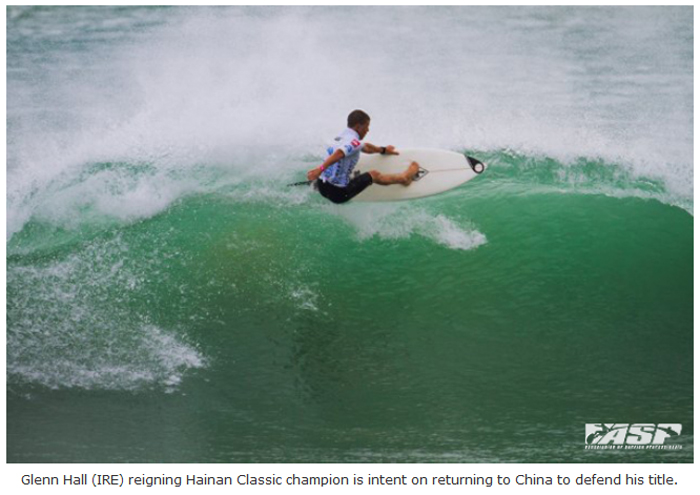 ---