Back to News
Series: Learn from Your Favorite Athletes
November 16, 2012
Series: Learn from Your Favorite Athletes
7 Life Lessons to Help You Get Ahead at Work
Take a look at your favorite athletes – be it Kelly Slater, Shaun White, Stephanie Gilmore, or Ryan Sheckler – it's sometimes hard to remember that these pros are just like the rest of us: they change jobs, get promoted, are fired, have bad days at work, and often can make or break their careers with just one decision (although, there is the added pressure on them to perform in public).
So, what can you learn from today's most celebrated (and public) figures in the world of action sports and the lifestyle industries? With this series, we will profile seven relevant athletes and will present a different one for the next seven weeks with lessons from their lives which you can apply to your careers.
This is our first installment for the series, and features action-sports renaissance man Travis Pastrana. Check back next week for profile #2 of 7.
---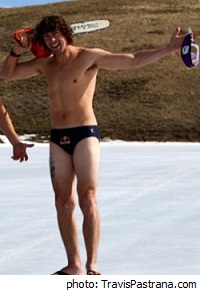 Travis Pastrana (#1 of 7)
Lesson learned: You can do it all.
Travis Pastrana has been successful in seemingly everything he tries, having secured championships and X Games gold medals in several disciplines, including: rally racing, supercross, motocross, and NASCAR.
Throughout his storied professional career, Travis has learned that taking risks can pay off in a big way, if you're not afraid to take a chance. And, as his website states: "Nothing is going to keep this superstar from exploring every possibility, whether it's racing, freestyle, step-up, making videos, or even a new favorite - BASE jumping."
The lesson here: don't be afraid to take a risk! Travis' career path proves that you can do it all if you're willing to put your career (or life) on the line.

The Life (Travis Pastrana) from No Regrets Entertainment on Vimeo.
---