Back to News
EVENT: Arnette's 20th Anniversary Celebration on November 30 featuring Bad Brains at the Belly Up
November 19, 2012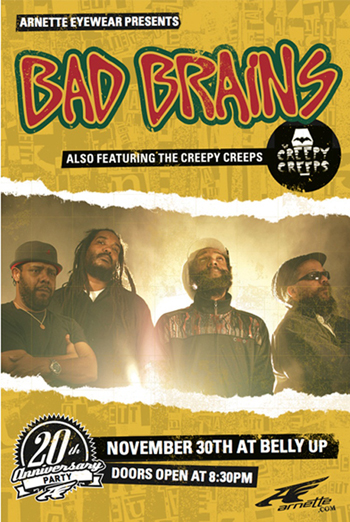 Arnette and Bad Brains To Celebrate Two Decades of Heritage and Making Things Happen On November 30 At The Belly Up
Styles change, but icons never go out of fashion. To celebrate their 20 years of creativity and having fun in sunglasses and goggles, Arnette is bringing punk icons, Bad Brains, along with the Creepy Creeps, to San Diego's Belly Up Tavern on November 30th to throw down, have fun and get loud. They want you to join them.
Punk and hardcore were the driving soundtracks for many of the action sports videos that came out in the 90's. Bad Brains, along with the numerous bands they inspired, built the audio landscape for videos that have driven countless individuals to push the boundaries of what's possible on boards and wheels.
Tickets to the show are on sale now for just $25, but Arnette is giving five pairs away via a contest using Instagram. To enter to win, just follow @Arnette on Instagram and upload a photo of what made the 90's special for you, along with the #ARNETTE90S tag. Winners will be announced on November 21.
Arnette was born in 1992 and quickly became the de facto badge for a new generation. Almost anyone who mattered in the snow, street, dirt or water backed Arnette. Twenty years, later, the same spirit of creativity that helped establish Arnette is still prevalent in Arnett's new A.C.E.S. sunglasses, Skylight goggle and the eclectic crew that backs the brand to this day. Arnette hasn't turned its back on the past either and those that yearn for the good old days can hunt for the just released 20th Anniversary Edition version of the Catfish, available in limited quantities worldwide.
If you can make it to San Diego on November 30, join Arnette, Bad Brains and the Creepy Creeps as they celebrate 20 years of hard charging good times. Tickets can be purchased at the Belly Up's box office or online at http://www.bellyup.com/event/bad-brains/.
More details can be found on www.Arnette.com and www.facebook.com/arnette.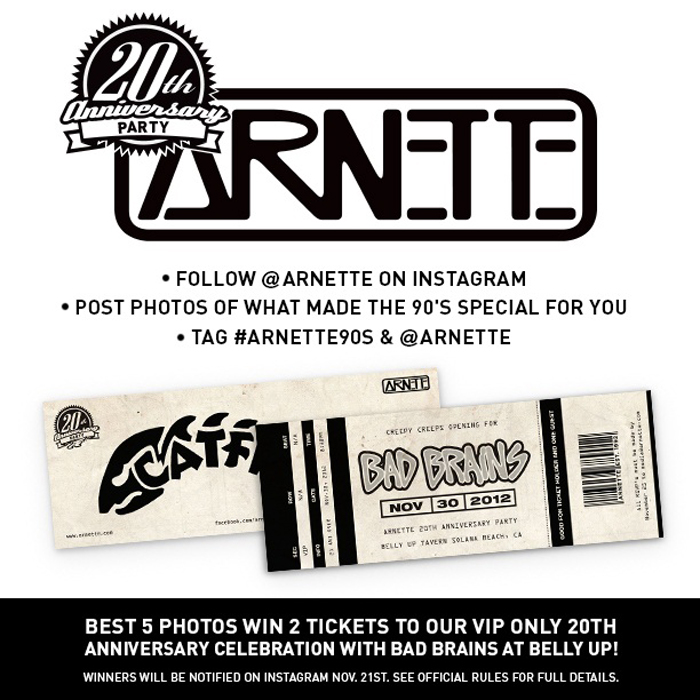 ---