Back to News
SUPPORT: TEAM PHUN to Donate 5% of November Sales to the Crohn's and Colitis Foundation of America
November 14, 2012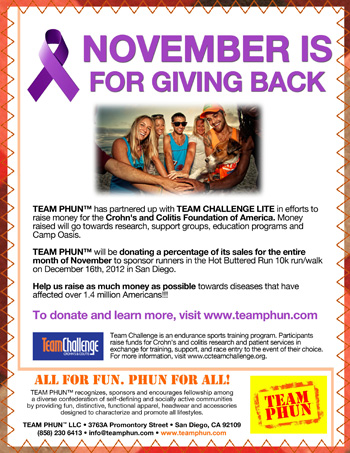 Team Phun to donate 5% of November Sales to Raise Money for the Crohn's and Colitis Foundation of America
San Diego-Based apparel and accessory company to sponsor runners in 10k
(San Diego, CA) TEAM PHUN has partnered up with TEAM CHALLENGE LITE in efforts to raise money for the Crohn's and Colitis Foundation of America (CCFA).
TEAM PHUN will be donating 5% of its sales for the entire month of November to sponsor TEAM CHALLENEGE LITE runners in the Hot Buttered Run 10k run/walk on December 16th, 2012 in San Diego. The monies will then be forwarded to CCFA to fund research, support groups, education programs and Camp Oasis, a coed residential camp program that enriches the lives of affected children.
Those interested in helping can learn more by visiting www.teamphun.com. There you will find opportunities to donate and even become a sponsored runner. In typical TEAM PHUN fashion, the company will supply runners with jerseys customized with the day's event and TEAM PHUN logo.
All for fun, PHUN for all, TEAM PHUN recognizes, sponsors and encourages fellowship among a diverse confederation of self-defining and socially active communities. TEAM PHUN provides fun – some say eclectic - functional apparel and accessories designed to characterize and promote their unique lifestyle.
---