Back to News
Series: Learn from Your Favorite Athletes
November 23, 2012
Series: Learn from Your Favorite Athletes
7 Life Lessons to Help You Get Ahead at Work
Take a look at your favorite athletes – be it Kelly Slater, Shaun White, Stephanie Gilmore, or Ryan Sheckler – it's sometimes hard to remember that these pros are just like the rest of us: they change jobs, get promoted, are fired, have bad days at work, and often can make or break their careers with just one decision (although, there is the added pressure on them to perform in public).
So, what can you learn from today's most celebrated (and public) figures in the world of action sports and the lifestyle industries?
With this series, we will profile seven relevant athletes and will present a different one for the next seven weeks with lessons from their lives which you can apply to your careers. This is our second installment for the series, and features Pipeline local John John Florence. We're going to take a break from our 7-part series on Learning from Your Favorite Athlete to profile the new surf marketing manager at Globe, check back in two weeks for profile #3 of 7.
---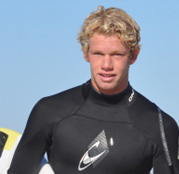 John John Florence (#2 of 7)
Lesson learned: Pursue your passion, it will lead to good things.
John Florence turned 20-years-old last month and is currently ranked #4 on the ASP World Tour, this being his rookie year. He is also the youngest surfer to ever compete in the Triple Crown of Surfing on the famed North Shore, when he was just 13. But, according to the O'Neill website (John's main sponsor), "It's his potential beyond those early achievements that has the surf world curiously waiting to see what John Florence will accomplish next."
The lesson here: John is proof that if you have a passion for something and pursue it, success is likely to follow. If you think you're in the wrong career or have no passion for what you're doing, do some serious soul searching sooner rather than later. John pursued his passion for surfing and dedicated himself to the sport from an early age - it's led him to good things.
Electric Candyman /// John Florence from Tyler McGill on Vimeo.
View Previous Post & Comments:
Profile # 1 of 7: Travis Pastrana
---