Back to News
SURF: Adriano de Souza Signs with Corinthians Sport Club
December 3, 2012
Current ASP WCT No. 5 Adriano de Souza Signs with Corinthians Sport Club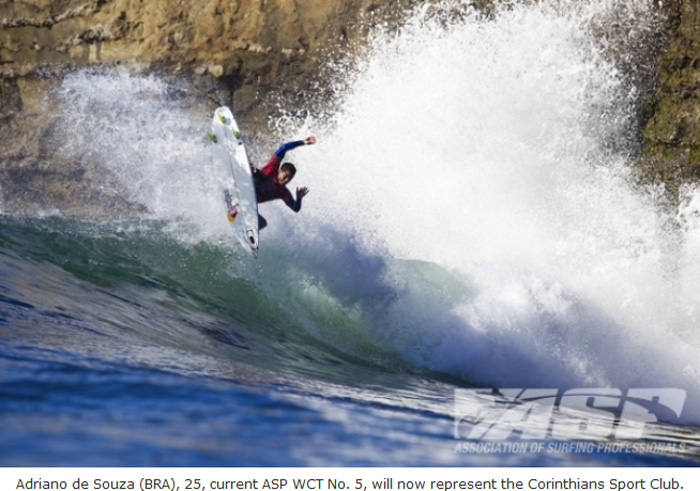 SAO PAULO, Brazil (Friday, November 30, 2012) – Adriano de Souza (BRA), 25, current ASP WCT No. 5, has announced a new sponsorship deal between himself and Corinthians Sport Club out of Sao Paulo, Brazil. The Corinthians Sport Club is Brazil's most financially-successful sporting club, reporting a current value of US$496 million (R$1.005 billion) in 2012. Bolstered by a hugely successful football club (claiming a nation's best US$145 million in revenue in 2011), the Corinthians Sport Club has recently branched out into aquatics and Mixed Martial Arts (MMA). Their latest move into the surfing world with Brazil's top-ranked surfer is unprecedented at this level of competition. Official word below:
The Sport Club Corinthians Paulista continues to expand its action sport athletes. After investing in MMA, with the hiring of Anderson Silva and Junior Dos Santos, as well as construction of a new training center, Timão (Sport Club Corinthians) has a new champion and a different discipline: the surfer Adriano de Souza, "Mineirinho".
The 25-year-old will now train on the premises of the Parque São Jorge. With the support of trainers of Timão, Adriano will do specific workouts with Academy Anderson Silva / Corinthians Club and swimming pools. Currently in fifth place on the ASP World Championship Tour rankings, the Brazilian surfer leads the South American charge amongst the world's elite
"It is an honor to wear the shirt of Corinthians, mainly defending that flag into the sea from now," De Souza said. "I have always tried to align myself with big names and brand and Corinthians is one of the largest in the country. Also, being a new Corinthiano, it is a tremendous honor to defend and club to be a part of worldwide to all my fans and all those who follow the sport.
"I will defend tooth and nail my position which is now the world's top five," De Souza said. "Maybe we can be world champion. No other athlete has achieved the championship for Brazil. I have finished in the Top 10 for the last four years and feel like I will have a good chance with this extra support. Now, with the entire structure provided by the Corinthians for me to improve my performance, I'm even more motivated. Being here is a great opportunity."
"To the Corinthians, having another champion athlete is a massive achievement. The surf, plus a sport, is also a lifestyle. The partnership with Adriano helps take the name of the club to the whole world," commented Director of Aquatics, Oldano Gonçalves de Carvalho.
The first competition of the athlete as Mineirinho Sport Club Corinthians Paulista happens between days 08 and 20 December in Hawaii. The surfer competes in the Billabong Pipe Masters, which closes the 2012 ASP WCT season.
No word yet on how this move will affect De Souza's relationships with his other sponsors.
For more on Adriano de Souza, check out his ASP WCT PROFILE
De Souza will first represent the Corinthians Sport Club at the season-ending Billabong Pipe Masters from December 8 – 20, 2012.
---