Back to News
SURF: "Paddle2Live" Named Recipient of 2012 Surfer Poll Agent of Change Award
December 3, 2012
"Paddle2Live" Named Recipient of 2012 Surfer Poll Agent of Change Award
SURFER Poll Awards Show Live Webcast at SurferPoll.com Dec. 6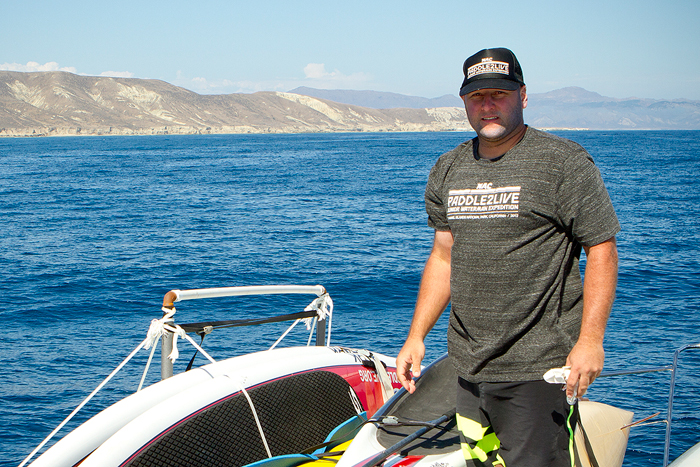 SAN CLEMENTE, Calif. (Nov. 28, 2012) — SURFER Magazine is proud to announce Paddle2Live as the 2012 SURFER Poll "Agent of Change" award recipient and beneficiary of VIP table sales. The award will be presented on Dec. 6, 2012, at the 42nd annual event honoring surfing's top athletes, films, and performances. Fans can tune in to the show in its entirety via the webcast at SurferPoll.com, which will air live on Dec. 6 from Turtle Bay on the North Shore during the Vans Triple Crown of Surfing.
The Agent of Change award recognizes an individual or organization making a difference for the betterment of the surfing community. Jack Shimko and Paddle2Live will join the ranks of Dave Rastovich who received the first-ever award in 2008 for his work with Surfers for Cetaceans, Dr. Dave Jenkins in 2009 for his work with SurfAid International, the Mauli Ola Foundation in 2010, and Operation Amped in 2011.
Paddle2Live is an adventure-based organization that uses sport to better the world, promote health and fitness, and educate young individuals to lead healthy, active, and adventurous lives. Jack Marshall Shimko, Newport Beach native and founder of Paddle2Live, was diagnosed with cancer three years ago on his 29th birthday. He chose to fight his cancer with his favorite sport of paddle boarding, to date paddling thousands of miles in the open ocean in order to raise awareness and funds for other foundations such as Livestrong, UCLA's Jonsson Comprehensive Cancer Center, the John Wayne Cancer Foundation and the Newport Beach Aquatic Center.
"SURFER Magazine chose Paddle2Live as this year's Agent of Change recipient because of their dedication and hard work. Our hope is that others will rise to the challenge to give back as well," says SURFER Publisher Tony Perez. "P2L Founder Jack Shimko has inspired us all, reminding us that the ocean cures, and that we should not only be thankful for our connection to it, but also encourage others—regardless of the challenges they may face—to jump in. Thank you P2L and all those involved."
The 42nd annual SURFER Poll Awards will take place Dec. 6, 2012, at the Turtle Bay Resort on the North Shore of Oahu, Hawaii, prior to the final event of the Triple Crown of Surfing. Attendance is by invitation only, but the event will stream live to the world at SurferPoll.com beginning at 7 pm HST (9 pm PST, 12 am EST).
Media are invited to attend and cover the event. To request admittance, please complete and return this credential request form.
Find more information at SurferPoll.com, win exclusive SURFER Poll giveaways at facebook.com/surfermag and start the conversation with #SurferPoll.
Special thanks to SURFER Magazine partners Verizon Wireless, Red Bull, Kru82 Vodka, Turtle Bay Resort, Martin Guitars, GoPro, House of Marley, Life Proof and New Era Caps for helping to bring the 2012 SURFER Poll to life.
About SURFER
In 1960, SURFER Magazine began as the original. After a long history of delivering provocative and insightful editorial features, revealing interviews and award winning state-of-the-art photography, SURFER remains the authoritative voice of the surfing world and thus earned the moniker "the bible of the sport." The SURFER brand has also grown to include Surfermag.com, Fantasy Surfer, and the SURFER message boards. All of these assets combine to make the SURFER network the most current and reliable channel of information to the surf community. The magazine is published by Source Interlink's GrindMedia, which reaches more than 22-million active sports enthusiasts through an integrated network of magazines, online properties, events and television programming. To learn more, visit surfermag.com
About GrindMedia
Source Interlink Media's GrindMedia is home to renowned action and adventure sports magazine brands Surfer, Surfing, Snowboarder, Skateboarder, Powder, Bike, Canoe & Kayak, SUP-Standup Paddler, Dirt Rider, ATV Rider, and Paved. Along with our standalone websites, including GrindTV.com, Newschoolers and Motocross.com, GrindMedia is the leading provider of print and online action sports and entertainment content in the United States. Delivering significant reach across both action sports enthusiast and various in-market consumer audiences, GrindMedia produces more than 20 leading events and webcasts such as Surfer Poll Awards, Powder Video Awards, Nike Lowers Pro, EnduroCross and International Surfing Day. GrindMedia is also the exclusive action and adventure sports content provider for Yahoo! Sports. To learn more, visit grindmedia.com.
---