Back to News
SUPPORT: Sims Snowboards Launches Tom Sims Legacy Fund
December 4, 2012
Tom Sims Legacy Fund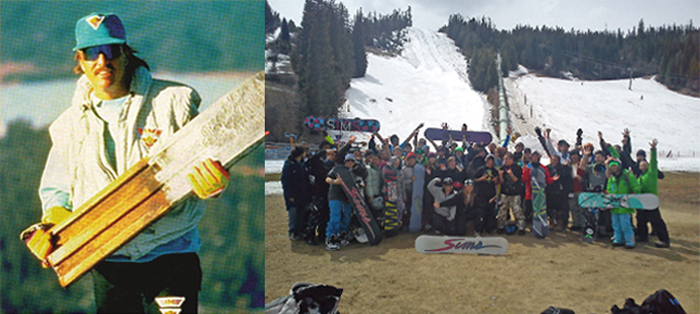 Left image: Tom Sims with World's First Snowboard Right Image: SOS at Winter Park, CO 2012
"Riding, just pure riding, is what snowboarding is all about." – Tom Sims
Even decades after his innovations and forward-thinking concepts became mainstay in the sport he loved; Tom continued to live his passion. His relentless pursuit for the deepest powder, the longest downhill paved road, and the smoothest wave was and continues to be an inspiration to us all.
To honor the memory of Tom and his passion for life and the sport of snowboarding, SIMS® has founded the Tom Sims Legacy Fund in partnership with SOS Outreach. The Fund was not only established to honor Tom, but to spread the love of snowboarding to anyone and everyone – a pursuit Tom lived day in and day out. With the assistance of SOS, the Fund will provide scholarships to underprivileged kids, exposing them to mountains and to the sport of snowboarding. A national nonprofit, SOS works with more than 5,000 participants annually, aiming to build character and self esteem in at-risk youth through outdoor adventure sports.

The Tom Sims Legacy Fund will create a sustainable annual campaign for SOS Outreach's snowboarding programs. All donations made to SOS through The Fund will provide scholarships to kids to participate in five-day Learn to Ride program, which includes five days of professional instruction, lift tickets, hard goods, soft goods, and the SOS Core Value curriculum. SIMS Snowboards kicked off the Legacy Fund with a $7,000 donation earlier. The initial donation will enable SOS to scholarship more than 150 participants in the program this year alone.
For more information about SOS Outreach, visit www.sosoutreach.org/page/about-sos-1.
To donate directly to the Tom Sims Legacy Fund, visit www.givingfirst.org/tomsimslegacyfund.
---