Back to News
SKATE: TEAM PHUN Introduces the ASTROBOARD Skateboard Using a Patented Design Featuring Astroturf
December 4, 2012
TEAM PHUN Introduces the ASTROBOARD® Skateboard Using a Patented Design Featuring Astroturf for Barefoot Riding.
No shirt? No shoes? No problem.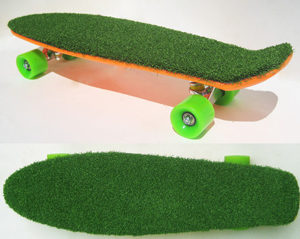 (San Diego, CA) TEAM PHUN™, a San Diego based brand that makes and markets fun, distinctive, functional lifestyle products and accessories has introduced The Astroboard® skateboard, sure to be the next craze in personal transportation.
Smooth, comfortable, innovative and brilliantly equipped with a surface of the softest Astroturf, this board is meant to be ridden barefoot. Men and women alike will find satisfaction in being able to leave their shoes at home and still ride their board without suffering from the inevitable "waffle feet" that typically results from being barefoot on a board with grip tape or a similar abrasive surface.
With its final assembly and quality control monitored by its creator, Jesse Goodwick, CEO of TEAM PHUN™, the Astroboard can be customized in multiple colors to suit its rider's preferences.
All for fun, PHUN for all, TEAM PHUN recognizes, sponsors and encourages fellowship among a diverse confederation of self-defining and socially active communities, including animal lovers. TEAM PHUN provides fun, functional apparel and accessories designed to characterize and promote different lifestyles.
For more information, digital images or video clips, contact Lindsey at (203) 994-6108, linz@TEAMPHUN.com or visit the website at www.TEAMPHUN.com.
---