Back to News
SURF: Slater, Gilmore, and Dear Suburbia Earn Top Honors at 42nd Annual Surfer Poll
December 7, 2012
Slater, Gilmore, and Dear Suburbia Earn Top Honors at 42nd Annual Surfer Poll
Surfing's Best Unite at Turtle Bay on Oahu's North Shore for the Biggest Night of Surfing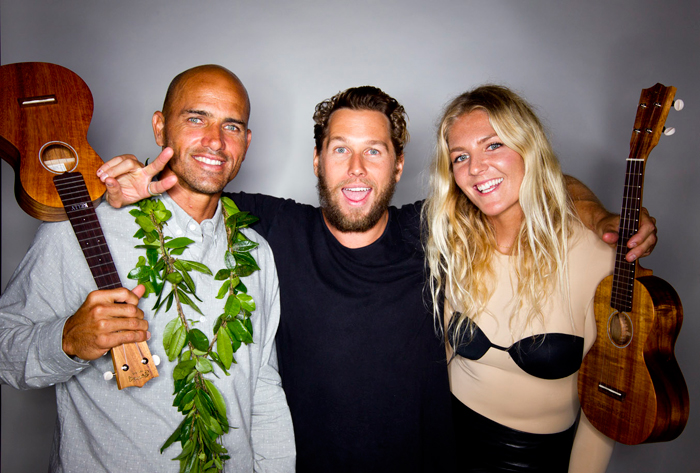 The winners at the 2012 SURFER Poll, all smiles. Photo: Ellis, SurferMag.com
For the third year running, the best surfers, filmmakers, and who's who of the surf world have converged at Turtle Bay on the North Shore of Oahu for the Biggest Night is Surfing. This year, for the the 42nd annual SURFER Poll Awards, it was Kelly Slater, Stephanie Gilmore, and Dear Suburbia who took home top honors. Awards were also presented to the top surfers, as voted by fans, as well as the best movies and performances of the year.
A veteran of the Poll, this year marked Kelly Slater's 18th SURFER Poll No. 1 Award. He first took the honor in 1993 when he was just 21 years old.
"Obviously I'm stoked, its been a long time with a lot of support from a lot of people," said Slater. "It's nice to be recognized by the surfing community and to come out at the top position. I'm surprised John John didn't get first. I also thought Dane was going to get it this year—maybe next year. I think they split each other's votes. They stole the election from each other."
This year also saw two first-time additions to the Top 10. John John Florence, who in 2011 won the AI Breakthrough Performer Award, leapt into the second position on the list just behind Slater. Also making his SURFER Poll debut this year, Gabriel Medina became the first Brazilian to break the Top 10 on the coveted Poll. He also secured the distinguished AI Breakthrough Performer Presented by New Era award for 2012.
On the Women's side of the Poll, the Top 5 from 2011 all remained on the list, with Alana Blanchard jumping up into the second position behind Stephanie Gilmore, who reclaimed the top spot for her third SURFER Poll victory.
"I am very excited about this year," said Gilmore. "I was a little unsure of how it'd unfold, I wasn't sure if I was going to come out on top because I didn't win last year. I seriously had one of the best years of my life, and I guess everybody else thought that too. These awards are so important, because it's the fans voting, so it means a lot."
In the Video Awards, Kai Neville's Dear Suburbia was the big winner of the night, earning the prestigious Movie of the Year title. In a category where it's an honor just to be nominated, other films included Surf Madness, Bending Colours, Get-N Classic Vol. 2, This Time Tomorrow, and Fighting Fear.
"I am absolutely thrilled. It's really unexpected and I'm so psyched and humbled. It's hard to put into words how stoked I am," said Kai Neville. "I was really close to this project and to have it be so well received means a lot. I was really happy with the end result and if other people are psyched on it too, I guess that means I must be doing something right and I'm not tapped yet."
And finally, it was another solid year for Dane Reynolds. In addition to the No. 3 spot on the Poll, he scooped up the Best Performance award for his role in Dear Suburbia.
2012 SURFER POLL RESULTS
Top 10 Men
1. Kelly Slater
2. John John Florence
3. Dane Reynolds
4. Gabriel Medina
5. Mick Fanning
6. Joel Parkinson
7. Julian Wilson
8. Taj Burow
9. Jordy Smith
10. Owen Wright
Top 5 Women
1. Steph Gilmore
2. Alana Blanchard
3. Coco Ho
4. Carissa Moore
5. Sally Fitzgibbons
AI Breakthrough Performer Presented by New Era
Gabriel Medina
Movie of the Year
Dear Suburbia by Kai Neville
Best Performance
Dane Reynolds, Dear Suburbia
Heavy Water
Shane Dorian
Best Barrel
Reef McIntosh, Fiji Freight Trains
Worst Wipeout
Mark Mathews, Fighting Fear
Short of the Year
Electric Blue Heaven, by Joe G
Agent of Change
Jack Shimko and Paddle2Live
Click here to see photos, videos, and to watch the show in its entirety at SurferMag.com.
---