Back to News
Office Booyz (& Girlz) - Winter Park 2012
December 12, 2012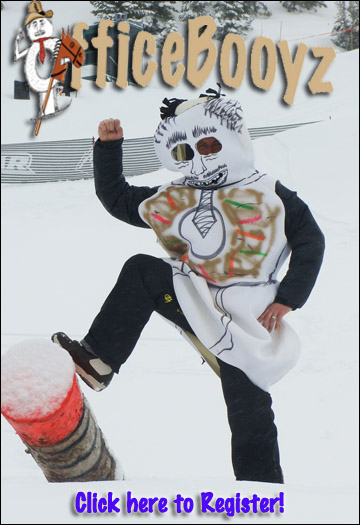 Office Booyz (& Girlz) - Winter Park 2012
We're back at Winter Park!
This Year's Theme - ONE HIT WONDER! - AGAIN
One hit is all it takes! Come through the contest area once (more if you like) take on an obstacle, get a prize! It's that easy. And so much fun. We encourage costumes!
We give away tons of great prizes! Most have nothing to do with being the best! So come enjoy. One hit, that's you need to do.
**You must be a full-time, registered, bona-fide, Office Booy (or Girl) that works in the industry in order to participate. However, all are welcome to be spectators, and there will be plenty to "spectate" at!

WHAT THIS IS:
It's a non-contest contest that is open to all skill levels. You don't need to be a former professional to pariticpate, and we give awards away for everything - check out the slide show below!


WHEN & WHERE
Winter Park
Monday February 4, 2013
12pm till 3pm-ish
Awards - 4pm or so
HOW
REGISTER

Past Event Photos
Office Booyz 2011
Office Booyz 2010

*** GET INVOLVED!!! If you or your company would like to take on a prize category and donate a prize, please e-mail us (chad@Malakye.com) with subject line "Prize for Office Booyz."
---