Back to News
Series: Learn from Your Favorite Athletes
December 7, 2012
Series: Learn from Your Favorite Athletes
7 Life Lessons to Help You Get Ahead at Work
Take a look at your favorite athletes – be it Kelly Slater, Shaun White, Stephanie Gilmore, or Ryan Sheckler – it's sometimes hard to remember that these pros are just like the rest of us: they change jobs, get promoted, are fired, have bad days at work, and often can make or break their careers with just one decision (although, there is the added pressure on them to perform in public).
So, what can you learn from today's most celebrated (and public) figures in the world of action sports and the lifestyle industries?
With this series, we will profile seven relevant athletes and will present a different one for the next seven weeks with lessons from their lives which you can apply to your careers. This is our third installment for the series, and features skateboarder Nyjah Huston. Check back next in the New Year as we continue our profile series with installment #4 of 7.
---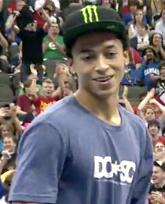 Nyjah Huston (#3 of 7)
Lesson learned: Do not allow outside factors affect your path to glory.
Nyjah Huston has been a household name in the world of skateboarding since he burst onto the scene at the tender age of seven, but the details of his personal life aren't as well-known. Following his return to Element skateboards a few years ago (after leaving Element to go pro for I&I Skateboards, a label started by his father) Huston revealed that his father's controlling behavior and the fact that his father had refused to return video footage to him once he decided to rejoin Element had led to their estrangement.
"I think for the first 15 years of my life I definitely missed out on a lot of social stuff, on what normal kids like to do," said Nyjah in an interview with Gonzo journalist Chris Nieratko. "But also I have to be thankful for it because I only concentrated on skating and look where it got me now. I think I missed out but I think I missed out in a good way."
Since breaking free from his father's hard-headedness and control of the family finances, Nyjah is on top of the world competitively and is seemingly making friends and experiencing the world like never before.

Nyjah Huston - "Past" - New Element Pro from ELEMENT SKATEBOARDS on Vimeo.
View Previous Post & Comments:
Profile # 1 of 7: Travis Pastrana
Profile # 2 of 7: John John Florence
---