Back to News
SNOW: CAPiTA Super Corporation Signs Two-Time US Open Champion
January 3, 2013
CAPiTA Super Corporation Signs Two-Time US Open Champion Kazu Kokubo to Pro Team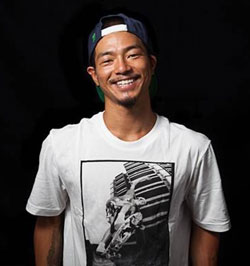 Seattle, Washington – CAPiTA Snowboarding is pleased to announce the addition of Kazuhiro Kokubo to its team of professional athletes. As one of the most respected riders worldwide, Kokubo has a long list of accolades.
The X-Games medalist has six FIS World Cup victories and has graced the cover of every international snowboarding magazine but one. A two-time Olympian, his accomplishments also include back-to-back wins at the US OPEN of Snowboarding. The March 2011 title was especially momentous as he became the first Japanese rider to win the US OPEN of Snowboarding multiple times. The victory came just one day after the Tsunami rocked his home country, adding to the enormity of the moment.
CAPiTA President Blue Montgomery commented, "We're honored to have Kazu join us. Normally we don't sign athletes outside our farm system, but Kazu is a perfect match. Who he is, how he presents himself, what he stands for… he's a very unique person and such a stylish, powerful snowboarder. He defends awesome. The future around here looks bright."
At CAPiTA, Kokubo joins two time X-Games Gold Medalist Dan Brisse, Transworld Snowboarding's Women's Rider of the Year Jess Kimura, Superstar Scott Stevens, Rookie of the Year nominee Brandon Cocard, and a company known for its credible roots and artistic approach. Watch CAPiTA's "The Outsiders" video welcoming Kokubo to the team here: http://vimeo.com/56132449.
CAPiTA Pro Team: Dan Brisse, Scott Stevens, Jess Kimura, Kazu Kokubo, Dustin Craven, Cale Zima, Brandon Cocard, Phil Jacques.
Stay tuned to capitasnowboarding.com, and connect with the brand on Twitter and Instagram @CAPiTAsuperCORP and on at Facebook.com/CAPiTAsuperCORP.
About CAPiTA
CAPiTA Snowboarding is based on the fishing docks of Seattle, Washington and is recognized throughout the industry for unique graphics, progressive product and world-class athletes. www.capitasnowboarding.com
---