Back to News
EVENT: Car Crashes into Beach Rays Surf Shop
January 3, 2013
Car Crashes into Beach Rays Surf Shop
Featured Installation at January Agenda Tradeshow
Long Beach, CA (December 2012) BEACH RAYS, a So Cal surf and swim apparel brand along with support from SCAVENGER , SURFBOARDLINE and MATUNAS WAX have teamed up to present a historic collection of vintage surfboards as part of a featured installation at the AGENDA Trade Show Jan. 4 & 5.
The installation gives a nod to a legendary image from an unknown surf photographer from the 1960's. The scene: Scavenger's delivery truck has careened into the front of the Beach Rays' Surf Shop and police and civilians are milling around on the scene. Tire tracks on the concrete lead us to the back of the pickup, where books, boxes and debris are spilling off and strewn about. The exterior window is shattered, exposing the surfboards of the time.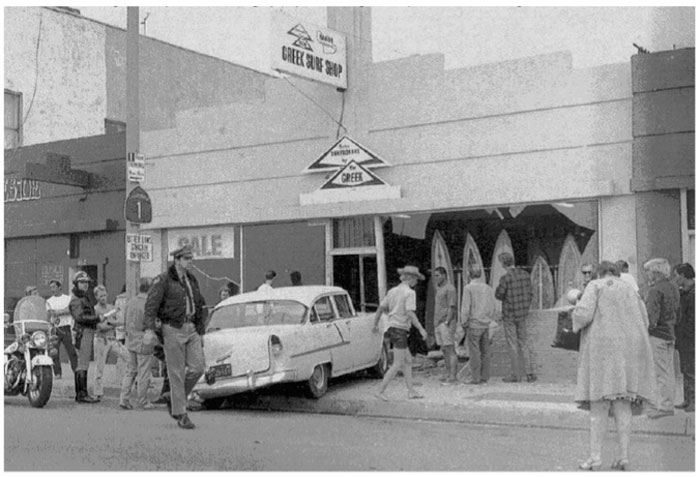 "The vision behind the booth is to break from the norm and create something that is more than just a display for the products," said Beach Rays owner Sam Yang. "We want to take a historical moment important to surfing, bring that moment back to the present, and let it be our collective space to showcase this culture."
"Jason and Stanton from Scavenger sent us this photograph of a car crashing through the front of a surf shop," said Beach Rays marketing director Rama Mayo. "We started doing research about who took the photo, we even contacted the International Surfing Museum in Huntington Beach, but could not find the photographer. Overtime we really fell in love with this image and decided to celebrate the moment at Agenda."
Discover VAST 2013's boardshort collection inside the shop, as well as the new RAY & WET women's swim lines by Beach Rays.
About Surfboardline:
Surfboardline's mission is to create the online social community for surfboard collectors and surfboard design enthusiasts to unite. Their website is a place for collectors to meet other collectors, showcase their collections and "talk story."
SBL believes that every surfboard has its own tale. From the backyard-shaping bay, to the glassing factory and into the water, every board has been shaped with human hands and gone on a unique journey. If these boards could talk, they would tell you endless stories of their travels to exotic destinations, of perfect tube rides and contest victories. They would also sing praises to the legendary men who shaped them and tell tall tales of the heroic men who rode them.
"If these boards could talk, they would tell you endless stories of their travels to exotic destinations, of perfect tube rides and contest victories..." – Buggs of Surfboardline.
About Beach Rays:
Inspired by history and heritage, we seek to bring together long-standing tradition with innovative design. From the classic board shapers to the cutting-edge surf stars, our vision is to spread the good word – and great feeling – of surf lifestyle across the globe and across generations. For us, the beach is a state of mind. Beach Rays'surf style encompasses everything from seeking a positive outlook in our lives, embracing our natural surroundings, and totally accepting our family, friends, and most importantly, ourselves.
Founded over a decade ago, the Beach Rays family has expanded to encompass all facets of surf style by creating fun and fresh fashions for men and women of all ages. Since our inception, we have been committed to utilizing only the finest materials and encouraging cutting-edge design and technology. Always reinventing and challenging ourselves, our founding label, Beach Rays, has expanded over the years to produce a number of playfully named offspring – VAST, WET, Ray, RayRay, and VroomVroom. Each label is distinctly their own, yet each always connects back to the Beach Rays tradition.
If you are interested in more details or interview requests around this unique collaboration, please contact Rama@streetvirus.com.
CONTACT
Rama Mayo
5651 Wilshire Boulevard, Suite B
Los Angeles, California 90036
323-465-9784

Beach Rays Social Media:
Blog: http://beachrays.com/news/
Facebook: http://www.facebook.com/beachrays
Twitter: @beach_rays
Instagram: @beachrays
Pinterest: http://pinterest.com/beachrays/
YouTube: http://www.youtube.com/beachraystv
---