Back to News
Shmooz: Malakye.com's Shmooz at Agenda Kicks Off a Trio of Winter 2013 Events
January 7, 2013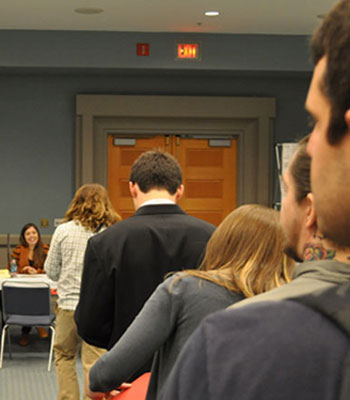 Malakye.com's Shmooz at Agenda Kicks Off a Trio of Winter 2013 Events
Addition of Discussion Panels; Massive Attendee Turnout Major Contributors to Success
On Friday, January 4th The Shmooz by Malakye.com returned to the Agenda Tradeshow. Agenda Owner Aaron Levant's continued support of and belief in the Malakye event enabled The Shmooz to bring together 15 of the industry's leading employers and well over 450 attendees for a day of discussion and Shmooz.
Malakye introduced a new element to The Shmooz this year in the form of discussion panels. Three panels featuring human resources professionals from industry leading companies covered topics focused on making the event more productive for the 100+ people in attendance during the panels. The topics included:
Above The Cut, featuring: Jennifer Barbaglia and Karina Philyaw of Fox Head and Irene Couch of Sanuk.
Networking – Traditional and Social, featuring: Jonny Sanchez of Pacific Sunwear, Christian Lusby of Fox Head, Amber Costello of Volcom and Tiffany Havlik of Tilly's.
Making the Most of The Shmooz, featuring: Jeremy Havlik of Vans, John Seely of Oakley and Annie Anderson of Tilly's.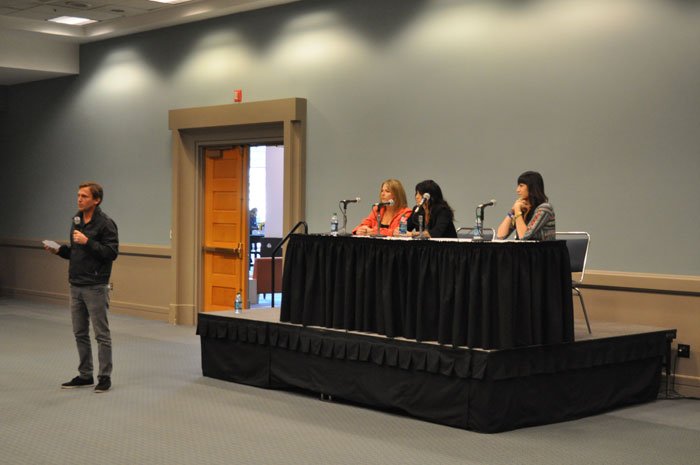 Jennifer Barbaglia and Karina Philyaw of Fox Head and Irene Couch of Sanuk.
"We're always thinking on how to improve everyone's experience at The Shmooz," explained Malakye.com's Chad Mihalick. "The idea of including discussion panels was something we believed was in reach and with the support of all the panelists it turned out great. Everyone I talked with about the panels really enjoyed them and found them productive."
The action picked up after lunch – The Shmooz was on! More than 450 people came through during the Job Fair and Networking portion of the event to visit 15 of the industry's leading employers including: VOLCOM, OAKLEY, TILLY'S, FOX HEAD, SANUK, VANS, QUIKSILVER, DC SHOES, PACIFIC SUNWEAR, ODINA SURF, NIXON, CREATIVE RECRECATION, SUPRA FOOTWEAR & KR3W, BAMBOO SKATEBOARDS, ROAD RUNNER SPORTS. As The Shmooz wound down, many of the employers reported a turnout of great people.
The Shmooz tour of Winter 2013 is not over yet! Coming up next The Shmooz is headed to Salt Lake City, Utah at Outdoor Retailer followed up by the last stop in Denver, Colorado at the SIA Snow Show. Join us!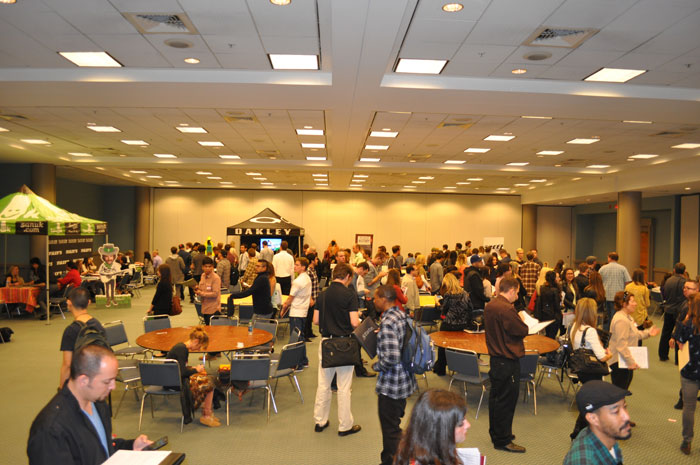 The action picked up after lunch when the Shmooz was on!

For more pictures, visit: http://www.facebook.com/malakyecareers

To connect with us socially, visit:
---