Back to News
B$Z: Arnette Joins With JDR Motorsports As Official Eyewear Partner
January 8, 2013
Arnette Joins With JDR Motorsports As Official Eyewear Partner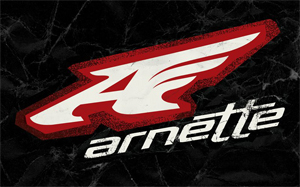 Encinitas, CA – January 8, 2013 – Arnette continues to expand its vision in motocross and supercross by joining forces with JDR Motorsports. Beginning immediately, Arnette will be the official eyewear partner of the JDR/J-Star/KTM Factory Racing Team, kitting them out with the latest versions of the Arnette Series 3MX goggles and top-shelf quality sunglasses.
Arnette has a deep history in supporting guys that charge on two wheels in the dirt and in 2011, released the Series 3MX goggle to help them see whatever it is they're riding towards. Riders on the JDR Motorsports Team that will be wearing Arnette goggles on the track include Malcolm Stewart, Josh Cachia and Joey Savatgy.
"The partnership between Arnette and JDR is a great match. JDR has a strong presence in Australia and is growing their program here in the US, two spots where we also have a strong focus. Plus, their team has tons of personality and truly enjoys what they do, which is how we like to roll at Arnette," commented Brent Bearden, Arnette Team & Events Manager.
Jay and Derek Rynenberg founded JDR Motorsports in Australia 2008 and they have grown their presence in racing every year since. In 2010, they linked up with KTM to be a part of their factory team and later, J-Star Motors signed on to become a title sponsor. The 2013 season will mark the team's third season racing in the US. All three members will race the 2013 AMA West Supercross Lites Series, with Stewart and Savatgy moving on to race the 2013 Lucas Oil Pro 250 Motocross Championship Series and Cachia returning to Australia to compete.
"In a short period of time JDR has had some really great success on the track and with our sponsor support. Arnette has a great presence in Australia and the US and we're looking forward to helping them expand their recognition in racing in 2013," said JDR owner and founder Jay Rynenberg.
In addition to guys on the JDR/J-Star/KTM Motorsports Team, Arnette's MX goggles and sunglasses can be seen on the faces of Jake Weimer, Robbie Maddison, Nick Wey and Adam Jones.
Stay up to date with Jake and the rest of the Arnette team online at www.arnette.com, http://www.facebook.com/arnette and http://www.twitter.com/arnette.
---