Back to News
SNOW: TWSNOW 14th Riders' Poll Awards Presented By New Era Nominees
January 10, 2013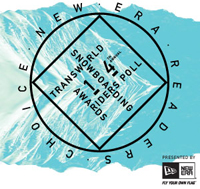 TWSNOW 14th Riders' Poll Awards Presented By New Era Nominees
Carlsbad, CA — Over 100 of snowboarding's biggest pros voted on the best riders, video parts, and performances of the year for the 14th annual TransWorld SNOWboarding Riders' Poll Awards presented by New Era and the results are in. To see who wins, join us on Friday, February 1 at the Fillmore Auditorium in Denver, Colorado for the biggest night in snowboarding. Doors open at 7:00 p.m. The show starts at 8:30 p.m. For those who can't make it, catch videos of the winners at TWSNOW.com/riderspoll.
This year's nominees are…
Men's Rookie Of The Year
Brandon Cocard
Danimals
Frank April
Women's Rookie Of The Year
Aimee Fuller
Cilka Sadar
Corinne Pasela
Men's Rider Of The Year
Bode Merrill
Nicolas Müller
Pat Moore
Women's Rider Of The Year
Desiree Melancon
Hana Beaman
Jess Kimura
Men's Video Part Of The Year
Frank April, Enlighten
Mikkel Bang, 13
Nicolas Müller, Resonance
Women's Video Part Of The Year
Desiree Melancon, Desiree Melancon
Hana Beaman, P.S.
Jess Kimura, Barely
Online Video Series Of The Year
Brothers On The Run, John and Eric Jackson
Cooking With Gas, Eero Ettala and Heikki Sorsa
Salomon Team Vacation, The Salomon Team
Video Of The Year
13/Burton
Resonance/Absinthe
The Darkside/Videograss
Standout Performance Of The Year
Brandon Cocard, 50-50
Jeremy Jones and the Further crew, hiking and riding the heaviest lines
Nicolas Müller, winning Real Snow Backcountry, Resonance part
New Era Readers' Choice, Men's & Women's*
Voting is still open! Click here to vote.
Legend Award*
*Awards nominees and recipients to be announced at a later date.
The 14th annual TransWorld SNOWboarding Riders' Poll Awards Show is presented by New Era. Additional sponsors include: Red Bull, Go Pro, Keystone Resort, Zumiez, Protect Our Winters, and Pabst Blue Ribbon.
For more information on TransWorld SNOWboarding and the Riders' Poll, visit transworldsnowboarding.com. Stay tuned to our Facebook, Twitter and Instagram feeds at @TWSNOW (#RidersPoll14).
Industry guests, please RSVP for tickets to info@transworld.net. Tickets can be picked up from the TransWorld SNOWboarding booth (#279) in the Blue Bird Social Zone at SIA.
Subscribe to TransWorld SNOWboarding magazine online at snowboarding.transworld.net/subscribe or download it to your iPad on iTunes by clicking here.
About TransWorld SNOWboarding
TransWorld SNOWboarding is the world's number one snowboard media outlet with an audience of over 1.4-million. Celebrating 26 years since its inception in 1987, TransWorld SNOWboarding continues to successfully and creatively cover the snowboard culture with innovative photography, original videos, award-winning print and multi-layered digital magazines, snowboard instruction, consumer events and cutting edge awards shows. TransWorld SNOWboarding can be found online at transworldsnowboarding.com and is based in Carlsbad, California.
TransWorld SNOWboarding is published by the leading action sports media company, TransWorld Media, a division of Bonnier Corporation. Bonnier Corp. (bonniercorp.com) is one of the largest consumer-publishing groups in America and is the leading media company serving passionate, highly engaged audiences through 50 special-interest magazines and related multimedia projects and events. Bonnier Corp. is the US division of the Bonnier Group (bonnier.com), a 200-year-old family-owned media group based in Sweden with business operations in 25 countries.
---