Back to News
Series: Learn from Your Favorite Athletes
December 21, 2012
Series: Learn from Your Favorite Athletes
7 Life Lessons to Help You Get Ahead at Work
Take a look at your favorite athletes – be it Kelly Slater, Shaun White, Stephanie Gilmore, or Ryan Sheckler – it's sometimes hard to remember that these pros are just like the rest of us: they change jobs, get promoted, are fired, have bad days at work, and often can make or break their careers with just one decision (although, there is the added pressure on them to perform in public).
So, what can you learn from today's most celebrated (and public) figures in the world of action sports and the lifestyle industries?
With this series, we will profile seven relevant athletes and will present a different one for the next seven weeks with lessons from their lives which you can apply to your careers. This is our fifth installment for the series, and features the Condor, Mat Hoffman. We're taking a break for the holidays so be sure to check back next year as we continue our profile series with installment #6 of 7.
---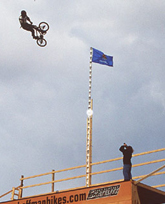 Mat Hoffman (#5 of 7)
Lesson learned: When you fall, get back up.
Mat Hoffman suffers for his art. Throughout his 25-year career he has admitted to being knocked unconscious over 100 times and has broken over 60 bones from injuries sustained riding freestyle BMX
"One time we did a demo where he fractured his hand and he didn't have a hard enough grip on his bike to really hold the handle bars or hit the brake," explains Tony Hawk, in EPSN's 30 for 30 documentary, "The Birth of Big Air". "So, he just taped his hand to the grip and the brake, and did the rest of the shows."
Mat Hoffman learned from his mistakes and he grew from his failures. The injuries he sustained and all the time spent out of commission led to him inventing more than 100 BMX tricks and developing several businesses which ultimately led to the revitalization of his sport. Mat proves that when you fall, you must get back up.

Photo: MatHoffman.com, Video: ESPN
View Previous Post & Comments:
Profile # 1 of 7: Travis Pastrana
Profile # 2 of 7: John John Florence
Profile # 3 of 7: Nyjah Huston
Profile # 4 of 7: Bethany Hamilon
---