Back to News
Series: Learn from Your Favorite Athletes
January 18, 2013
Series: Learn from Your Favorite Athletes
7 Life Lessons to Help You Get Ahead at Work
Take a look at your favorite athletes – be it Kelly Slater, Shaun White, Stephanie Gilmore, or Ryan Sheckler – it's sometimes hard to remember that these pros are just like the rest of us: they change jobs, get promoted, are fired, have bad days at work, and often can make or break their careers with just one decision (although, there is the added pressure on them to perform in public).
So, what can you learn from today's most celebrated (and public) figures in the world of action sports and the lifestyle industries?
With this series, we will profile seven relevant athletes and will present a different one for the next seven weeks with lessons from their lives which you can apply to your careers. This is our sixth installment for the series, and features beach babe Alana Blanchard. Check back later this week as we continue our profile series with installment #7 of 7.
---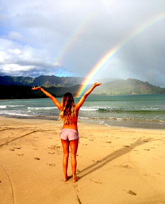 Alana Blanchard (#6 of 7)
Lesson learned: Utilize your best assets.
Although Alana Blanchard recently earned a spot back on the Women's ASP World Tour for 2013, her career in the water has had some ups and downs while on land her brand is shining. Alana has learned to capitalize on the fact that she is 'the most googled surfer on the planet' (according to TheInertia) by utilizing her most marketable assets.
"I've been on the WCT twice before in my career, and I'm excited to be back for a third campaign," says Alana in a press release. "This time around, I definitely feel more comfortable about being a part of the Top 17 surfers in the world. I'm a bit more mature and more used to the travel, so I really like my time at contests."
Alana's career is a showcase in the benefits of putting your best foot forward and capitalizing on the opportunities that present themselves which can give you the chance to advance your career and life.

Photo: AlanaBlanchard.com + Video: Network A
View Previous Post & Comments:
Profile # 1 of 7: Travis Pastrana
Profile # 2 of 7: John John Florence
Profile # 3 of 7: Nyjah Huston
Profile # 4 of 7: Bethany Hamilon
Profile # 5 of 7: Mat Hoffman
---