Back to News
Series: Learn from Your Favorite Athletes
January 25, 2013
Series: Learn from Your Favorite Athletes
7 Life Lessons to Help You Get Ahead at Work
Take a look at your favorite athletes – be it Kelly Slater, Shaun White, Stephanie Gilmore, or Ryan Sheckler – it's sometimes hard to remember that these pros are just like the rest of us: they change jobs, get promoted, are fired, have bad days at work, and often can make or break their careers with just one decision (although, there is the added pressure on them to perform in public).
So, what can you learn from today's most celebrated (and public) figures in the world of action sports and the lifestyle industries?
With this series, we will profile seven relevant athletes and will present a different one for the next seven weeks with lessons from their lives which you can apply to your careers. This is the seventh and final installment for the series, and features the skiing world's resident bad boy Bode Miller.
---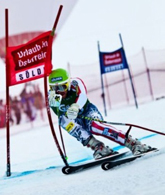 Bode Miller (#7 of 7)
Lesson learned: You can improve or reverse a negative image.
Despite winning two silver medals in 2002 and the massive hype surrounding his partying over performance in the 2006 Olympics, it wasn't until February 21, 2010 at the Vancouver Olympics that Bode Miller won his first Olympic Gold Medal.
"I was the most hated American athlete in Olympic history in the U.S," admitted Bode in a 2007 AP article. "All my media was just terrible and it ended up being great for me, because I didn't have to deal with as much of the crap that I don't like anyway."
Bode has since been able to reverse the immensely negative image most people had of him, through his performances and actions off the slopes. "The one-time wild man of World Cup nightlife, who had been known to trudge from last call to course inspection, was married in early October to former Cal-Berkeley volleyball player Morgan Beck," states a Sports Illustrated article. "Historically, Miller has overcome physical and social hurdles with his immense talent."
If there have been blips in your career that could prevent you from getting a job, speak to a career counselor about how to manage them on your resume and during job interviews to minimize the impact. Look at the path of Bode's career as an example of how to manage mistakes made in the past.The harm done to your professional life will depend on your past transgressions and the job to which you're applying.

Photo: BodeMiller.com + Video: AP
View Previous Post & Comments:
Profile # 1 of 7: Travis Pastrana
Profile # 2 of 7: John John Florence
Profile # 3 of 7: Nyjah Huston
Profile # 4 of 7: Bethany Hamilon
Profile # 5 of 7: Mat Hoffman
Profile # 6 of 7: Alana Blanchard
---