Back to News
EVENT: 5th Annual Earthship Pitaya Festival + 4th Annual Quiksilver Playa Hermosa Open
January 17, 2013

5th Annual Earthship Pitaya Festival + 4th Annual Quiksilver Playa Hermosa Open in Nicaragua!!!
2013 Dates are Set for February 18-23, 2013!
The Earthship Pitaya Festival is an annual music festival and surf contest which raises financial support and awareness for underprivileged children within the community of El Carizal, Nicaragua. The festivals hosts over 3,000 attendees, features bands from 4 different countries and raises over $10,000 annually for local community programs.
2013 Music Lineup
Bluefields Sound System
Octopi
Don Bigote y Los Pobrecitos
Kids Performance: Barrio La Planta Project
Schdule
Monday, 18 February: Art Gallery Opening
Wednesday, 20 February: Happy Hour at Villas de Palermo
Thursday, 21 February: Pitaya Verbena at El Timon
Friday, 22 February: Quiksilver Surf Comp Playa Hermosa Surf Camp
Friday, 22 February: Evening Concert at Villa de Palermo
Saturday, 23 February: 5th Annual Earthship Pitaya Festival
Get Involved!
Our vision for the Earthship Pitaya Festival was and continues to be connecting the local population with visiting tourists through art and music. The festival is a platform to feature local artists and inspire the children, while raising awareness for sustainable living and education within El Carizal. Through our volunteer programs and community outreach projects, we hope to cultivate a disarming mutual respect between visitors and locals thus providing the foundation for lasting friendships within the local community.
But How!?!
If you'd like to volunteer with this years festival, or get information about other projects our team is working on please...
Contact Pitaya Festival
There are many volunteer positions open for the day of the festival ranging from bartending to helping out with the kids area so please specify what area you are interested in. Remember this event couldn't happen without the support of our volunteers, so please donate some of your time to keep this festival alive.
Music Festival & Surf Contest- earthshippitayafestival.com
Non-Profit - casallantafund.com
The Casa Llanta Fund is a non-profit organization which promotes education and sustainable community development in Nicaragua. The fund initiated a mico-financed women's co-op, built a pre-school and a community kitchen, established a university scholarship program for students, offers after-school english classes and supports the ongoing financial needs of the center for disabled persons, including annual teachers salary, school bus and school supplies.
The 4th Annual Playa Hermosa Open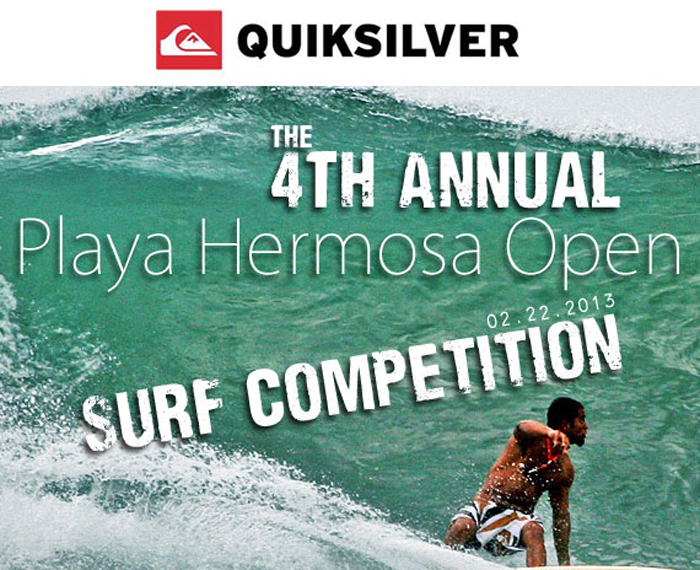 2012 Quiksilver Carizal Open, Playa Hermosa - Nicaragua from david kalani larkins on Vimeo.
We were blessed with some great waves for the 2012 Competition and already have our fingers crossed for some swell at Playa Hermosa in 2013. Many thanks to Quiksilver, SKYWATCH, Pitaya+, Zogs Sex Wax, Flor de Caña, Toña, SurfNicaWaves, and all of our local sponsors for making this event such a success, and congratulations to our 2012 Champions:
Open: Rex "La Bestia" Calderon
Longboard: Jose "Caraje" Hernandez Vanega
Chicas: Dunia Burgos
Estrella del Futuro: Sebastian Guadamuz
---