Back to News
SNOW: Peter Line To Be Honored With TransWorld SNOWboarding Legend Award
January 29, 2013
Peter Line To Be Honored With TransWorld SNOWboarding Legend Award At 14th Annual Riders' Poll Awards Presented By New Era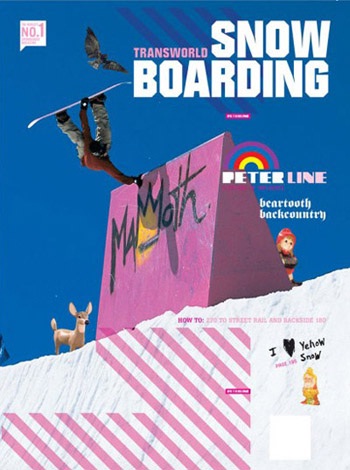 Carlsbad, CA — TransWorld SNOWboarding is proud to honor Peter Line with the Legend Award at the 14th annual TransWorld SNOWboarding Riders' Poll Awards presented by New Era. It's no doubt Peter Line would get honored to receive such a title as "legend." He always had the tricks—there was the first corked spin in the TransWorld SNOWboarding Video Magazine Volume 1#1 in 1993, and the first backside rodeo in his 1997 Mack Dawg Simple Pleasure's part. Peter led the charge on frontside heel edge spins and also going huge switch. Still, over a decade later, Peter was innovating, as one of the first to do handplant transfers in his Forum Or Against 'Em part.
But snowboarding is about more than just acrobatics. As much as Peter contributed to the progression of the sport, he's also added to its culture of weird. His 1993 Division 23 "masturbation" ad. His Forum Fear And Loathing pro snowboard model. The photo of him kissing himself as the intro to his self interview on his website peterlinedesign.com.
On the industry side, Peter can be seen as quite the business man, co-founding the brands Forum and Foursquare, and playing a pivotal part in bringing together JP Walker, Devun Walsh, Joni Malmi, Chris Dufficy, Jeremy Jones, Bjorn Leines, and Wille Louma to create The Forum 8, one of the strongest and most influential teams snowboarding has ever seen.
A multiple-time competitor at the Winter X Games over the years, Peter has successfully brought home numerous medals from the Snowboarding Big Air ('97,'99,'00) and Slopestyle ('99) events. You can say Peter Line has made a name for himself, also donning coveted TransWorld SNOWboarding covers over the years, as pictured above on the cover of the March '04 Issue.
Today, Peter has his own photography and design studio in Seattle, Washington where he made graphics for Forum boards and continues to do other design work. This past season he began designing Foursquare's 2014 line before it was shuttered, along with Forum and Special Blend.
For everything that Peter has done for progressing and growing the sport of snowboarding so far, please join TransWorld SNOWboarding in honoring him with the 2013 Legend Award, which will be presented to him at the Fillmore Auditorium in Denver, Colorado on Friday, February 1 during the14th Annual TransWorld SNOWboarding Riders' Poll Awards. Doors open at 7:00 p.m. For those who can't make it to the Fillmore, stay in the loop through TransWorld's Instagram and Twitter feeds @TWSNOW (#riderspoll14) and catch videos of Peter and all the winners post event at TWSNOW.com/riderspoll.
The 14th annual TransWorld SNOWboarding Riders' Poll Awards Show is presented by New Era. Additional sponsors include: Red Bull, Go Pro, Keystone Resort, Zumiez, Protect Our Winters, and Pabst Blue Ribbon.
Industry guests, please RSVP for tickets to info@transworld.net. Tickets can be picked up from the TransWorld SNOWboarding booth (#279) in the Blue Bird Social Zone at SIA.
Subscribe to TransWorld SNOWboarding magazine online at snowboarding.transworld.net/subscribe or download it to your iPad on iTunes by clicking here.
---