Back to News
NoRep Boardshorts Q&A with Tomas Kloosterboer, CEO/Founder
January 30, 2013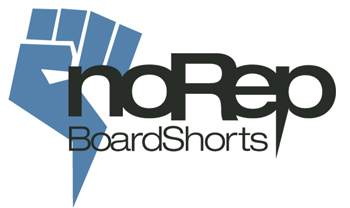 NoRep Boardshorts Q&A with Tomas Kloosterboer, CEO/Founder
Good friends Tomas Kloosterboer and Brian Danielson started NoRep Boardshorts almost 2 years ago as an apparel brand inspired by surf, art and activism after the co-founders both had unique disenfranching experiences working for the man.
Tomas moved from Argentina to Hawaii and linked up with Brian, who had been living in Sweden, to get the brand going following the pair's fall-out with their respective previous employers. The relative industry new-comers now fueled by a passion for surfing had a clear desire to start "something that no one can take away from us," as Tomas explained via email. "We wanted to resist the thoughtless direction of the industry."
And thus NoRep Boardshorts was born in mid-2011.
"The name NoRep came from Juan Perón, a former heroic President of Argentina (Peron was Evita's Husband). Peron's hands went missing after his death - the origin of our fist logo - and his name backwards would brand us, Norep.
"NoRep made perfect sense, it was personal and people would empathize in so many different ways, based on their life experiences."
NoRep is now set to launch it's second season of boardshorts, tees and sunglasses - and the brand is growing strong! Since launch in 2011, Tomas and the NoRep crew have worked with legendary artists like John Van Hamersveld (designer for the iconic "Endless Summer" poster art) and Opie Ortiz (designer for Sublime's artwork), among others.
"All of our designs are thoroughly thought through, we've done collaborations with artist that represent us one way or another, and people that we looked up to as we were growing up, ALWAYS focusing on quality and functionality."
And, NoRep is truly dedicated to creative a positive influence within the industry - the company is working this spring with 1st Descents, an organization that battles cancer through action sports, in coming out with a boardshorts collab with a portion of the proceeds going to their cause.
"We believe things can be done differently and even if we get worked a couple of times, we wont give up."
Read on for more on how began NoRep boardshorts began nearly two years ago as a company beholden to none.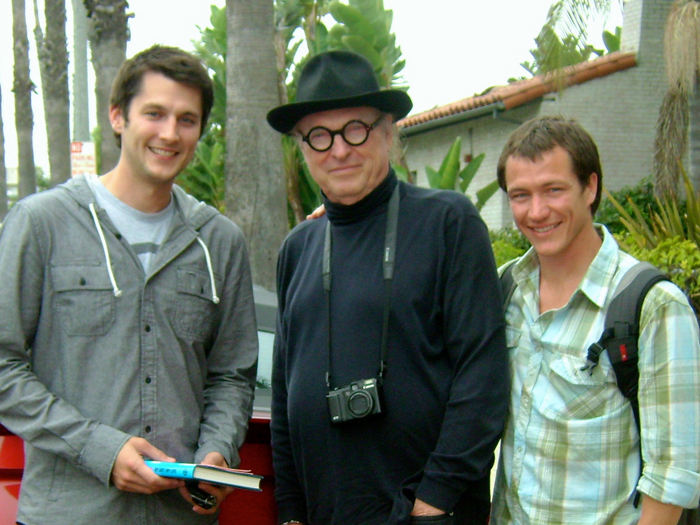 The NoRep crew with the legend, John Van Hamersveld (Tomas on the right).
What is your position with NoRepBoardshorts and who else is involved with the company?
My friend Brian Danielson and I own it together. It's officially just the two of us so we don't really have positions. That said, usually we split things up where I do the creative work and Brian does the sales and business part. I'm kind of the balls, he's the brains!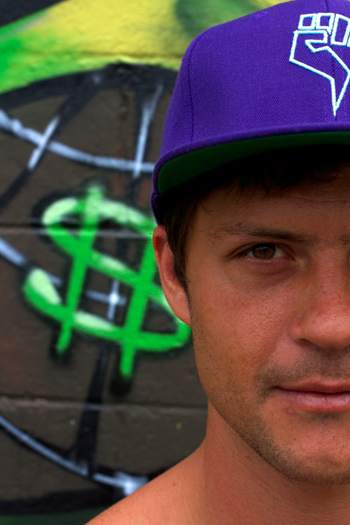 How did you first get involved in textiles and apparel production?
I was 25 and distributing Grenade in Argentina. Due to the strict importation laws, I came to realize the only way to keep on doing business would be to start licensing, so we made this presentation on a little laptop and showed it to Grenade's CEO. I remember it so clearly, we were at this hotel's suite in Vegas at SIA, 50 something floor, just 3 kids from Argentina showing this important guy why he should allow us to manufacture his stuff in another country. I was thinking to myself, how hard can it be?!
He said, "You are a kid, you can't do that!" And I told him, "I might be young, but I sure can!"
After going back and forth for a bit after the SIA, we got the first license Grenade ever gave and started manufacturing some of the tees and hoodies and then expanded to many other things over the next few years! Brian, who I started NoRep with was the international sales manager for Grenade so that's how we got to know each other!
What is your background with action sports - coming from Argentina, did you grow up surfing or skating?
I come from the city, so mostly I was skating, I would surf every so often. I started skiing and riding when I was 12 in Argentina. The lifts are old and rusty but the snow is good... Then when I turned 18 I decided, I WANT TO BE A SNOWBOARD INSTRUCTOR. It sounded so cool! I applied for a Visa, came to the US and started working as a ski and snowboard instructor in Vail. I kept on doing that for many years and that's really what got me started.
What lessons can you take from your time at your previous job with Alter Co/Grenade?
Since I didn't really know much about the apparel industry, I was learning new things every day. I knew how to be a good consumer of the gear but pretty much had to teach myself the business side. It was pretty hard at first but the guys at Grenade were really helpful. As intense as Joseph [Condorelli, Grenade's CEO] can be, he helped me a lot with advice. Really though, that's when Brian and I figured out we could work together really well. He flew down to Argentina a couple times and hung out and that's how that got started.
Then, I believe in life you learn either by seeing something, liking it and trying to imitate it, or by not liking something and deciding that that's not what you want for yourself. I saw a lot of that in Argentina and the US and I'd say a bit of both apply to NoRep!
You moved to Hawaii from Argentina a few years back to start the company - why Hawaii, other than the lifestyle and weather?
Why did I move to Hawaii? Why Not?!?!
Truth is, if we wanted to do a boardshort company, there's no better place in the world than Hawaii.
Picking up and moving to Hawaii seems to speak on the passion and rebelliousness of the brand which begins with the company name and logo - how important was selecting and designing these elements to establishing NoRep as an action sports brand?
Both of us are driven by passion and a belief in what we're doing. For me, it had a lot to do with getting the license for Grenade and picking up, leaving everything at home and moving to Hawaii. Brian did the same a couple years ago when he moved to Sweden to help start a distribution company in Europe.
To me, NoRep means going after your dreams and goals. Our logo is a symbol of strength and fighting back those things you disagree with.
It also has a bit of a hidden meaning between Brian and I, the name NoRep came from Juan Perón, a former heroic President of Argentina (Peron was Evita's Husband). Peron's hands went missing after his death - the origin of our fist logo - and his name backwards would brand us, Norep.
What have been the biggest challenges for you in starting NoRep?
Being a start up, I'd say creating awareness of the brand is the hardest part especially because our resources are limited and there's not a lot of room for mistakes. Every step that we take has to be precise. But then on the other hand sometimes we get excited and try to run before we can walk.
What products does NoRep currently have on offer?
We are about to launch our second season with Boardshorts, t-shirts, tanks, caps, a wetsuit top and working on some extras.
Our boardshorts are functional to surfing with the best 4 way stretch materials we can find and a really well thought out fit. They are thought to be perfect, from the conception of each of them until the final product is released, we pay so much attention to details.
Can you detail any of NoReps' plans for 2013 and beyond; are there any interesting product ideas, upcoming events, or future design collaborations in the works?
We have a lot of ideas! We're going to stay focused on our core products though and build our brand through them. Being a startup with limited resources, the focus is so important.
We can still have fun though! We are currently working on running an event here in Hawaii by the beginning of the summer. We keep on working with exciting people, meeting new friends along the way.
The team for NoRep is comprised of athletes and artists and the company also features a dedicated group of activists to support the brand - can you speak on the team for NoRep?
Activism is a very important part for us, its about standing up for what you believe, taking a stance in a cause or ideal that's important to you. If you disagree with the way things are, DO something, don't just sit down and criticize. That's not going make a difference or improve anything.
Our activists are all really cool. They're from all over the place and not always surfers but believe in what NoRep stands for. They also help us sell stuff locally where they live!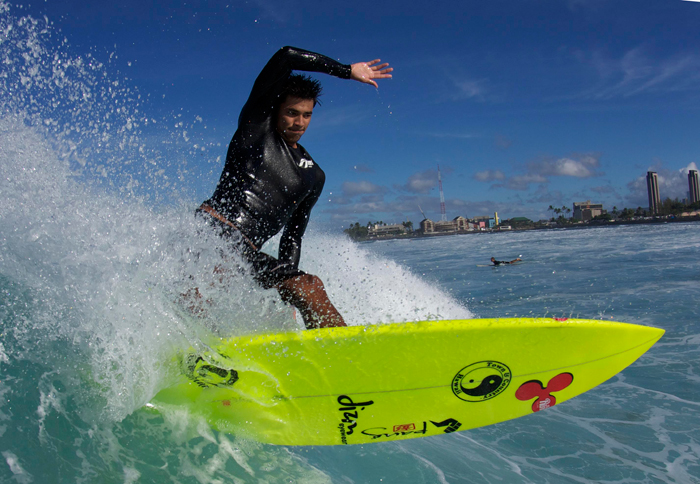 NoRep team rider Geoff Wong.
What is NoRep's relationship with 1st Descents and how did you get involved with the cancer-battling organization?
It's a bit of a story of how we got to meet them, but long story short: a friend of ours' niece is Alli DeFrancesco, a young woman who survived cancer in her early 20s. She's got an amazing background and her values of helping create awareness for young adult cancer were in line with some of the "stand up and make a difference" values of NoRep. We got to know the First Descents team through her.
First Descents is amazing though; they offer young adult cancer fighters and survivors a free outdoor adventure experience designed to empower them to climb, paddle and surf beyond their diagnosis, defy their cancer, reclaim their lives and connect with others doing the same.
We are coming out with a boardshorts colab with them this spring. They are fighting for a good cause, and we felt we should help. Every pair that is sold is a donation to their cause.
The company has recently launched product collections with well-known artists like John van Hamersveld, Opie Ortiz and Drew Brophy - how were you able to secure working relationships with such renowned artists and how was it collaborating them?
We're really fortunate to be working with these artists. What's been most amazing is their willingness to believe in us and make some incredible art. They love our story and believe in the reasons why we've started NoRep and see the passion we have for it.
It's been really cool hanging out with them too. I mean, we got to hang out at JVH's house and walk the Santa Monica pier with him (iconic!) Also, drinking some beers with Opie Ortiz and him telling us stories about Sublime or Long Beach was just unreal.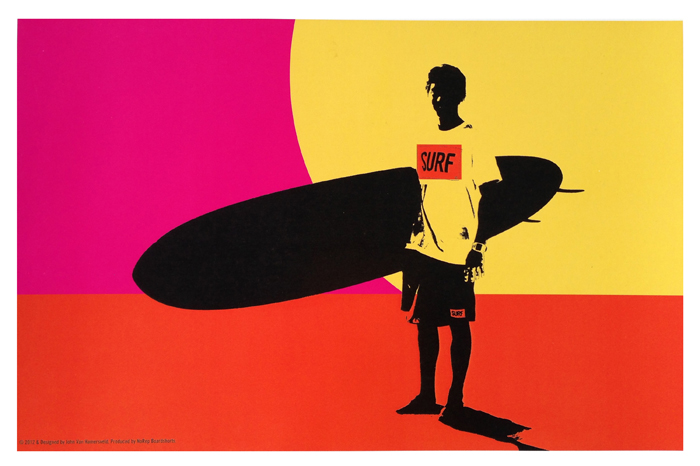 Besides working with amazing designers and artists, building a great team for support, and living in Hawaii - what has been the most rewarding aspect of starting an apparel company?
Personally, I'm blown away when we start planning a line and a season, and when the things start being materialized, when you actually see the artist's design and their understanding of the brand and then see that become a boardshort or a tee. Second, I'd have to say when we see someone wearing our gear. I just want to go and hug them! I don't... but sometimes it's tempting!
Is there anything we missed that you'd like to include?
There's a lot of people that helped us get to this point, if it wasn't for them we would not be here, so to the people that trusted in us, we'd like to say thanks! We are grateful for what we have and what we've achieved!
Thank you Tomas - good luck in 2013 and beyond!
---