Back to News
SNOW: Burton & Lifebeat Debut New Salt-N-Pepa Collaboration Snowboard at the 2013 SIA Snow Show
February 1, 2013
Burton & Lifebeat Debut New Salt-N-Pepa Collaboration Snowboard at the 2013 SIA Snow Show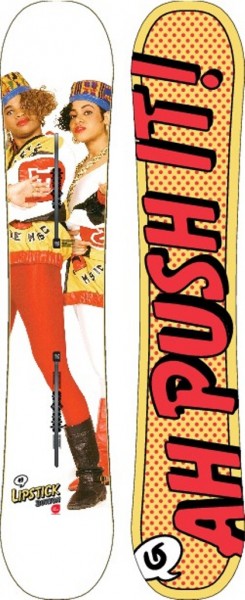 DENVER, CO - Burton Snowboards and Lifebeat, a national non-profit that uses music to raise awareness and funds in the fight against HIV/AIDS, have announced that they have partnered up on an exclusive line of women's snowboards for Winter 2014. Debuting today at the SIA Snow Show in Denver, Burton's 2014 women's Lip-Stick Restricted snowboard is at the heart of the partnership, features iconic female hip-hop group, and the longtime Lifebeat supporters, Salt-N-Pepa.
To celebrate the partnership, Pepa and a representative from Lifebeat will make a special appearance at the Burton booth this evening at 5pm (booth #1965) to promote the collaboration and create awareness around the organization. During the happy hour event, Pepa will also announce the winner of the Burton x Lifebeat raffle, which will award a 2014 Burton Lip-Stick board signed by Salt-N-Pepa to one lucky winner. All proceeds from the event will go to supporting Lifebeat's fight against HIV/AIDS.
The boards are on display exclusively at the 2013 SIA Snow Show in Denver, and will be available at select specialty retailers and Burton Flagship stores in early September 2013. For a first glimpse of this exciting new collaboration, check out the attached image of the 2014 Burton Lip-Stick featuring Salt-N-Pepa. And stay tuned for more details on the board design and graphics later this year.
About Burton
In 1977, Jake Burton Carpenter founded Burton Snowboards out of his Vermont barn and has dedicated his life to snowboarding ever since. Burton has played a pivotal role in growing snowboarding from a backyard hobby to a world-class sport by creating groundbreaking products, supporting a team of top snowboarders and pushing resorts to allow snowboarding. Today, Burton designs and manufactures industry-leading products for snowboarding and the snowboard lifestyle, including snowboards, boots, bindings, outerwear and layering as well as year-round apparel, packs/bags and accessories. Privately held and owned by Jake and his wife, Burton President Donna Carpenter, Burton's headquarters are in Burlington, Vermont with offices in Austria, Japan, Australia and California. For more information, visit www.burton.com
Follow our line at: facebook.com/burtonsnowboards, twitter.com/burtonsnowboard and @burtonsnowboard on Instagram.
---