Back to News
SUPPORT: OluKai employees earn their way to Ho'olaule'a by giving back to the community
February 12, 2013
OluKai employees earn their way to Ho'olaule'a by giving back to the community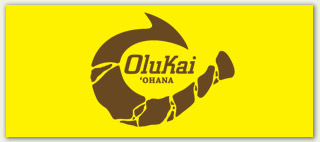 Orange County, CA - In preparation for OluKai's 5th Annual Ho'olaule'a, the company is offering its employees an opportunity to attend the event compliments of the OluKai, but first, they must give back.
Ho'olaule'a takes place in Maui on May 11-12, 2013 and celebrates the Hawaiian culture and traditions that surround this community, from elite athletes participating in SUP racing to family friendly activities in and around the ocean. In keeping with its Ohana tradition, OluKai invites its employees to experience the event by contributing a minimum of 20 hours of "giveback" local service leading up to the event in order to qualify for travel to Ho'olaule'a and the Maui Cultural Lands Giveback Day.
"Ohana means community. At OluKai we take an active approach to giving back, establishing a community of shared goals, expertise, resources and respect," says Kerry Konrady, director of marketing for the brand. "In addition to OluKai's transparent, trackable monetary and product contributions, our employees regularly roll up their sleeves to join the effort. And in turn, our family of committed advisors and athletes provide us with valuable advice and inspiration. One of the most important roles of 'Ohana is the passing along of shared history and hard-won wisdom to the next generation. All the organizations participating in our Giveback Program are actively involved in this connection of past and future."
In addition to the minimum 1-year employment requirement, OluKai employees will be encouraged to keep a "travel log" of their time at Ho'olaule'a to document their Aloha experience throughout the trip. This content will be collected and shared via OluKai's social media platforms including blogs. Facebook and Instagram. This is part of OluKai's Talk Story, which invites us all to share ideas, stories, history, and opinions with those around us.
About Ho'olaule'a
Ho'olaule'a literally means "celebration" but for OluKai, it's also an expression of gratitude. Each May, the company holds its' interpretation of this storied Hawaiian tradition on Maui's north shore. The event blends elite competition with family-friendly cultural activities and gathers some of the world's best SUP and OC1 paddlers to race the legendary 8-mile Maliko downwind run. Friends and families come together to enjoy canoe sailing and surfing, ancient Hawaiian games, traditional luau, hula, and live music. OluKai takes this opportunity to recognize and honor its 'Ohana Giveback partners, as the community shares collective gifts of time, energy, and spirit.
About Ohana Giveback Program
The Ho'olaule'a event is just one of many ongoing, Ohana Giveback programs at Olukai and one that further promotes the company's longstanding commitment to its Hawaiian family. Every year, OluKai shares time, product and proceeds with organizations that are actively pursuing Mauka (toward the land) and Makai (toward the ocean) –based initiatives. These partnerships allow OluKai to demonstrate its gratitude in a way that is meaningful and enriching for everyone involved. OluKai is proud to support such programs as:
The Hawaiian Lifeguard Association & Junior Lifeguard Program - 450 of the world's most elite lifeguards patrol in OluKai footwear. These Watermen pass down their knowledge and culture to the Junior Lifeguard Program, which introduces water safety, first aid and surf rescue techniques to thousands of kids across Hawaii. The result is safer beaches, greater self-confidence, and more fun for locals and tourists alike.
Maui Cultural Lands - This non-profit grassroots land trust organization is dedicated to stabilizing, protecting and restoring Hawaiian cultural resources. MCL's vision is to restore Honokowai Valley to a state of balance so that it can serve as a place to learn, to find peace and to honor those who have come before us. Each year, a number of OluKai employees travel to Maui to assist with archeological stabilization and reforestation efforts, and to help carry on the legacy of founder and respected kupuna Ed Lindsey (during Ho'olaule'a)
Hurricane Sandy Relief - OluKai recently partnered with Project Save Our Surf to provide relief to people who have been affected by Hurricane Sandy in New York City. OluKai donated about 700 pairs of closed toed shoes (valued at over $85,000) as well as financial support to stores and retail shops to which OluKai is connected that had suffered structural damage (minimum of $15,000) from the storm. Ambassadors from Project Save Our Surf drove across the United States, from Santa Monica to New York, and worked with the New York Surfrider Foundation to set up several relief outposts for people to come to and receive the supplies they needed (such as clothing, shoes, baby items, water, non-perishable foods, school supplies, toiletries, pillows, blankets, towels, batteries, pet food, cleaning supplies, shovels and generators). The ride was recently completed and was successful in delivering over $100,000 worth of supplies.
About OluKai
OluKai is an ultra-luxury lifestyle brand that believes everyone, no matter where they are, can live Aloha. OluKai is one way to unlock its spirit in all of us. It is an inspired brand that whole heartedly believes in creating an emotional connection with the consumer and communicates from an "inside-out perspective." The company is committed to building a unique and better class of products that blend ocean heritage with modern performance while leaving the smallest footprint possible on the planet. Through its Fit by Nature™, Crafted by Hand™ design principle, OluKai builds every pair of footwear with signature anatomically contoured footbeds to deliver the perfect balance of instant comfort and lasting support. Each pair features beautiful, quality materials and handcrafted details inspired by island culture. In every facet of its business, the brand is committed to respecting the people and the environments it touches. Inspired by the strong tradition of giving an offering or tribute in Polynesian culture, OluKai established the 'Ohana Giveback Program to support the efforts of those who continue to give back to preserve local cultures and traditions. For more information visit www.olukai.com.
---