Back to News
SKATE: TransWorld SKATEboarding Announces New Era Readers' Choice Nominees For Upcoming Awards Show
February 18, 2013
TransWorld SKATEboarding Announces New Era Readers' Choice Nominees For Upcoming Awards Show
Winners To Be Awarded On February 27, 2013 In Hollywood, CA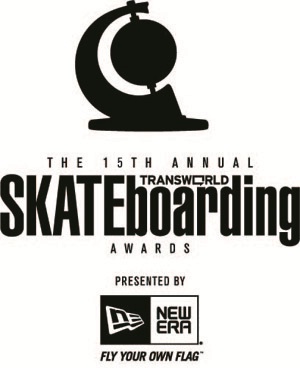 Carlsbad, CA – TransWorld SKATEboarding announces the New Era Readers' Choice nominees for its upcoming 15th Annual TransWorld SKATEboarding Awards Presented by New Era, which will take place on Wednesday, February 27 in Hollywood, California. This red carpet event is the biggest night of the year in skateboarding, bringing together the most talented skateboarders and industry executives to celebrate 2012's top riders and videos.
"We are excited to bring back the New Era Readers' Choice Award," comments New Era's Senior Manager for NFL & Action Sports Braden Dahl. "The relationship between New Era and TransWorld SKATEboarding has always been a key pillar to our skate program. This event provides us a premium platform to celebrate some of the most progressive athletes in the world and allows New Era to give back to the skate community and our valued brand partnerships. We are looking forward to see who Nyjah will pass the torch off to this year."
New Era will be presenting this year's Readers' Choice Award, which is voted on by TransWorld SKATEboarding's loyal readers. And the nominees are:
Justin Figueroa
Austyn Gillette
Guy Mariano
The nominees for Best Rookie, Best Team, Best Video, and Best Video part have already been announced. Click here for the official announcement on TWSKATE.com. New Era, the exclusive headwear sponsor of this year's awards show, will also be producing custom, limited edition hats for all award nominees. As an added bonus, a handful of TWSKATE.com visitors will also have a chance to win one of these coveted caps.
Directly following the awards, TransWorld SKATEboarding is proud to host the world premiere of its 25th full-length skate video, Perpetual Motion, the newest film by Jon Holland and Chris Thiessen. Stay tuned to TWSKATE.com for more information on local premieres in your area soon.
The Awards Show is an invite-only event. For more information on TransWorld SKATEboarding and the awards show, go online to TWSKATE.com. Stay tuned to TWS's social feeds at @transworldskate (#TWSAWARDS2013) for all the up-to-the-minute updates on this year's awards. The 15th Annual TransWorld SKATEboarding Awards is proud to be presented by New Era and sponsored by Red Bull, GoPro, and Pabst Blue Ribbon.
For special referral rate room accommodations in Hollywood during the event (booked between February 25-28), please contact The Hollywood Roosevelt at 1-800-950-7667 and request the TransWorld SKATEboarding room rates. These rooms are limited and rates are based on availability.
---