Back to News
SNOW: Gigi Ruf takes home the Red Bull Ultra Natural
February 19, 2013
Gigi Ruf takes home the Red Bull Ultra Natural
16 of the world's best snowboarders gather at Baldface BC to take snowboarding to the next level.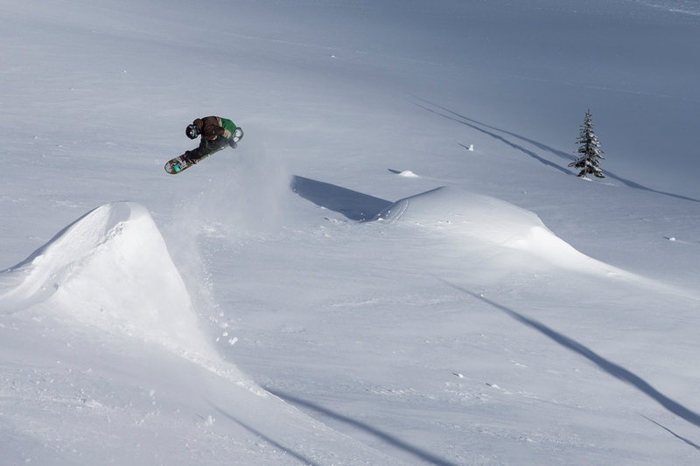 The 2013 Red Bull Ultra Natural was more than just your typical snowboard contest. It brought together everything that is good about snowboarding and created an environment where progression becomes more than just a clichéd phrase. There are very few times where you can witness a true paradigm shift, a singular point in time where you realize that all your preconceived notions are no longer relevant. The Ultra Natural was this moment.
The start order was determined earlier in the week by a lumberjack triathlon where each rider's wood carrying, cutting, nail hammering and axe throwing skills were put to the test. Each rider would then chose what position they would drop based on their time. Strategy came into play here, as some decided that it was best to go near the end since you could watch the lines of other riders, while some decided that it was best to take a chance and drop early.
Pat Moore chose to drop first. It takes a certain type of person to choose the number one spot and Pat killed it. His massive first air set the tone for the rest of the contest. As the first round continued the number of highlights grew exponentially with each new run as each rider brought their own unique vision and style to the course.
Terje Håkonsen put on a freeriding clinic and ended the day in fourth place. His ability to link together turns and airs is one of the greatest things I have ever seen done on a snowboard. He is a legend, and watching him tear the course apart is something that I will never forget.
Stepping into third place was one of my favorite riders, Bryan Fox. If you have ever seen him ride you know how good he really is at riding this type of terrain. He is a snowboarder's snowboarder; a fact that was most evident after the contest when the other riders were all super stoked to see Fox on the podium.
Silver belonged to Nicolas Müller. Watching him snowboard was like watching a great artist at work; the confusion in watching process of creation is outweighed by the beauty of the final masterpiece. He is as powerful as he is precise, mixing great style with perfect control to make everything look just too easy.
After finishing in second place last year, Gigi Rüf came back to Baldface and walked away with the win. His style is timeless and the frontside 360 he did on his first run was my favorite trick of the day. It was a well-deserved win for Gigi and it was fitting that he was able to walk away in first place. He was able to put it best when discussing his win, saying,
The Red Bull Ultra Natural was the best snowboard contest that I have ever seen. A big thank you must go out to Travis Rice, Red Bull, Baldface Lodge and everyone who helped put on this great event, as they truly understand what snowboarding is really about.
Results:
1. Gigi Rüf 82.6
2. Nicolas Müller 76.4
3. Bryan Fox 44.6 75.4
4. Terje Håkonsen 66.2
5. David Carrier-Porcheron 62.2
6. Mark McMorris 61.6
7. Eero Niemela 61.0
8. Pat Moore 59.0
9. Lucas Debari 57.2
10. Travis Rice 56.2
11. Jussi Oksanen 55.4
12. Bode Merrill 48.8
13. Jake Blauvelt 48.0
14. Wolfgang Nyvelt 45.6
15. Torstein Horgmo 44.8
16. Mikey Rencz 40.0
---