Back to News
SKATE: Steve Van Doren To Receive Award At 15th Annual TransWorld SKATEboarding Awards
February 20, 2013
Steve Van Doren To Receive Eric Stricker Memorial Award At 15th Annual TransWorld SKATEboarding Awards Presented By New Era
Live Event On February 27, 2013 In Hollywood, CA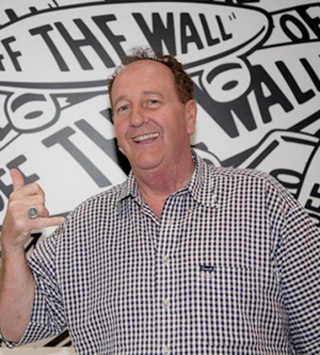 Carlsbad, CA – The Eric Stricker Memorial Award, in memory of TWS Editor Eric Stricker and awarded by TransWorld SKATEboarding's editorial staff, sets out to honor individuals in the skateboarding industry who have shown a continued dedication to the positive growth, longevity, and love of skateboarding.
It gives TransWorld SKATEboarding great pleasure to announce this year's recipient of the Eric Stricker Memorial Award—Steve Van Doren. Steve will be honored with this award during the 15th Annual TransWorld SKATEboarding Awards Presented by New Era on February 27, 2013 in Hollywood, CA.
Steve started working for Vans around the age of seven and has been working there ever since. As Vans' VP of Promotions and an unofficial Ambassador of Fun, Steve spends about 40 weeks a year on the road, including a grueling two-month non-stop stretch each summer with the 48-city Vans Warped Tour. Steve makes it his personal mission to talk to as many people as he can, often while flipping a burger off his omnipresent grill.
Steve's "constant motion" approach to life is evident, as he has put his entire heart and soul into Vans and the entire skate life culture. The Van Doren Rubber Company, now known as Vans, opened for business in Anaheim, California back in 1966. Steve was one of the young Van Dorens that spent his weekends helping out with the family business that is now, more than 40 years later, a hugely successful global action sports brand. Vans has done so much for skateboarding, including the recent ground breaking of their massive skatepark in Huntington Beach. It is an honor for TransWorld SKATEboarding to award Steve with the Eric Stricker Memorial Award, as a testament to all that he has done with Vans, and for the skateboarding community as a whole.
The Awards Show is an invite-only event. For more information on TransWorld SKATEboarding and the awards show, go online to TWSKATE.com. Stay tuned to TWS's social feeds at @transworldskate (#TWSAWARDS2013) for all the up-to-the-minute updates on this year's awards. The 15th Annual TransWorld SKATEboarding Awards is proud to be presented by New Era and sponsored by Red Bull, GoPro, and Pabst Blue Ribbon.
For special referral rate room accommodations in Hollywood during the event (booked between February 25-28), please contact The Hollywood Roosevelt at 1-800-950-7667 and request the TransWorld SKATEboarding room rates. These rooms are limited and rates are based on availability.
---