Back to News
SURF: Firewire Launches TechnoGrain to Encourage Sustainability in Surfing
February 21, 2013
Firewire Launches TechnoGrain to Encourage Sustainability in Surfing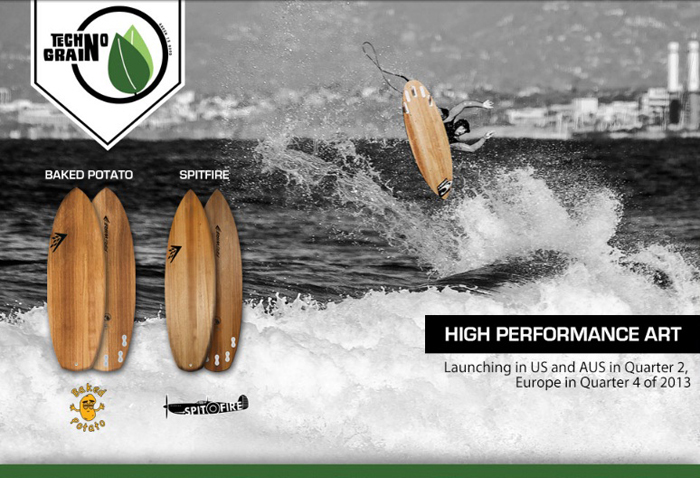 In the ongoing pursuit of greener products with lower environmental impacts, Firewire has developed our most eco-friendly technology to date. Working in conjunction with Australian master cabinetmaker Grant Newby, Firewire has taken 21st century surfboard manufacturing techniques and combined them with a centuries old material…wood!
Built using Firewire's proven 'sandwich construction' process, TechnoGrain resembles our popular Future Shapes Technology (FST) but with different materials. The top, bottom and parabolic rails are comprised of sustainably sourced Paulownia wood, which, unlike other types of natural materials, is very stable in wet conditions. Coupled with its durability, this water resistance allows us to dramatically reduce the amount of fiberglass and resin used, which yields a tremendously light, high-performance surfboard.
The exterior of all TechnoGrain boards are sealed with an Entropy bio-resin hot coat on the deck and bottom as well as a small fiberglass rail lap. The Paulownia exterior is bonded to the EPS core using the bio-resin under vacuum and a single layer of lightweight cloth is added under the top deckskin for increased compression strength.
"Granted its not quite a 'cradle to cradle' sustainably built surfboard, but in our opinion TechnoGrain is a significant step towards that goal", said Firewire CEO Mark Price. "Perhaps the most promising aspect of this tech, beyond its eco-cred, is that a number of our team riders say it's the best performing technology that we offer. We believe that the only way eco-boards are going to gain significant market share is by offering surfers comparable performance with little or no increase in price. TechnoGrain has both of these critical attributes".
Team rider and big wave charger Timmy Reyes is one who has completely endorsed the tech. "When I first saw the board I was blown away. Definitely one of the coolest boards I have ever seen. The grain gives it kind of an organic appearance that you don't get from the traditional white board. Then I picked one up and I knew it was on!"
Timmy continues "I have been riding the tech consistently now for a couple months from 2ft to 15ft faces and I can do no wrong. It paddles like a champ and the feedback the boards give you when you are on a wave is incredible. They are so lively and responsive. Overall, the TechnoGrain boards have been some of the best boards I have ever ridden."
TechnoGrain will launch in the form of the Spitfire and Baked Potato in early May in the US and AUS markets with Europe getting their first run in quarter 4 of 2013. Additional models to follow.
"Firewire believes that refinements to the shape of today's modern surfboards can only produce incremental performance benefits. Exponential improvements in performance require the ongoing development of new materials and construction methods, which, in turn, will fuel new, design opportunities. In addition, with the increased eco-consciousness of today's consumer, Firewire is constantly refining our raw materials to decrease our carbon footprint below the current levels, which are already 50 times less than conventional polyurethane boards"
US Sales Contact: mike.milliken@firewiresurfboards.com
AUS Sales Contact: raz.mehlsen@firewiresurfboards.com
Media Contact: chris.cary@firewiresurfboards.com
---